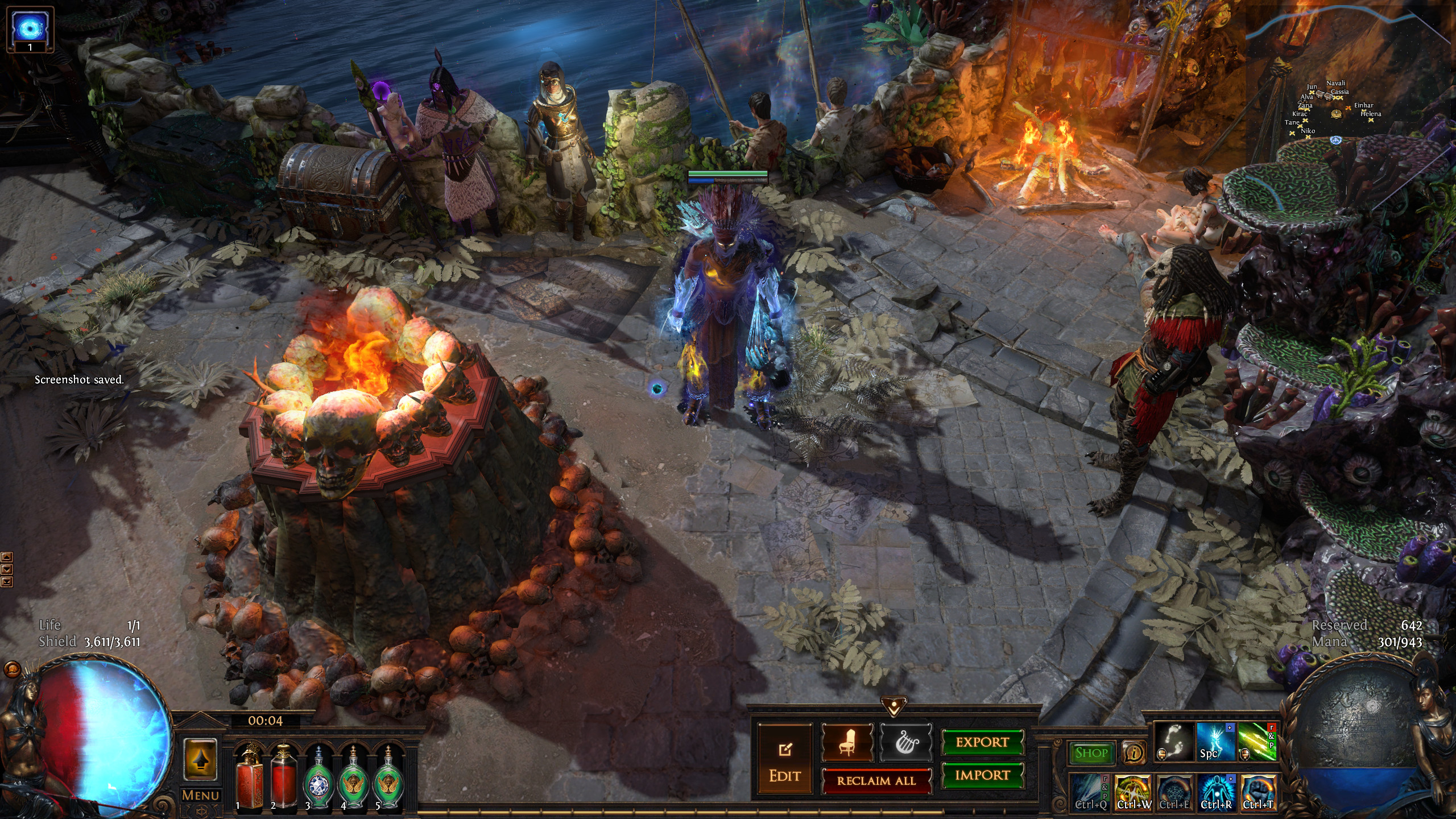 Emerald Celestial Wells (Update)
First of all, i want to thank DerroK for his awesome hideout (https://hideoutshowcase.com/hideout/show/1109).
So i wanted to tweak it a little bit and to give this updated version to all of you.
Added celestial pond with some exiles, pet menagerie, and some other minor details. Reworked headhunter map device - now, its less bulky and avaliable from all sides.
^^
Hideout version: 3.0.1
Total cost: 4,149,820


Total decorations: 764
Uses MTX:

No



Einhar, Beastmaster Level: 7
Zana, Master Cartographer Level: 7
Alva, Master Explorer Level: 7
Niko, Master of the Depths Level: 7
Jun, Veiled Master Level: 7

Calculate your personal cost
| Decoration | Decoration name | Buy from | Master level | Cost | Amount | Total cost |
| --- | --- | --- | --- | --- | --- | --- |
| | Alva | No master | 0 | 0 | 1 | 0 |
| | Crafting Bench | No master | 0 | 0 | 1 | 0 |
| | Einhar | No master | 0 | 0 | 1 | 0 |
| | Guild Stash | No master | 0 | 0 | 1 | 0 |
| | Helena | No master | 0 | 0 | 1 | 0 |
| | Jun | No master | 0 | 0 | 1 | 0 |
| | Kirac | No master | 0 | 0 | 1 | 0 |
| | Map Device | No master | 0 | 0 | 1 | 0 |
| | Navali | No master | 0 | 0 | 1 | 0 |
| | Niko | No master | 0 | 0 | 1 | 0 |
| | Seed Stockpile | No master | 0 | 0 | 1 | 0 |
| | Sister Cassia | No master | 0 | 0 | 1 | 0 |
| | Stash | No master | 0 | 0 | 1 | 0 |
| | Tane Octavius | No master | 0 | 0 | 1 | 0 |
| | Waypoint | No master | 0 | 0 | 1 | 0 |
| | Zana | No master | 0 | 0 | 1 | 0 |
| | Torch | Alva, Master Explorer | 1 | 910 | 1 | 910 |
| | Ancient Rubble | Alva, Master Explorer | 2 | 330 | 2 | 660 |
| | Excavated Brick | Alva, Master Explorer | 2 | 330 | 11 | 3,630 |
| | Vaal Debris | Alva, Master Explorer | 2 | 330 | 31 | 10,230 |
| | Foothills Grass | Alva, Master Explorer | 3 | 710 | 43 | 30,530 |
| | Skull Pile | Alva, Master Explorer | 4 | 1,220 | 22 | 26,840 |
| | Vaal Marker | Alva, Master Explorer | 4 | 1,220 | 1 | 1,220 |
| | Frightened Exile | Alva, Master Explorer | 5 | 2,570 | 1 | 2,570 |
| | Large Rocks | Alva, Master Explorer | 5 | 2,570 | 120 | 308,400 |
| | Ossuary Brazier | Alva, Master Explorer | 5 | 6,760 | 2 | 13,520 |
| | Vaal Notes | Alva, Master Explorer | 5 | 6,760 | 2 | 13,520 |
| | Vaal Scattered Papers | Alva, Master Explorer | 5 | 6,760 | 2 | 13,520 |
| | Ryslatha Tree | Alva, Master Explorer | 6 | 25,560 | 18 | 460,080 |
| | Thick Trees | Alva, Master Explorer | 6 | 10,720 | 2 | 21,440 |
| | Fellshrine Ruins | Alva, Master Explorer | 7 | 35,890 | 1 | 35,890 |
| | Dead Fish | Einhar, Beastmaster | 2 | 330 | 3 | 990 |
| | Menagerie Bucket | Einhar, Beastmaster | 2 | 860 | 2 | 1,720 |
| | Menagerie Feeding Trough | Einhar, Beastmaster | 2 | 860 | 1 | 860 |
| | Desert Grass | Einhar, Beastmaster | 3 | 710 | 4 | 2,840 |
| | Fish Stand | Einhar, Beastmaster | 3 | 710 | 1 | 710 |
| | Grass Patch | Einhar, Beastmaster | 3 | 710 | 10 | 7,100 |
| | Agave Plant | Einhar, Beastmaster | 4 | 1,220 | 19 | 23,180 |
| | Depressed Exile | Einhar, Beastmaster | 4 | 1,220 | 1 | 1,220 |
| | Dry Tree | Einhar, Beastmaster | 4 | 3,170 | 2 | 6,340 |
| | Flies | Einhar, Beastmaster | 4 | 1,220 | 1 | 1,220 |
| | Low Mossy Wall | Einhar, Beastmaster | 4 | 1,220 | 6 | 7,320 |
| | Menagerie Nest | Einhar, Beastmaster | 4 | 1,220 | 1 | 1,220 |
| | Poppy Plant | Einhar, Beastmaster | 4 | 1,220 | 1 | 1,220 |
| | Road Trim | Einhar, Beastmaster | 4 | 1,220 | 1 | 1,220 |
| | Shore Bonfire | Einhar, Beastmaster | 4 | 3,170 | 1 | 3,170 |
| | Wounded Exile | Einhar, Beastmaster | 4 | 1,220 | 2 | 2,440 |
| | Coral Barnacles | Einhar, Beastmaster | 5 | 2,570 | 20 | 51,400 |
| | Coral Cluster | Einhar, Beastmaster | 6 | 25,560 | 13 | 332,280 |
| | Menagerie Large Trough | Einhar, Beastmaster | 6 | 10,720 | 1 | 10,720 |
| | Coral Formation | Einhar, Beastmaster | 7 | 15,320 | 18 | 275,760 |
| | Sanctum Pillar | Jun, Veiled Master | 1 | 910 | 2 | 1,820 |
| | Spore Pods | Jun, Veiled Master | 1 | 140 | 57 | 7,980 |
| | Toxic Fungus | Jun, Veiled Master | 1 | 140 | 3 | 420 |
| | Oriath Ground | Jun, Veiled Master | 2 | 330 | 11 | 3,630 |
| | Sword Display Case | Jun, Veiled Master | 2 | 2,040 | 1 | 2,040 |
| | Toxic Growths | Jun, Veiled Master | 2 | 330 | 3 | 990 |
| | Blue Light Beam | Jun, Veiled Master | 3 | 580 | 71 | 41,180 |
| | Oriath Curb | Jun, Veiled Master | 3 | 710 | 32 | 22,720 |
| | Sand Pile | Jun, Veiled Master | 3 | 710 | 33 | 23,430 |
| | Overgrown Boulder | Jun, Veiled Master | 5 | 2,570 | 7 | 17,990 |
| | Oriath Square Fountain | Jun, Veiled Master | 7 | 77,540 | 7 | 542,780 |
| | Den Large Rock | Niko, Master of the Depths | 1 | 380 | 8 | 3,040 |
| | Den Small Rock | Niko, Master of the Depths | 1 | 140 | 7 | 980 |
| | Den Stalagmites | Niko, Master of the Depths | 1 | 140 | 30 | 4,200 |
| | Mine Rock | Niko, Master of the Depths | 3 | 330 | 1 | 330 |
| | Skull Display | Niko, Master of the Depths | 5 | 6,760 | 12 | 81,120 |
| | Scattered Papers | Niko, Master of the Depths | 6 | 4,090 | 6 | 24,540 |
| | Small Relic Display | Niko, Master of the Depths | 6 | 10,720 | 1 | 10,720 |
| | Volcanic Rock | Niko, Master of the Depths | 6 | 4,090 | 5 | 20,450 |
| | Ghostly Fog | Niko, Master of the Depths | 7 | 35,890 | 3 | 107,670 |
| | Oriath Lantern | Zana, Master Cartographer | 3 | 710 | 19 | 13,490 |
| | Water Plane | Zana, Master Cartographer | 3 | 330 | 3 | 990 |
| | Brick Archway | Zana, Master Cartographer | 5 | 6,760 | 5 | 33,800 |
| | Medium Golden Statue | Zana, Master Cartographer | 5 | 16,020 | 2 | 32,040 |
| | Sand Tracks | Zana, Master Cartographer | 6 | 4,090 | 1 | 4,090 |
| | Large Golden Statue | Zana, Master Cartographer | 7 | 35,890 | 4 | 143,560 |
| | Pohutukawa Tree | Zana, Master Cartographer | 7 | 35,890 | 12 | 430,680 |
| | Verdant Tree | Zana, Master Cartographer | 7 | 35,890 | 25 | 897,250 |
3.0.1 | 19 Jul 2020 - 07:05
Removed MTX (it was only a wisp swamp)
3.0.0 | 18 Jul 2020 - 21:08
Initial release