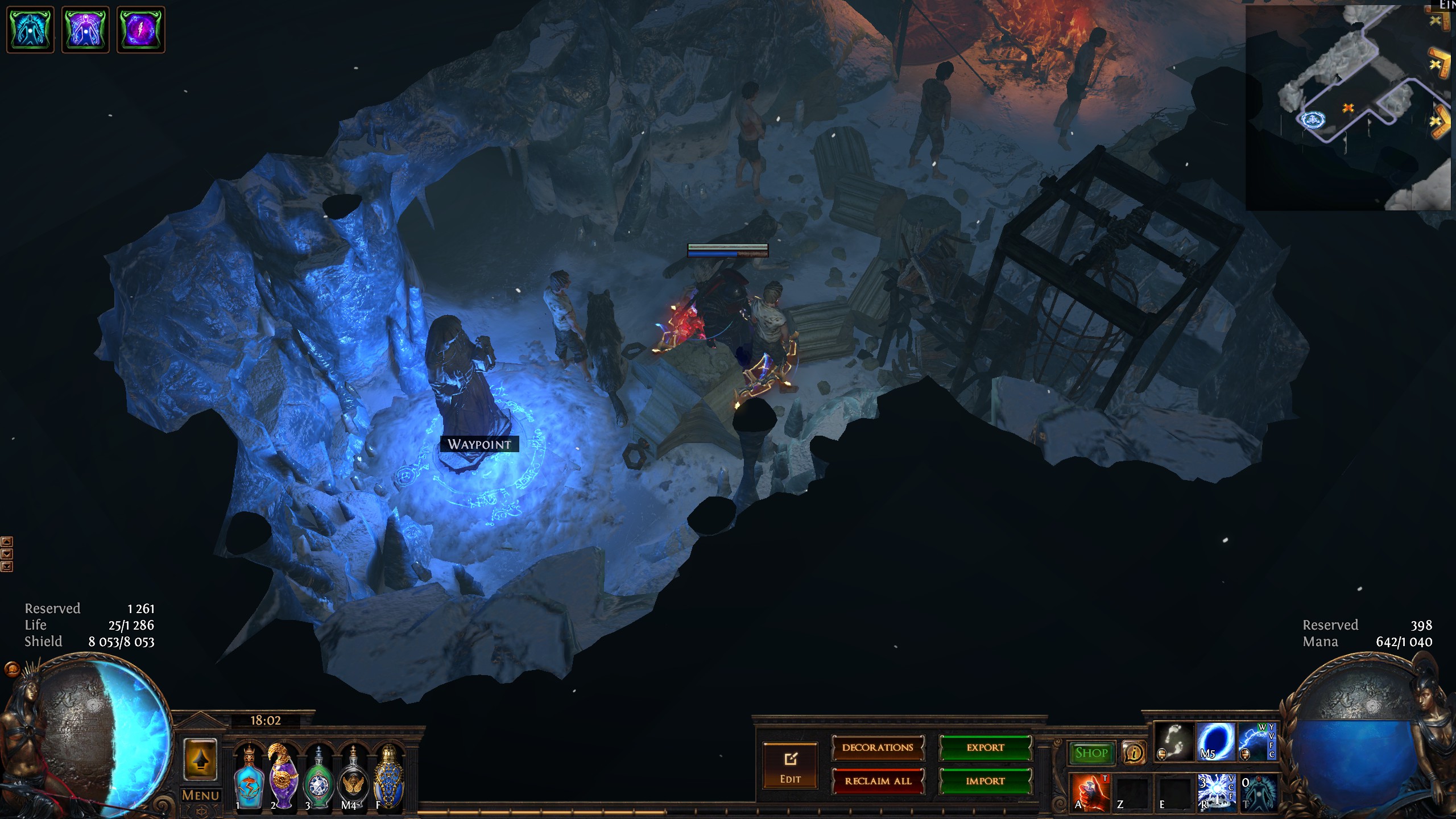 Greetings Exiles !
This one is the one i love the most.
It's from Glacial hideout ( T2 iceberg )
It's an expedition leading by Tora and the old masters. They discovered a temple in an icy cavern !
There is 3 parts :
1] Entrance, when new exiles came looking for a job
2]Base camp with Tora and the masters.
3]Map device, i'm very proud of this one. You have the stash and niko to sell your stuff.
This one has 4 Microtranscations
- 2 Fire Bricks ( can be replaced easily )
- 1 Fire Gale
- 1 Wide Light Beam
I hop you'll enjoy it and if you want to see it IG : Qheenti !
Hideout version: 3.5
Total decorations: 432
Uses MTX:

Yes



| Decoration name | MTX | Count |
| --- | --- | --- |
| Fire Bricks | Yes | 2 |
| Fire Gale | Yes | 1 |
| Wide Light Beam | Yes | 1 |
| Alva | No | 1 |
| Crafting Bench | No | 1 |
| Einhar | No | 1 |
| Gladiator's Workbench | No | 1 |
| Guild Stash | No | 1 |
| Helena | No | 1 |
| Jun | No | 1 |
| Map Device | No | 1 |
| Navali | No | 1 |
| Niko | No | 1 |
| Stash | No | 1 |
| Waypoint | No | 1 |
| Zana | No | 1 |
| Body Armour Stand | No | 1 |
| Torch | No | 22 |
| Broken Floor | No | 1 |
| Crypt Rubble | No | 2 |
| Excavated Brick | No | 1 |
| Vaal Debris | No | 7 |
| Vaal Fire Pit | No | 1 |
| Bow Rack | No | 2 |
| Crypt Fire Pit | No | 4 |
| Full Armour Stand | No | 2 |
| Large Crypt Rubble | No | 1 |
| Stone Well | No | 1 |
| Decrepit Fence | No | 1 |
| Hungry Exile | No | 4 |
| Large Boat Remains | No | 1 |
| Ossuary Plaque | No | 1 |
| Tired Exile | No | 3 |
| Wagon Wheel | No | 1 |
| Large Rocks | No | 12 |
| Stone Archway | No | 10 |
| Colossus Head | No | 1 |
| Glowing Embers | No | 4 |
| Weapon Rack | No | 3 |
| Catapult Ammo | No | 1 |
| Highgate Weapon Rack | No | 2 |
| Winged Statue | No | 1 |
| Burlap Sack | No | 5 |
| Menagerie Rope Fence | No | 2 |
| Rusted Cage | No | 1 |
| Shore Rocks | No | 11 |
| Animal Cage | No | 3 |
| Barrels | No | 3 |
| Buckets | No | 1 |
| Forest Flowers | No | 12 |
| Ramshackle Ladder | No | 1 |
| Shore Plank Debris | No | 8 |
| Animal Pile | No | 1 |
| Animal Skeleton | No | 1 |
| Arena Fence | No | 1 |
| Camp Rug | No | 8 |
| Cannibal Sheet | No | 1 |
| Chopped Wood | No | 1 |
| Forest Tree | No | 8 |
| Hitching Post | No | 1 |
| Lookout's Booth | No | 1 |
| Meat Baskets | No | 3 |
| Pot Line | No | 3 |
| Sitting Log | No | 3 |
| Bush | No | 3 |
| Depressed Exile | No | 9 |
| Garden Path | No | 37 |
| Shore Bonfire | No | 8 |
| Slave Post | No | 1 |
| Snowy Hay Bale | No | 1 |
| Spiral Stone | No | 3 |
| Wounded Exile | No | 4 |
| Bandit Tent | No | 2 |
| Hunted Rhoa | No | 4 |
| Mossy Wall | No | 9 |
| Pit Flags | No | 1 |
| Scrap Pile | No | 1 |
| Wagon | No | 1 |
| Weathered Crane | No | 1 |
| Whare Floor | No | 1 |
| Barricade | No | 1 |
| Fortification Door | No | 1 |
| Kaom Rock | No | 1 |
| Kitava Banner | No | 1 |
| Whale Skeleton Bones | No | 1 |
| Abandoned Crane | No | 1 |
| Coral Formation | No | 1 |
| Large Tent | No | 3 |
| Large Whale Skeleton Ribs | No | 1 |
| Lion Statue | No | 2 |
| Medium Tent | No | 3 |
| Whale Skeleton Arms | No | 1 |
| Whale Skeleton Head | No | 1 |
| Whale Skeleton Ribs | No | 1 |
| Crumbled Carts | No | 2 |
| Low Fire Pit | No | 14 |
| Sceptre Of God Debris | No | 1 |
| Shelf Debris | No | 1 |
| Cave Stalagmite | No | 1 |
| Damaged Barrels | No | 1 |
| Den Large Stalagmites | No | 15 |
| Iron Lantern | No | 1 |
| Mine Cart | No | 1 |
| Mine Rock | No | 1 |
| Scattered Books | No | 1 |
| Scavenged Rug | No | 2 |
| Worn Anvil | No | 1 |
| Azurite Chunk | No | 6 |
| Labyrinth Plaque | No | 1 |
| Market Pillar | No | 2 |
| Market Shelf | No | 1 |
| Steam Pipes | No | 1 |
| Corrupt Marble | No | 1 |
| Hanging Brazier | No | 4 |
| Iron Fence | No | 1 |
| Light Cargo Wagon | No | 1 |
| Fossilised Miners | No | 1 |
| Iron Stove | No | 1 |
| Map Board | No | 2 |
| Relic Crate | No | 2 |
| Scattered Papers | No | 3 |
| Stall Counter | No | 1 |
| Abyssal Whale Bones | No | 1 |
| Elaborate Stall | No | 2 |
| Torture Device | No | 1 |
| Travel Wagon | No | 1 |
| Wooden Planks | No | 1 |
| Ice Blocks | No | 2 |
| Oriath Weapons Crate | No | 1 |
| Oriathan Books | No | 1 |
| Snow Drift | No | 5 |
| Oriath Army Barrel | No | 3 |
| Oriath Supply Crate | No | 4 |
| Blackguard Infantry Tent | No | 1 |
| Oriath Armour Crate | No | 6 |
| Oriath Supplies | No | 1 |
| Templar Rug | No | 4 |
| Reading Desk | No | 1 |
| Golden Offering Statue | No | 1 |
| Ramshackle Wall | No | 1 |
| Blackguard Officer Tent | No | 1 |
| Flag | No | 1 |
| Golden Sparkles | No | 3 |
| Image of Elreon | No | 1 |
| Image of Haku | No | 1 |
| Image of Leo | No | 1 |
| Image of Tora | No | 1 |
| Image of Vagan | No | 1 |
| Image of Vorici | No | 1 |
| Innocence Statue | No | 1 |
| Justice Statue | No | 1 |
| Large Bird Cage | No | 1 |
| Letters of Exile | No | 1 |
| Oriath Scaffolding | No | 1 |
| Oriath Statue | No | 1 |
| Phoenix Vent | No | 1 |
| Sanctum Statue | No | 8 |
| Sky Shrine Door | No | 1 |
| Sky Shrine Pillar | No | 2 |
| Sky Shrine Wall | No | 3 |
Latest version: 3.5
| Version number | MTX | Publish date | Total favor | Total decorations | Downloads | Link |
| --- | --- | --- | --- | --- | --- | --- |
| 3.5 | Yes | 2018-12-24 01:17:43 | 2,753,650 | 432 | 535 | Download |
3.5 | 24 Dec 2018 - 01:17
Initial release