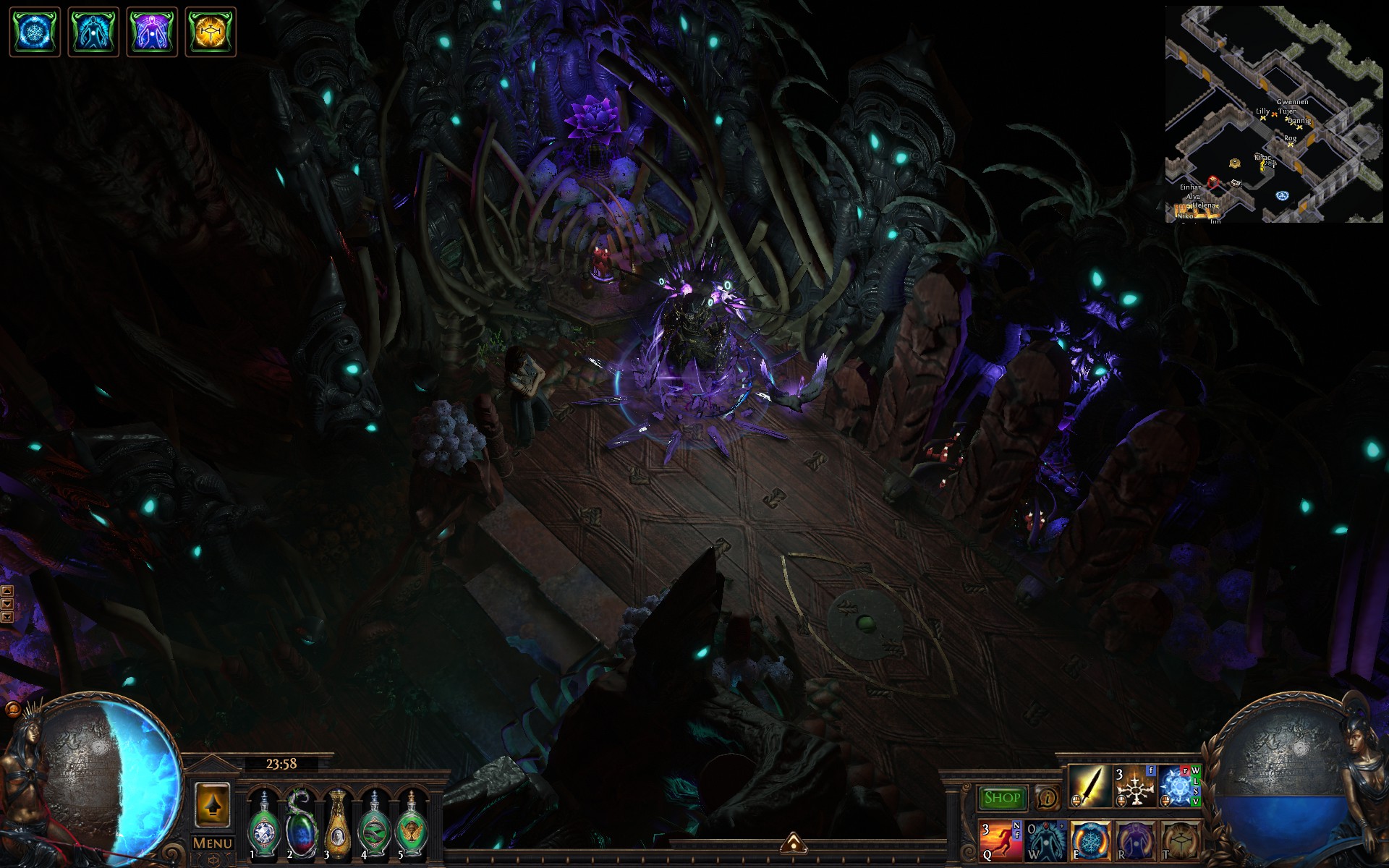 Whare Koiwi, the House of Bones
Entry for GGG's September '23 hideout comp! Another purply design (gotta love that colour) dedicated to Hinekora, Mother of Death.
A quiet place of contemplation for Her tribe, to ponder on the mysteries of the Eye of Power. Inspired by Hinekora's bone headdress and colours, with a minimalist ''palette'' of Karui-themed doodads.
Here's hoping Google translate did not do me dirty...
Hideout version: 1.0
Total decorations: 772
Uses MTX:

No



| Decoration name | MTX | Count |
| --- | --- | --- |
| Alva | No | 1 |
| Armourer's Workbench | No | 1 |
| Crafting Bench | No | 1 |
| Dannig, Warrior Skald | No | 1 |
| Einhar | No | 1 |
| Guild Stash | No | 1 |
| Gwennen, the Gambler | No | 1 |
| Helena | No | 1 |
| Horticrafting Station | No | 1 |
| Jun | No | 1 |
| Kirac | No | 1 |
| Map Device | No | 1 |
| Map Device Parts | No | 26 |
| Navali | No | 1 |
| Niko | No | 1 |
| Rog, the Dealer | No | 1 |
| Sister Cassia | No | 1 |
| Stash | No | 1 |
| Tane Octavius | No | 1 |
| Tujen, the Haggler | No | 1 |
| Waypoint | No | 1 |
| Expedition Locker | No | 1 |
| Heist Locker | No | 1 |
| Vaal Letter | No | 1 |
| Skull Pile | No | 35 |
| Ossuary Grave | No | 2 |
| Ruined Stool | No | 17 |
| Vaal Notes | No | 1 |
| Blood Fog (Red) | No | 4 |
| Bone Display | No | 1 |
| Ramshackle Ladder | No | 1 |
| Rusty Gear | No | 7 |
| Garden Path | No | 2 |
| Karui Carving | No | 62 |
| Kitava Horns | No | 14 |
| Whare Rug | No | 3 |
| Kaom's Throne | No | 50 |
| Karui Palisade | No | 16 |
| The Last to Die | No | 1 |
| Weathered Skull Pile | No | 14 |
| Whare Floor | No | 35 |
| Kaom Rock | No | 65 |
| Large Whale Skeleton Ribs | No | 78 |
| Menagerie Spirit Barrier | No | 2 |
| Weathered Skull Display | No | 5 |
| Whale Skeleton Ribs | No | 67 |
| Whale Skeleton Spine | No | 21 |
| Spore Pods | No | 1 |
| Kalguur Ancestral Portal | No | 1 |
| Kalguur Brazier | No | 7 |
| Kalguur Weapon Rack | No | 7 |
| Lotus Bench | No | 2 |
| Maraketh Table | No | 1 |
| Toxic Pustules | No | 8 |
| Bare Tree | No | 2 |
| Karui Weapon Rack | No | 11 |
| Sand Pile | No | 2 |
| Karui Weapon Holder | No | 3 |
| Syndicate Statue | No | 3 |
| Karui Weapon Display | No | 6 |
| Lilly Roth | No | 1 |
| Lotus Terrace Stand | No | 23 |
| Mountain Spring | No | 1 |
| Ritual Totem | No | 3 |
| Cave Trash | No | 1 |
| Sewer Moss | No | 6 |
| Iron Candelabra | No | 1 |
| Iron Lantern | No | 14 |
| Stone Pieces | No | 12 |
| Charred Crater | No | 1 |
| Goddess Statue | No | 17 |
| Small Relic Stand | No | 1 |
| Labyrinth Lever | No | 3 |
| Abyssal Ritual Circle | No | 1 |
| Crystal Debris | No | 2 |
| Fetid Smog | No | 2 |
| Ghostly Fog | No | 1 |
| Wooden Planks | No | 23 |
| Blocking Volume | No | 20 |
| Innocence Candle Row | No | 1 |
| Innocence Side Table | No | 1 |
| Oriathan Books | No | 1 |
| Courthouse Bench | No | 2 |
| Innocence Candelabra | No | 1 |
| Kitchen Cabinet | No | 1 |
| Court Bookcase | No | 1 |
| Flower Pot | No | 3 |
| Garden Statue | No | 1 |
| Arena Flowers | No | 21 |
Latest version: 1.0
| Version number | MTX | Publish date | Total favor | Total decorations | Downloads | Link |
| --- | --- | --- | --- | --- | --- | --- |
| 1.0 | No | 2023-09-19 14:27:54 | 6,787,932 | 772 | 126 | Download |
1.0 | 19 Sep 2023 - 14:27
Initial release