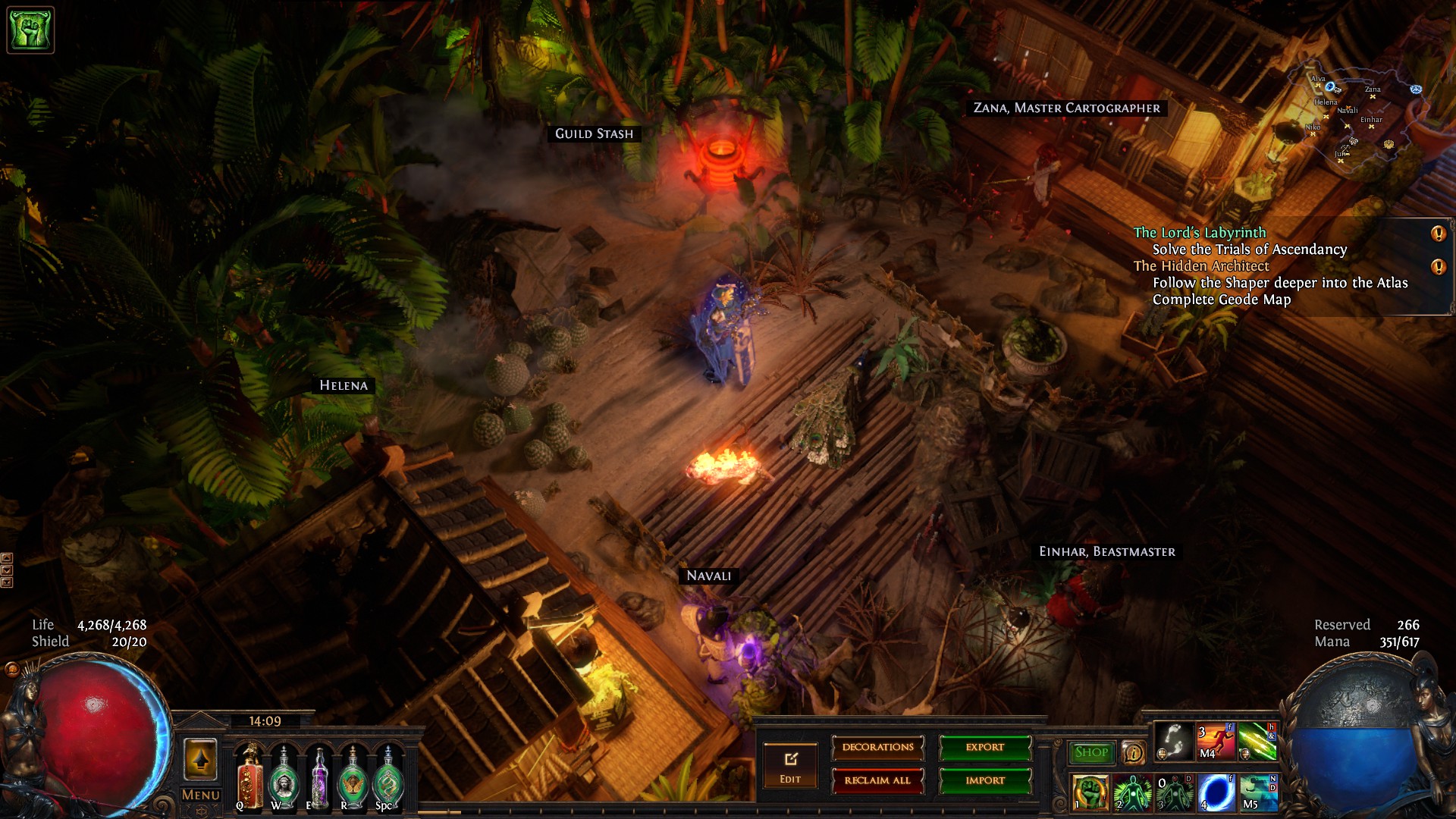 Hello Exiles!
This time I took the Baleful Hideout as a base for my next experiment of how to do smaller hideouts and make them work, and look good! I gotta say I'm quite happy with this one.
The MTX tag in the hideouts description is becouse of the Huntsmans tree in the upper section of the hideout, but it's fairly easy to replace it with something non-MTX (My suggestion would be Ryslatha tree and something to light it up, like green braizer from inside). Also the pet seen on video is lion cub from the manticore supporter packs, and as always, is in no way mandatory for the looks of the hideout, it just adds a little to it.
I'm probably going to do updates to the hideout, like into all my other hideouts, if I get inspired again.
All but 1 alva portals work from the location she is now at, and ALL map portals work without problem. I haven't tested Jun yet, but if i have to do major changes to her position, I will post them here.
Feedback, questions and suggestions are welcomed, here and ingame likewise! You can find me from ingame with name hEnjoi!
Edit: Uploaded newest verison, not much have changed, some misc items here and there. All of Alvas portals should now work fine! Jun prolly doesn't work, was too lazy to gather hideout in temp league..
Hideout version: 1.0.1
Total cost: 1,841,150


Total decorations: 413
Uses MTX:

Yes



Einhar, Beastmaster Level: 7
Zana, Master Cartographer Level: 7
Alva, Master Explorer Level: 7
Niko, Master of the Depths Level: 7
Jun, Veiled Master Level: 6

Calculate your personal cost
| Decoration | Decoration name | Buy from | Master level | Cost | Amount | Total cost |
| --- | --- | --- | --- | --- | --- | --- |
| | Huntsman Tree | MTX | 0 | 0 | 1 | 0 |
| | Alva | No master | 0 | 0 | 1 | 0 |
| | Crafting Bench | No master | 0 | 0 | 1 | 0 |
| | Einhar | No master | 0 | 0 | 1 | 0 |
| | Guild Stash | No master | 0 | 0 | 1 | 0 |
| | Helena | No master | 0 | 0 | 1 | 0 |
| | Jun | No master | 0 | 0 | 1 | 0 |
| | Map Device | No master | 0 | 0 | 1 | 0 |
| | Navali | No master | 0 | 0 | 1 | 0 |
| | Niko | No master | 0 | 0 | 1 | 0 |
| | Sister Cassia | No master | 0 | 0 | 1 | 0 |
| | Stash | No master | 0 | 0 | 1 | 0 |
| | Waypoint | No master | 0 | 0 | 1 | 0 |
| | Zana | No master | 0 | 0 | 1 | 0 |
| | Torch | Alva, Master Explorer | 1 | 910 | 1 | 910 |
| | Vaal Furniture | Alva, Master Explorer | 1 | 380 | 5 | 1,900 |
| | Weathered Pot | Alva, Master Explorer | 1 | 380 | 1 | 380 |
| | Crypt Rubble | Alva, Master Explorer | 2 | 330 | 1 | 330 |
| | Vaal Debris | Alva, Master Explorer | 2 | 330 | 4 | 1,320 |
| | Vaal Fire Pit | Alva, Master Explorer | 2 | 860 | 1 | 860 |
| | Vaal Pylon | Alva, Master Explorer | 2 | 330 | 1 | 330 |
| | Large Crypt Rubble | Alva, Master Explorer | 3 | 710 | 1 | 710 |
| | Vaal Letter | Alva, Master Explorer | 3 | 1,860 | 1 | 1,860 |
| | Vaal Bookshelf | Alva, Master Explorer | 4 | 7,490 | 1 | 7,490 |
| | Vaal Reading Table | Alva, Master Explorer | 4 | 7,490 | 1 | 7,490 |
| | Vaal Tablets | Alva, Master Explorer | 4 | 3,170 | 1 | 3,170 |
| | Crypt Pillar | Alva, Master Explorer | 5 | 6,760 | 2 | 13,520 |
| | Ossuary Brazier | Alva, Master Explorer | 5 | 6,760 | 5 | 33,800 |
| | Vaal Block | Alva, Master Explorer | 5 | 2,570 | 15 | 38,550 |
| | Vaal Notes | Alva, Master Explorer | 5 | 6,760 | 2 | 13,520 |
| | Vaal Pillar | Alva, Master Explorer | 5 | 16,020 | 1 | 16,020 |
| | Vaal Statue | Alva, Master Explorer | 5 | 16,020 | 1 | 16,020 |
| | Thick Trees | Alva, Master Explorer | 6 | 10,720 | 1 | 10,720 |
| | Vaal Altar | Alva, Master Explorer | 6 | 10,720 | 1 | 10,720 |
| | Vaal Mechanism | Alva, Master Explorer | 6 | 25,560 | 3 | 76,680 |
| | Corrupted Specks | Alva, Master Explorer | 7 | 15,320 | 1 | 15,320 |
| | Corruption | Alva, Master Explorer | 7 | 15,320 | 2 | 30,640 |
| | Clay Pot | Einhar, Beastmaster | 1 | 140 | 1 | 140 |
| | Forest Rock | Einhar, Beastmaster | 1 | 140 | 2 | 280 |
| | Shore Rocks | Einhar, Beastmaster | 1 | 140 | 1 | 140 |
| | Barrels | Einhar, Beastmaster | 2 | 860 | 2 | 1,720 |
| | Basket | Einhar, Beastmaster | 2 | 330 | 1 | 330 |
| | Building Supplies | Einhar, Beastmaster | 2 | 860 | 37 | 31,820 |
| | Clump of Vines | Einhar, Beastmaster | 2 | 860 | 3 | 2,580 |
| | Shore Plank Debris | Einhar, Beastmaster | 2 | 330 | 2 | 660 |
| | Desert Cactus | Einhar, Beastmaster | 3 | 1,860 | 3 | 5,580 |
| | Flax Plant | Einhar, Beastmaster | 3 | 1,860 | 6 | 11,160 |
| | Hitching Post | Einhar, Beastmaster | 3 | 710 | 8 | 5,680 |
| | Agave Plant | Einhar, Beastmaster | 4 | 1,220 | 3 | 3,660 |
| | Aloe Plant | Einhar, Beastmaster | 4 | 1,220 | 3 | 3,660 |
| | Bush | Einhar, Beastmaster | 4 | 1,220 | 5 | 6,100 |
| | Dry Flax | Einhar, Beastmaster | 4 | 3,170 | 1 | 3,170 |
| | Macrotaen Plant | Einhar, Beastmaster | 4 | 1,220 | 5 | 6,100 |
| | Menagerie Nest | Einhar, Beastmaster | 4 | 1,220 | 2 | 2,440 |
| | Poppy Plant | Einhar, Beastmaster | 4 | 1,220 | 10 | 12,200 |
| | Red Grass | Einhar, Beastmaster | 4 | 1,220 | 8 | 9,760 |
| | Desert Plants | Einhar, Beastmaster | 5 | 2,570 | 5 | 12,850 |
| | Garden Palm | Einhar, Beastmaster | 5 | 6,760 | 2 | 13,520 |
| | Bulb Palm | Einhar, Beastmaster | 6 | 10,720 | 1 | 10,720 |
| | Lush Palm | Einhar, Beastmaster | 6 | 10,720 | 6 | 64,320 |
| | Rusty Crane | Einhar, Beastmaster | 6 | 10,720 | 1 | 10,720 |
| | Palm Group | Einhar, Beastmaster | 7 | 35,890 | 7 | 251,230 |
| | Maple Tree | Jun, Veiled Master | 1 | 910 | 2 | 1,820 |
| | Primeval Debris | Jun, Veiled Master | 1 | 140 | 1 | 140 |
| | Primeval Rubble | Jun, Veiled Master | 1 | 140 | 7 | 980 |
| | Shrine Table | Jun, Veiled Master | 1 | 910 | 9 | 8,190 |
| | Bamboo Divider | Jun, Veiled Master | 2 | 330 | 11 | 3,630 |
| | Bare Branches | Jun, Veiled Master | 2 | 330 | 2 | 660 |
| | Maraketh Banner | Jun, Veiled Master | 2 | 2,040 | 1 | 2,040 |
| | Maraketh Rug | Jun, Veiled Master | 2 | 2,040 | 1 | 2,040 |
| | Oriath Ground | Jun, Veiled Master | 2 | 330 | 1 | 330 |
| | Planter Box | Jun, Veiled Master | 2 | 330 | 7 | 2,310 |
| | Primeval Table | Jun, Veiled Master | 2 | 2,040 | 1 | 2,040 |
| | Primeval Vase | Jun, Veiled Master | 2 | 330 | 2 | 660 |
| | Bamboo Fence | Jun, Veiled Master | 3 | 710 | 3 | 2,130 |
| | Bamboo Floor | Jun, Veiled Master | 3 | 710 | 1 | 710 |
| | Bare Tree | Jun, Veiled Master | 3 | 710 | 1 | 710 |
| | Primeval Support | Jun, Veiled Master | 3 | 4,400 | 2 | 8,800 |
| | Primeval Throne | Jun, Veiled Master | 3 | 4,400 | 1 | 4,400 |
| | Syndicate Shelf | Jun, Veiled Master | 3 | 4,400 | 1 | 4,400 |
| | Tasuni's Shrine | Jun, Veiled Master | 3 | 4,400 | 14 | 61,600 |
| | Primeval Container | Jun, Veiled Master | 4 | 1,220 | 16 | 19,520 |
| | Primeval Marker | Jun, Veiled Master | 4 | 1,220 | 1 | 1,220 |
| | Manifesto Altar | Jun, Veiled Master | 5 | 16,020 | 1 | 16,020 |
| | Classical Painting | Jun, Veiled Master | 6 | 4,090 | 1 | 4,090 |
| | Primeval Column | Jun, Veiled Master | 6 | 4,090 | 1 | 4,090 |
| | Primeval Pillar | Jun, Veiled Master | 6 | 25,560 | 1 | 25,560 |
| | Den Large Rock | Niko, Master of the Depths | 1 | 380 | 6 | 2,280 |
| | Den Small Rock | Niko, Master of the Depths | 1 | 140 | 14 | 1,960 |
| | Iron Brazier | Niko, Master of the Depths | 1 | 910 | 1 | 910 |
| | Iron Lantern | Niko, Master of the Depths | 3 | 1,860 | 2 | 3,720 |
| | Metal Lantern | Niko, Master of the Depths | 3 | 1,860 | 2 | 3,720 |
| | Mine Cart | Niko, Master of the Depths | 3 | 1,860 | 1 | 1,860 |
| | Scattered Books | Niko, Master of the Depths | 3 | 710 | 2 | 1,420 |
| | Axiom Pillar | Niko, Master of the Depths | 4 | 3,170 | 7 | 22,190 |
| | Azurite Chunk | Niko, Master of the Depths | 4 | 3,170 | 1 | 3,170 |
| | Azurite Mine Cart | Niko, Master of the Depths | 4 | 3,170 | 1 | 3,170 |
| | Cave Pillar | Niko, Master of the Depths | 4 | 3,170 | 1 | 3,170 |
| | Sulphite Light | Niko, Master of the Depths | 4 | 3,170 | 2 | 6,340 |
| | Mining Equipment | Niko, Master of the Depths | 5 | 16,020 | 1 | 16,020 |
| | Railway | Niko, Master of the Depths | 5 | 6,760 | 2 | 13,520 |
| | Floor Pipes | Niko, Master of the Depths | 6 | 4,090 | 2 | 8,180 |
| | Labyrinth Cogs | Niko, Master of the Depths | 6 | 10,720 | 2 | 21,440 |
| | Labyrinth Lever | Niko, Master of the Depths | 6 | 10,720 | 1 | 10,720 |
| | Maraketh Lantern | Niko, Master of the Depths | 6 | 4,090 | 1 | 4,090 |
| | Mining Machinery | Niko, Master of the Depths | 6 | 25,560 | 3 | 76,680 |
| | Functional Stall | Niko, Master of the Depths | 7 | 15,320 | 3 | 45,960 |
| | Prison Bars | Niko, Master of the Depths | 7 | 5,830 | 2 | 11,660 |
| | Slum Building | Niko, Master of the Depths | 7 | 35,890 | 1 | 35,890 |
| | Water Fog | Niko, Master of the Depths | 7 | 15,320 | 3 | 45,960 |
| | Innocence Candle | Zana, Master Cartographer | 1 | 140 | 5 | 700 |
| | Bronze Piping | Zana, Master Cartographer | 2 | 860 | 2 | 1,720 |
| | Oriathan Books | Zana, Master Cartographer | 2 | 380 | 2 | 760 |
| | Courthouse Armchair | Zana, Master Cartographer | 3 | 4,400 | 1 | 4,400 |
| | Innocence Candelabra | Zana, Master Cartographer | 3 | 1,860 | 3 | 5,580 |
| | Oriath Lantern | Zana, Master Cartographer | 3 | 710 | 3 | 2,130 |
| | Oriath Supply Crate | Zana, Master Cartographer | 3 | 710 | 1 | 710 |
| | Coffee Table | Zana, Master Cartographer | 4 | 3,170 | 1 | 3,170 |
| | Cathedral Tiles | Zana, Master Cartographer | 5 | 2,570 | 2 | 5,140 |
| | Courthouse Desk | Zana, Master Cartographer | 5 | 6,760 | 1 | 6,760 |
| | Dining Chair | Zana, Master Cartographer | 5 | 6,760 | 1 | 6,760 |
| | Plant Pot | Zana, Master Cartographer | 5 | 6,760 | 8 | 54,080 |
| | Sky Shrine Rubble | Zana, Master Cartographer | 5 | 2,570 | 1 | 2,570 |
| | Temple Arch | Zana, Master Cartographer | 5 | 16,020 | 12 | 192,240 |
| | Writing Desk | Zana, Master Cartographer | 5 | 6,760 | 1 | 6,760 |
| | Court Bookcase | Zana, Master Cartographer | 6 | 10,720 | 3 | 32,160 |
| | Ornate Planter | Zana, Master Cartographer | 6 | 10,720 | 3 | 32,160 |
| | Sand Tracks | Zana, Master Cartographer | 6 | 4,090 | 16 | 65,440 |
| | Lordly Chair | Zana, Master Cartographer | 7 | 15,320 | 1 | 15,320 |
| | Pohutukawa Tree | Zana, Master Cartographer | 7 | 35,890 | 1 | 35,890 |
| | Verdant Tree | Zana, Master Cartographer | 7 | 35,890 | 2 | 71,780 |
1.0.1 | 26 Sep 2019 - 14:32
Misc items, nothing much
1.0.0 | 27 May 2019 - 11:37
Initial release