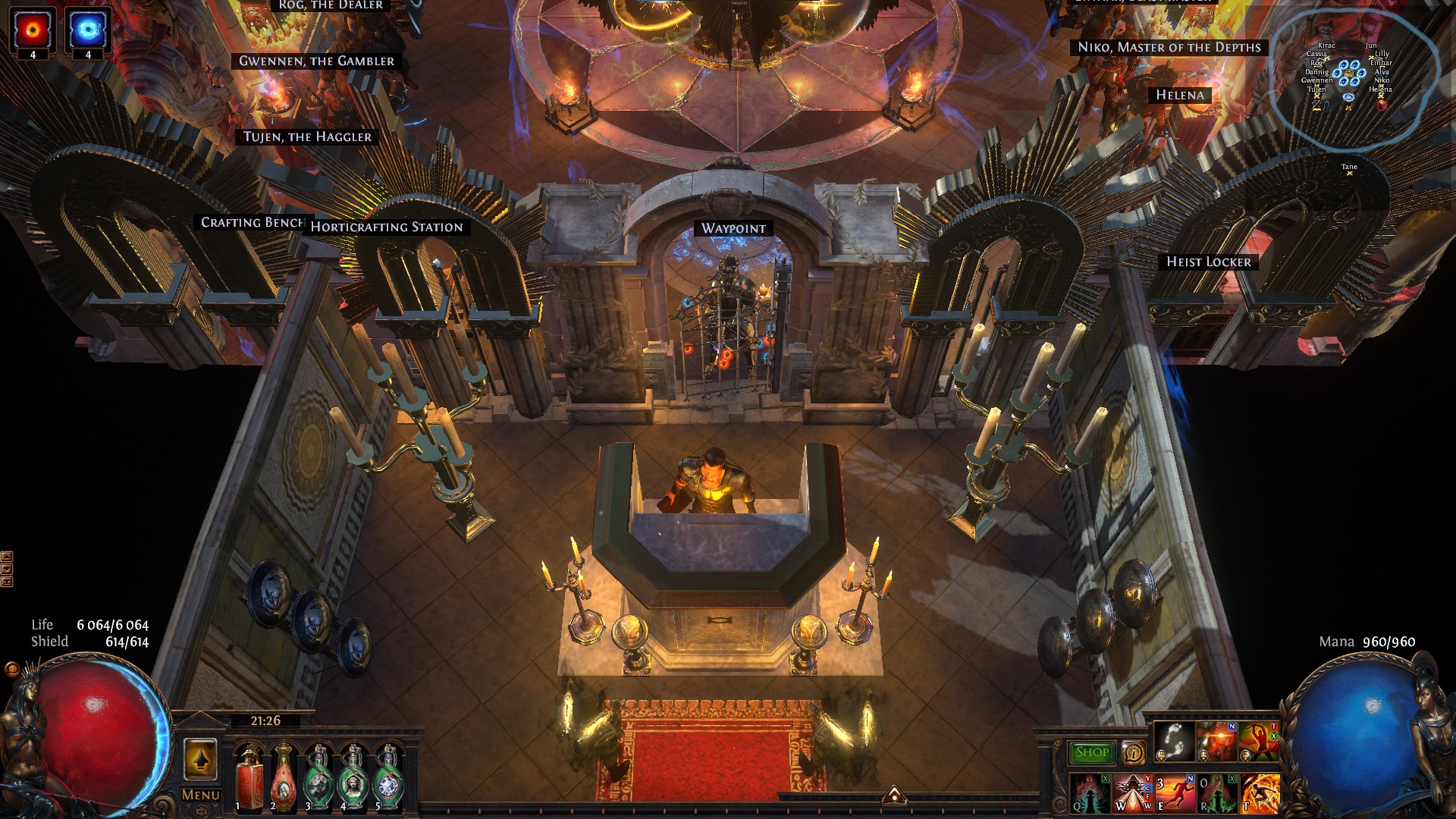 Gods Memorial - SquareHO Series by DDras
VIDEO AVALIABLE!

SquareHOSeries is my new project where i'm using simple square layout in Celestial Nebula Hideout and changing it in many different themes.
All hideouts from SquareHO Series doesn't use MTX Decorations. The only one is Celestial Nebula Hideout.
Hope you'll like it!
Hideout version: 1.1
Total decorations: 158
Uses MTX:

No



| Decoration name | MTX | Count |
| --- | --- | --- |
| Alva | No | 1 |
| Crafting Bench | No | 1 |
| Dannig, Warrior Skald | No | 1 |
| Einhar | No | 1 |
| Expedition Locker | No | 1 |
| Grand Column | No | 2 |
| Guild Stash | No | 1 |
| Gwennen, the Gambler | No | 1 |
| Heist Locker | No | 1 |
| Helena | No | 1 |
| Horticrafting Station | No | 1 |
| Jun | No | 1 |
| Kirac | No | 1 |
| Map Device | No | 1 |
| Memory Stabilizer | No | 7 |
| Niko | No | 1 |
| Rog, the Dealer | No | 1 |
| Sister Cassia | No | 1 |
| Stained-Glass Window | No | 11 |
| Stash | No | 1 |
| Synthesis Medallion | No | 1 |
| Synthesiser | No | 2 |
| Tane Octavius | No | 1 |
| Tujen, the Haggler | No | 1 |
| Waypoint | No | 1 |
| Mosaic Wall | No | 6 |
| Rubble Strip | No | 6 |
| Ossuary Brazier | No | 2 |
| Corruption | No | 4 |
| Shore Bonfire | No | 3 |
| The Last to Die | No | 1 |
| Tile Ground | No | 9 |
| Maraketh Brazier | No | 3 |
| Lilly Roth | No | 1 |
| Syndicate Shield Stand | No | 2 |
| Sulphite Light | No | 14 |
| Metal Relic Stand | No | 2 |
| Fetid Smog | No | 1 |
| Blocking Volume | No | 23 |
| Candelabrum | No | 2 |
| Innocence Candle Row | No | 6 |
| Innocence Altar | No | 3 |
| Innocence Candelabra | No | 2 |
| Red Carpet | No | 2 |
| Golden Bars | No | 2 |
| Arched Gateway | No | 5 |
| Cathedral Podium | No | 1 |
| Golden Arch | No | 4 |
| Image of Leo | No | 1 |
| Image of Vorici | No | 2 |
| Innocence Statue | No | 1 |
| Sanctum Statue | No | 4 |
| Sky Shrine Pillar | No | 2 |
1.1 | 25 Jun 2022 - 12:40
Fixed Guild Stash (was blocked by Synthesiser)
1.0 | 17 Jun 2022 - 19:26
Initial release
Squareho
Square
Celestial
Celestial Nebula Hideout
Yellow
Red
Synthesis
Ddras
Squareho Series