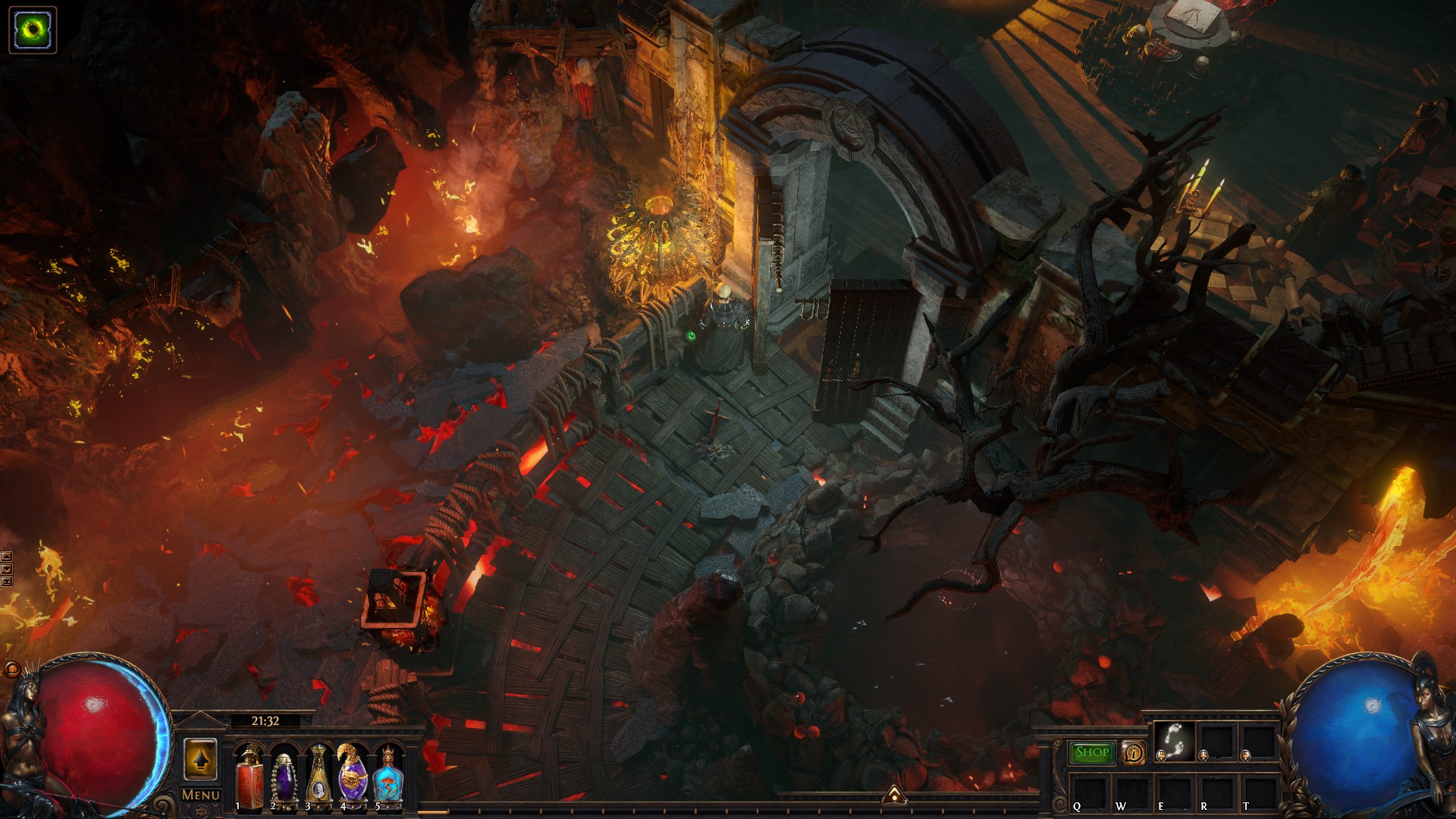 In sentinel league I decided to treat myself. I bought my favorite MTX pieces, Infinite Abyss base, the Celestial Cathedral, Scavenger Curios, Building Supplies and Environmental Effect, Overseer Building Supplies for that immaculate arch, the Cauldron and the Demonic Curios and decided to put a hideout together based on them.
The structure is also very personal. The building's structure I got from DerroK's old but gold "Hunter's Dream" setup and I decorated as I wanted. The surrounding path is a classic volcanic road inspired one by Zakk Perish's hideout of the same title. They are some of my favorite works and I wanted to combine them into my own aesthetic.
It's what I use for mapping and is intended for personal use. I didn't have a plan to upload it but I do so in case anyone likes it and has the MTX required. It was over 30 hours of work so I hope you enjoy what you see!
Hideout version: 1.0
Total decorations: 747
Uses MTX:

Yes



| Decoration name | MTX | Count |
| --- | --- | --- |
| Cauldron | Yes | 1 |
| Celestial Cathedral | Yes | 10 |
| Demonic Curios | Yes | 1 |
| Fireplace | Yes | 1 |
| Overseer Building Supplies | Yes | 2 |
| Scavenger Building Supplies | Yes | 1 |
| Scavenger Curios | Yes | 4 |
| Scavenger Environmental Effect | Yes | 1 |
| Alva | No | 1 |
| Crafting Bench | No | 1 |
| Dannig, Warrior Skald | No | 1 |
| Einhar | No | 1 |
| Expedition Locker | No | 1 |
| Guild Stash | No | 1 |
| Gwennen, the Gambler | No | 1 |
| Helena | No | 1 |
| Horticrafting Station | No | 1 |
| Jun | No | 1 |
| Kirac | No | 1 |
| Map Device | No | 1 |
| Niko | No | 1 |
| Rog, the Dealer | No | 1 |
| Sister Cassia | No | 1 |
| Stash | No | 1 |
| Tane Octavius | No | 1 |
| Tujen, the Haggler | No | 1 |
| Waypoint | No | 1 |
| Torch | No | 5 |
| Crypt Rubble | No | 9 |
| Blood Plane | No | 1 |
| Bow Rack | No | 1 |
| Stone Well | No | 1 |
| Decrepit Fence | No | 3 |
| Garden Column | No | 2 |
| Skull Pile | No | 7 |
| Weathered Grave | No | 76 |
| Bloody Corpse | No | 1 |
| Catacomb Pillar | No | 20 |
| Large Rocks | No | 51 |
| Stone Archway | No | 1 |
| Vaal Scattered Papers | No | 2 |
| Absorbed Flesh | No | 3 |
| Bulbous Flesh | No | 1 |
| Flesh Glob | No | 3 |
| Glowing Embers | No | 18 |
| Slave Pens Rug | No | 1 |
| Blood Fog (Red) | No | 1 |
| Highgate Weapon Rack | No | 1 |
| Camp Rug | No | 2 |
| Hitching Post | No | 17 |
| Impaled Corpse | No | 7 |
| Slave Post | No | 3 |
| Hung Corpse | No | 9 |
| The Last to Die | No | 1 |
| Weathered Skull Pile | No | 6 |
| Lava Fountain | No | 8 |
| Lava Glow | No | 12 |
| Rock Formation | No | 28 |
| Charred Skeleton | No | 5 |
| Rising Smoke | No | 2 |
| Syndicate Cage | No | 3 |
| Raging Fire | No | 14 |
| Syndicate Armour Rack | No | 2 |
| Thick Smoke | No | 9 |
| Blacksmith's Rack | No | 1 |
| Lilly Roth | No | 1 |
| Syndicate Fortification | No | 7 |
| Den Large Rock | No | 2 |
| Bastinado | No | 12 |
| Cave Stalagmite | No | 2 |
| Iron Lantern | No | 5 |
| Scattered Books | No | 1 |
| Stone Shattered Pieces | No | 92 |
| Cave Pillar | No | 2 |
| Library Book Pile | No | 7 |
| Thaumaturgy Pillar | No | 15 |
| Small Relic Stand | No | 1 |
| Tiny Relic Stand | No | 4 |
| Ashen Bonfire | No | 1 |
| Catherine Wheel | No | 9 |
| Relic Stand | No | 1 |
| Scattered Papers | No | 2 |
| Skeleton Display | No | 16 |
| Abyssal Ritual Circle | No | 2 |
| Messy Study Table | No | 1 |
| Innocence Candle | No | 1 |
| Blocking Volume | No | 29 |
| Candelabrum | No | 1 |
| Innocence Candle Row | No | 3 |
| Wood Ground | No | 6 |
| Courthouse Armchair | No | 4 |
| Innocence Candelabra | No | 1 |
| Oriath Army Barrel | No | 1 |
| Temple Mat | No | 1 |
| Innocence Shrine | No | 1 |
| Oriath Armour Crate | No | 1 |
| Standing Lamp | No | 1 |
| Summoning Circle | No | 23 |
| Burned Books | No | 2 |
| Burned Rug | No | 1 |
| Courthouse Table | No | 1 |
| Temple Arch | No | 85 |
| Cathedral Debris | No | 2 |
| Court Bookcase | No | 2 |
| Ramshackle Wall | No | 7 |
| Oriath Statue | No | 9 |
| Pohutukawa Tree | No | 2 |
| Sky Shrine Wall | No | 2 |
Latest version: 1.0
| Version number | MTX | Publish date | Total favor | Total decorations | Downloads | Link |
| --- | --- | --- | --- | --- | --- | --- |
| 1.0 | Yes | 2022-05-22 18:43:31 | 4,836,060 | 747 | 135 | Download |
1.0 | 22 May 2022 - 18:43
Initial release