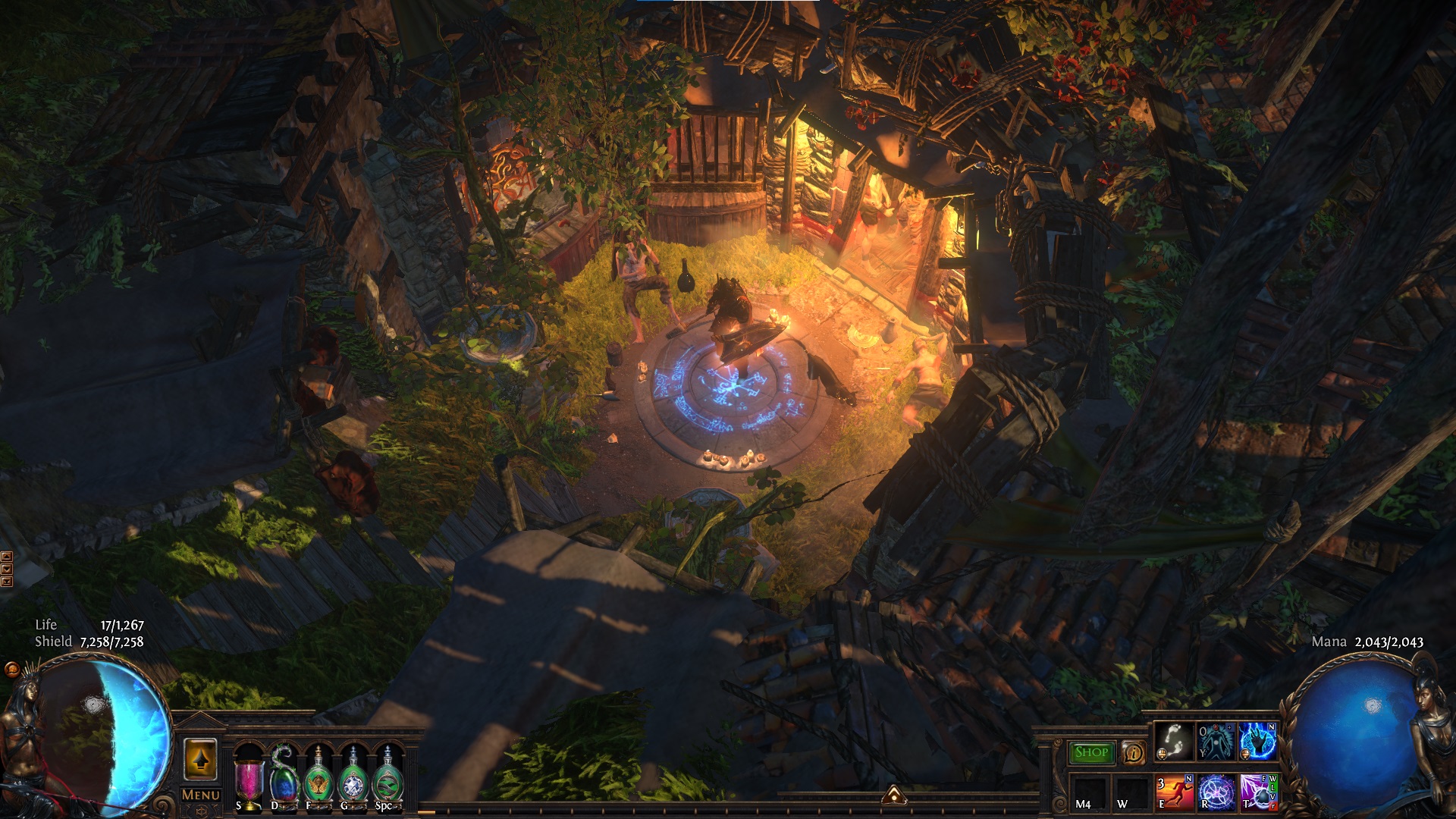 It is for Iron Hideout Competition #6
A village on a path of exile that references Middle-earth.
A classic world of swords and sorcery.
The village is on three levels of hills.
There is a tavern, a hobbit-hole-like dwelling, and a giant tree.
Only 5 parts left to reach the 750 part limit.
I've made it so that it can handle more people and lockers.
Hideout version: 1.0
Total decorations: 764
Uses MTX:

No



| Decoration name | MTX | Count |
| --- | --- | --- |
| Alva | No | 1 |
| Crafting Bench | No | 1 |
| Dannig, Warrior Skald | No | 1 |
| Einhar | No | 1 |
| Expedition Locker | No | 1 |
| Guild Stash | No | 1 |
| Gwennen, the Gambler | No | 1 |
| Heist Locker | No | 1 |
| Helena | No | 1 |
| Horticrafting Station | No | 1 |
| Jun | No | 1 |
| Kirac | No | 1 |
| Map Device | No | 1 |
| Navali | No | 1 |
| Niko | No | 1 |
| Rog, the Dealer | No | 1 |
| Sister Cassia | No | 1 |
| Stash | No | 1 |
| Tane Octavius | No | 1 |
| Tujen, the Haggler | No | 1 |
| Waypoint | No | 1 |
| Zana | No | 1 |
| Foothills Grass | No | 1 |
| Mosaic Wall | No | 2 |
| Wooden Board | No | 73 |
| Hungry Exile | No | 1 |
| Rubble Strip | No | 1 |
| Ruined Chair | No | 4 |
| Ruined Table | No | 1 |
| Tired Exile | No | 1 |
| Catacomb Pillar | No | 2 |
| Ruined Sofa | No | 1 |
| Swamp Tree | No | 9 |
| Colossus Hand | No | 1 |
| Colossus Head | No | 4 |
| Colossus Leg | No | 2 |
| Colossus Sword | No | 1 |
| Thick Trees | No | 18 |
| Tomb | No | 3 |
| Vaal Altar | No | 1 |
| Decorated Trees | No | 2 |
| Large Church Wall Arch | No | 2 |
| Ramshackle Hut | No | 1 |
| Ruined Arch | No | 4 |
| Clay Pot | No | 1 |
| Forest Rock | No | 19 |
| Barrels | No | 1 |
| Forest Flowers | No | 10 |
| Camp Rug | No | 1 |
| Desert Grass | No | 3 |
| Forest Tree | No | 86 |
| Grass Patch | No | 91 |
| Lush Tree | No | 3 |
| Sitting Log | No | 10 |
| Tree | No | 31 |
| Agave Plant | No | 1 |
| Aloe Plant | No | 2 |
| Bush | No | 16 |
| Depressed Exile | No | 1 |
| Garden Path | No | 3 |
| Low Mossy Wall | No | 5 |
| Macrotaen Plant | No | 16 |
| Menagerie Nest | No | 2 |
| Poppy Plant | No | 2 |
| Road Trim | No | 10 |
| Wounded Exile | No | 1 |
| Mossy Wall | No | 4 |
| Mossy Wall Arch | No | 3 |
| Overgrown Arch | No | 48 |
| Thicket Tree | No | 13 |
| Wagon | No | 1 |
| Fortification Door | No | 26 |
| Rock Formation | No | 4 |
| Rising Smoke | No | 1 |
| Sand Ground | No | 2 |
| Blue Light Beam | No | 1 |
| Raging Fire | No | 1 |
| Tree Roots | No | 5 |
| Crumbled Carts | No | 2 |
| Mushroom Cluster | No | 15 |
| Dirt Ground | No | 7 |
| Iron Candelabra | No | 1 |
| Iron Lantern | No | 9 |
| Mine Rock | No | 1 |
| Azurite Chunk | No | 1 |
| Copper Chest | No | 2 |
| Flat Stone Slabs | No | 1 |
| Laboratory Flask | No | 1 |
| Light Cargo Wagon | No | 1 |
| Ruined Fence | No | 2 |
| Small Relic Stand | No | 1 |
| Tiny Relic Stand | No | 1 |
| Wooden Hut | No | 2 |
| Maraketh Lantern | No | 6 |
| Wooden Post | No | 1 |
| Elaborate Stall | No | 7 |
| Functional Stall | No | 7 |
| Shrouded Furniture | No | 1 |
| Slum Building | No | 16 |
| Water Fog | No | 2 |
| Blocking Volume | No | 2 |
| Innocence Candle Row | No | 1 |
| Oriath Weapons Crate | No | 2 |
| Innocence Altar | No | 1 |
| Innocence Candelabra | No | 1 |
| Oriath Army Barrel | No | 1 |
| Oriath Lantern | No | 2 |
| Oriath Supply Crate | No | 2 |
| Water Plane | No | 2 |
| Arena Petals | No | 6 |
| Interrogation Chair | No | 6 |
| Oriath Armour Crate | No | 3 |
| Oriath Ladder | No | 1 |
| Oriath Supplies | No | 2 |
| Brick Archway | No | 7 |
| Cathedral Tiles | No | 1 |
| Classical Wall Decoration | No | 2 |
| Kitchen Cabinet | No | 2 |
| Small Bird Cage | No | 1 |
| Floral Chair | No | 2 |
| Hanging Lamp | No | 1 |
| Oriath Rubble | No | 1 |
| Sand Tracks | No | 1 |
| Arched Gateway | No | 5 |
| Arena Flowers | No | 16 |
| Cave Treasure | No | 2 |
| Dining Table | No | 1 |
| Oriath Guard Shed | No | 1 |
| Oriath Scaffolding | No | 1 |
| Pohutukawa Tree | No | 4 |
| Sanctum Statue | No | 1 |
| Side Table | No | 2 |
| Verdant Tree | No | 13 |
Latest version: 1.0
| Version number | MTX | Publish date | Total favor | Total decorations | Downloads | Link |
| --- | --- | --- | --- | --- | --- | --- |
| 1.0 | No | 2021-10-07 14:15:33 | 4,341,300 | 764 | 743 | Download |
1.0 | 07 Oct 2021 - 14:15
Initial release