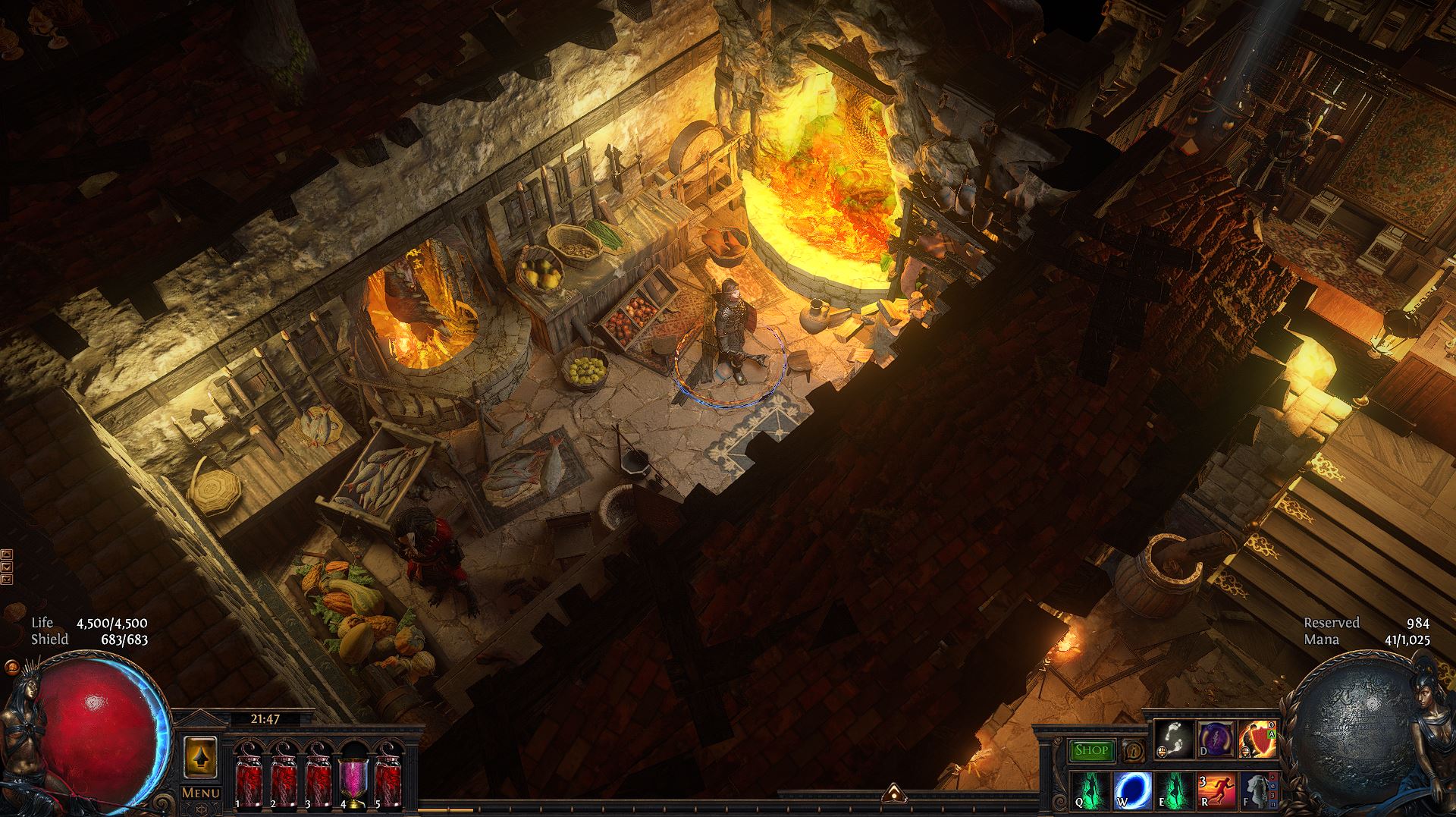 Ye Ol' Tavern (+ secret VIP area)
A rustic yet classy tavern.
Ye Ol' Tavern has its own kitchen area, a tavern area for the common adventurer to grab a quick drink or seven from the well stocked bar, a reception desk for checking in for the night and an exclusive luxe VIP area behind the reception with it's own mini bar, cozy personal fireplace and a private display collection of the owner's finest treasures (VIP only accessible by rotating the wall hanging).
The only necessary mtx are the fireplaces but they can be worked around potentially with non-mtx decorations. The other mtx were just as collection display items and and be replaced with other fancy items you want to display (but be careful about it clipping into the map portals).
(guild and item stash are hidden in the relic display case)
Hideout version: 1.1
Total cost: 2,417,080


Total decorations: 459
Uses MTX:

Yes



Einhar, Beastmaster Level: 7
Zana, Master Cartographer Level: 7
Alva, Master Explorer Level: 7
Niko, Master of the Depths Level: 7
Jun, Veiled Master Level: 6

Calculate your personal cost
| Decoration name | Buy from | Master level | Cost | Amount | Total cost |
| --- | --- | --- | --- | --- | --- |
| Black Building Supplies | MTX | 0 | 0 | 1 | 0 |
| Corsair Building Supplies | MTX | 0 | 0 | 1 | 0 |
| Fireplace | MTX | 0 | 0 | 2 | 0 |
| Huntsman Building Supplies | MTX | 0 | 0 | 1 | 0 |
| Light Oriath Statue | MTX | 0 | 0 | 2 | 0 |
| Sunrise Objects | MTX | 0 | 0 | 2 | 0 |
| White Building Supplies | MTX | 0 | 0 | 1 | 0 |
| Alva | No master | 0 | 0 | 1 | 0 |
| Crafting Bench | No master | 0 | 0 | 1 | 0 |
| Dannig, Warrior Skald | No master | 0 | 0 | 1 | 0 |
| Einhar | No master | 0 | 0 | 1 | 0 |
| Guild Stash | No master | 0 | 0 | 1 | 0 |
| Gwennen, the Gambler | No master | 0 | 0 | 1 | 0 |
| Heist Locker | No master | 0 | 0 | 1 | 0 |
| Helena | No master | 0 | 0 | 1 | 0 |
| Jun | No master | 0 | 0 | 1 | 0 |
| Kirac | No master | 0 | 0 | 1 | 0 |
| Map Device | No master | 0 | 0 | 1 | 0 |
| Navali | No master | 0 | 0 | 1 | 0 |
| Niko | No master | 0 | 0 | 1 | 0 |
| Rog, the Dealer | No master | 0 | 0 | 1 | 0 |
| Sharpening Wheel | No master | 0 | 0 | 1 | 0 |
| Sister Cassia | No master | 0 | 0 | 1 | 0 |
| Stash | No master | 0 | 0 | 1 | 0 |
| Tane Octavius | No master | 0 | 0 | 1 | 0 |
| Tujen, the Haggler | No master | 0 | 0 | 1 | 0 |
| Waypoint | No master | 0 | 0 | 1 | 0 |
| Zana | No master | 0 | 0 | 1 | 0 |
| Slave Pens Stool | Alva, Master Explorer | 1 | 140 | 3 | 420 |
| Torch | Alva, Master Explorer | 1 | 910 | 2 | 1,820 |
| Ancient Vessel | Alva, Master Explorer | 2 | 330 | 2 | 660 |
| Slave Pens Barrel | Alva, Master Explorer | 2 | 860 | 9 | 7,740 |
| Slave Pens Chair | Alva, Master Explorer | 2 | 330 | 10 | 3,300 |
| Slave Pens Drawing Table | Alva, Master Explorer | 2 | 860 | 1 | 860 |
| Vaal Fire Pit | Alva, Master Explorer | 2 | 860 | 8 | 6,880 |
| Crypt Fire Pit | Alva, Master Explorer | 3 | 4,400 | 6 | 26,400 |
| Slave Pens Bench | Alva, Master Explorer | 3 | 710 | 1 | 710 |
| Decrepit Fence | Alva, Master Explorer | 4 | 1,220 | 3 | 3,660 |
| Ruined Table | Alva, Master Explorer | 4 | 1,220 | 1 | 1,220 |
| Sarcophagus | Alva, Master Explorer | 4 | 3,170 | 1 | 3,170 |
| Slave Pens Crate | Alva, Master Explorer | 4 | 1,220 | 2 | 2,440 |
| Sword In Ground | Alva, Master Explorer | 4 | 1,220 | 1 | 1,220 |
| Blackguard Barricade | Alva, Master Explorer | 5 | 2,570 | 2 | 5,140 |
| Catacomb Pillar | Alva, Master Explorer | 5 | 6,760 | 74 | 500,240 |
| Crypt Pillar | Alva, Master Explorer | 5 | 6,760 | 1 | 6,760 |
| Fresh Giblets | Alva, Master Explorer | 5 | 2,570 | 1 | 2,570 |
| Large Pillar | Alva, Master Explorer | 5 | 6,760 | 1 | 6,760 |
| Large Rocks | Alva, Master Explorer | 5 | 2,570 | 3 | 7,710 |
| Slave Pens Dining Table | Alva, Master Explorer | 5 | 6,760 | 3 | 20,280 |
| Slave Pens Rug | Alva, Master Explorer | 6 | 4,090 | 1 | 4,090 |
| Highgate Weapon Rack | Alva, Master Explorer | 7 | 35,890 | 1 | 35,890 |
| Driftwood Branches | Einhar, Beastmaster | 1 | 140 | 1 | 140 |
| Forest Rock | Einhar, Beastmaster | 1 | 140 | 1 | 140 |
| Shore Rocks | Einhar, Beastmaster | 1 | 140 | 1 | 140 |
| Barrels | Einhar, Beastmaster | 2 | 860 | 5 | 4,300 |
| Dead Fish | Einhar, Beastmaster | 2 | 330 | 1 | 330 |
| Menagerie Bucket | Einhar, Beastmaster | 2 | 860 | 3 | 2,580 |
| Menagerie Feeding Trough | Einhar, Beastmaster | 2 | 860 | 1 | 860 |
| Shore Plank Debris | Einhar, Beastmaster | 2 | 330 | 2 | 660 |
| Wooden Plate | Einhar, Beastmaster | 2 | 860 | 1 | 860 |
| Camp Rug | Einhar, Beastmaster | 3 | 710 | 3 | 2,130 |
| Chopped Wood | Einhar, Beastmaster | 3 | 710 | 3 | 2,130 |
| Fish Stand | Einhar, Beastmaster | 3 | 710 | 1 | 710 |
| Hitching Post | Einhar, Beastmaster | 3 | 710 | 1 | 710 |
| Pot Line | Einhar, Beastmaster | 3 | 710 | 1 | 710 |
| Rope Basket | Einhar, Beastmaster | 3 | 710 | 1 | 710 |
| Stick With Skull | Einhar, Beastmaster | 3 | 710 | 1 | 710 |
| Dead Seagull On Stick | Einhar, Beastmaster | 4 | 1,220 | 1 | 1,220 |
| Menagerie Food Tray | Einhar, Beastmaster | 4 | 1,220 | 1 | 1,220 |
| Shore Bonfire | Einhar, Beastmaster | 4 | 3,170 | 1 | 3,170 |
| Spiral Stone | Einhar, Beastmaster | 4 | 7,490 | 1 | 7,490 |
| Hunted Rhoa | Einhar, Beastmaster | 5 | 6,760 | 1 | 6,760 |
| Mossy Wall Arch | Einhar, Beastmaster | 5 | 2,570 | 1 | 2,570 |
| Scrap Pile | Einhar, Beastmaster | 5 | 2,570 | 1 | 2,570 |
| Ski Equipment | Einhar, Beastmaster | 5 | 2,570 | 1 | 2,570 |
| Fortification Door | Einhar, Beastmaster | 6 | 10,720 | 2 | 21,440 |
| Rock Formation | Einhar, Beastmaster | 6 | 10,720 | 2 | 21,440 |
| Stone Arch | Einhar, Beastmaster | 7 | 15,320 | 1 | 15,320 |
| Maraketh Cushion | Jun, Veiled Master | 1 | 140 | 1 | 140 |
| Ornate Wall Hanging | Jun, Veiled Master | 1 | 910 | 1 | 910 |
| Scattered Coins | Jun, Veiled Master | 1 | 140 | 3 | 420 |
| Syndicate Cabinet | Jun, Veiled Master | 1 | 910 | 1 | 910 |
| Lotus Bench | Jun, Veiled Master | 2 | 2,040 | 1 | 2,040 |
| Maraketh Rug | Jun, Veiled Master | 2 | 2,040 | 2 | 4,080 |
| Maraketh Table | Jun, Veiled Master | 2 | 2,040 | 2 | 4,080 |
| Rising Smoke | Jun, Veiled Master | 2 | 330 | 1 | 330 |
| Syndicate Drawers | Jun, Veiled Master | 2 | 2,010 | 2 | 4,020 |
| Primeval Throne | Jun, Veiled Master | 3 | 4,400 | 1 | 4,400 |
| Syndicate Shelf | Jun, Veiled Master | 3 | 4,400 | 1 | 4,400 |
| Blacksmith's Barrel | Jun, Veiled Master | 4 | 1,210 | 1 | 1,210 |
| Ornate Bar | Jun, Veiled Master | 4 | 7,490 | 1 | 7,490 |
| Oyun's Throne | Jun, Veiled Master | 5 | 16,020 | 1 | 16,020 |
| Rhex Statue | Jun, Veiled Master | 5 | 16,020 | 1 | 16,020 |
| Syndicate Shield Stand | Jun, Veiled Master | 5 | 16,020 | 1 | 16,020 |
| Classical Painting | Jun, Veiled Master | 6 | 4,090 | 2 | 8,180 |
| Den Small Rock | Niko, Master of the Depths | 1 | 140 | 5 | 700 |
| High Chair | Niko, Master of the Depths | 1 | 140 | 6 | 840 |
| Iron Candelabra | Niko, Master of the Depths | 2 | 2,040 | 4 | 8,160 |
| Low Fire Pit | Niko, Master of the Depths | 2 | 860 | 7 | 6,020 |
| Market Debris | Niko, Master of the Depths | 2 | 330 | 3 | 990 |
| Damaged Barrels | Niko, Master of the Depths | 3 | 710 | 1 | 710 |
| Iron Lantern | Niko, Master of the Depths | 3 | 1,860 | 2 | 3,720 |
| Jug | Niko, Master of the Depths | 3 | 330 | 1 | 330 |
| Metal Lantern | Niko, Master of the Depths | 3 | 1,860 | 1 | 1,860 |
| Scattered Books | Niko, Master of the Depths | 3 | 710 | 2 | 1,420 |
| Scavenged Rug | Niko, Master of the Depths | 3 | 1,860 | 5 | 9,300 |
| Stone Hitching Post | Niko, Master of the Depths | 3 | 1,860 | 2 | 3,720 |
| Axiom Pillar | Niko, Master of the Depths | 4 | 3,170 | 5 | 15,850 |
| Broken Glass | Niko, Master of the Depths | 4 | 1,220 | 1 | 1,220 |
| Den Pillar | Niko, Master of the Depths | 4 | 3,170 | 1 | 3,170 |
| Grigor's Wall | Niko, Master of the Depths | 4 | 3,170 | 7 | 22,190 |
| Laboratory Flask | Niko, Master of the Depths | 4 | 1,220 | 3 | 3,660 |
| Library Book Pile | Niko, Master of the Depths | 4 | 1,220 | 2 | 2,440 |
| Market Shelf | Niko, Master of the Depths | 4 | 3,170 | 1 | 3,170 |
| Relic Pile | Niko, Master of the Depths | 4 | 3,170 | 3 | 9,510 |
| Thaumaturgy Pillar | Niko, Master of the Depths | 4 | 3,170 | 4 | 12,680 |
| Wooden Workbench | Niko, Master of the Depths | 4 | 3,170 | 6 | 19,020 |
| Laboratory Alembic | Niko, Master of the Depths | 5 | 16,020 | 1 | 16,020 |
| Laboratory Apparatus | Niko, Master of the Depths | 5 | 2,570 | 2 | 5,140 |
| Laboratory Vats | Niko, Master of the Depths | 5 | 16,020 | 1 | 16,020 |
| Metal Relic Stand | Niko, Master of the Depths | 5 | 6,760 | 6 | 40,560 |
| Ornate Relic Stand | Niko, Master of the Depths | 5 | 6,760 | 1 | 6,760 |
| Reliquary Pillar | Niko, Master of the Depths | 5 | 2,570 | 2 | 5,140 |
| Small Relic Stand | Niko, Master of the Depths | 5 | 2,570 | 1 | 2,570 |
| Laboratory Fireplace | Niko, Master of the Depths | 6 | 10,720 | 1 | 10,720 |
| Laboratory Shelf | Niko, Master of the Depths | 6 | 10,720 | 5 | 53,600 |
| Library Statue | Niko, Master of the Depths | 6 | 10,720 | 2 | 21,440 |
| Map Board | Niko, Master of the Depths | 6 | 10,720 | 1 | 10,720 |
| Ornate Vase | Niko, Master of the Depths | 6 | 4,090 | 1 | 4,090 |
| Relic Stand | Niko, Master of the Depths | 6 | 10,720 | 6 | 64,320 |
| Scattered Papers | Niko, Master of the Depths | 6 | 4,090 | 1 | 4,090 |
| Skeleton Display | Niko, Master of the Depths | 6 | 10,720 | 1 | 10,720 |
| Small Relic Display | Niko, Master of the Depths | 6 | 10,720 | 2 | 21,440 |
| Small Relic Table | Niko, Master of the Depths | 6 | 10,720 | 5 | 53,600 |
| Stall Counter | Niko, Master of the Depths | 6 | 10,720 | 9 | 96,480 |
| Large Relic Display | Niko, Master of the Depths | 7 | 15,320 | 1 | 15,320 |
| Relic Display | Niko, Master of the Depths | 7 | 15,320 | 1 | 15,320 |
| Relic Table | Niko, Master of the Depths | 7 | 15,320 | 1 | 15,320 |
| Slum Building | Niko, Master of the Depths | 7 | 35,890 | 8 | 287,120 |
| Travel Wagon | Niko, Master of the Depths | 7 | 35,890 | 3 | 107,670 |
| Oriath Barrels | Zana, Master Cartographer | 1 | 140 | 3 | 420 |
| Blocking Volume | Zana, Master Cartographer | 2 | 140 | 8 | 1,120 |
| Candelabrum | Zana, Master Cartographer | 2 | 860 | 13 | 11,180 |
| Dark Vessel | Zana, Master Cartographer | 2 | 2,040 | 1 | 2,040 |
| Golden Vessel | Zana, Master Cartographer | 2 | 2,040 | 1 | 2,040 |
| Incense Burner | Zana, Master Cartographer | 2 | 2,040 | 1 | 2,040 |
| Innocence Side Table | Zana, Master Cartographer | 2 | 2,040 | 1 | 2,040 |
| Lioneye's Watch Ground | Zana, Master Cartographer | 2 | 330 | 5 | 1,650 |
| Wood Ground | Zana, Master Cartographer | 2 | 330 | 2 | 660 |
| Courthouse Armchair | Zana, Master Cartographer | 3 | 4,400 | 2 | 8,800 |
| Oriath Army Barrel | Zana, Master Cartographer | 3 | 710 | 2 | 1,420 |
| Oriath Lantern | Zana, Master Cartographer | 3 | 710 | 5 | 3,550 |
| Oriath Supply Crate | Zana, Master Cartographer | 3 | 710 | 2 | 1,420 |
| Bridge Debris | Zana, Master Cartographer | 4 | 1,220 | 1 | 1,220 |
| Coffee Table | Zana, Master Cartographer | 4 | 3,170 | 1 | 3,170 |
| Oriath Armour Crate | Zana, Master Cartographer | 4 | 3,170 | 2 | 6,340 |
| Summoning Circle | Zana, Master Cartographer | 4 | 7,490 | 1 | 7,490 |
| Templar Rug | Zana, Master Cartographer | 4 | 1,220 | 1 | 1,220 |
| Bathhouse Rug | Zana, Master Cartographer | 5 | 6,760 | 1 | 6,760 |
| Book Shelf | Zana, Master Cartographer | 5 | 6,760 | 5 | 33,800 |
| Brick Archway | Zana, Master Cartographer | 5 | 6,760 | 1 | 6,760 |
| Courthouse Desk | Zana, Master Cartographer | 5 | 6,760 | 2 | 13,520 |
| Kitchen Cabinet | Zana, Master Cartographer | 5 | 6,760 | 1 | 6,760 |
| Court Bookcase | Zana, Master Cartographer | 6 | 10,720 | 15 | 160,800 |
| Door Frame | Zana, Master Cartographer | 6 | 10,720 | 1 | 10,720 |
| Flower Pot | Zana, Master Cartographer | 6 | 4,090 | 1 | 4,090 |
| Hanging Lamp | Zana, Master Cartographer | 6 | 10,720 | 2 | 21,440 |
| Jury Stand | Zana, Master Cartographer | 6 | 10,720 | 1 | 10,720 |
| Tea Set | Zana, Master Cartographer | 6 | 4,090 | 1 | 4,090 |
| Catapult Ball | Zana, Master Cartographer | 7 | 35,890 | 1 | 35,890 |
| Cave Treasure | Zana, Master Cartographer | 7 | 35,890 | 1 | 35,890 |
| Dominus Portrait | Zana, Master Cartographer | 7 | 5,830 | 1 | 5,830 |
| Golden Sparkles | Zana, Master Cartographer | 7 | 15,320 | 4 | 61,280 |
| Letters of Exile | Zana, Master Cartographer | 7 | 35,890 | 1 | 35,890 |
| Lordly Chair | Zana, Master Cartographer | 7 | 15,320 | 1 | 15,320 |
| Sky Shrine Pillar | Zana, Master Cartographer | 7 | 15,320 | 2 | 30,640 |
1.1 | 13 Sep 2021 - 03:35
minor changes
1.0 | 13 Sep 2021 - 03:28
Initial release