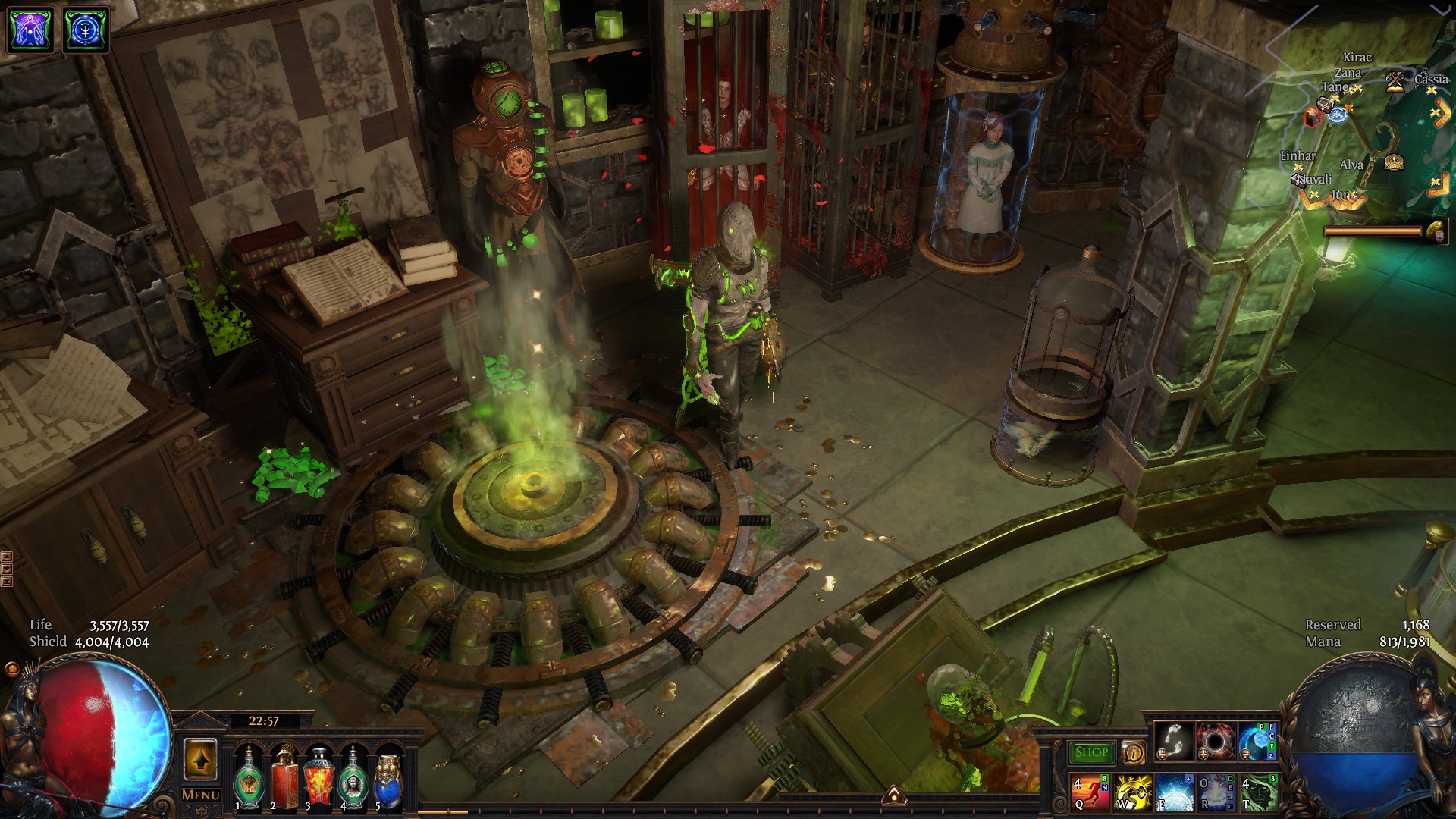 "Tane's sick of playing games with the Exiles and has joined teams with Catarina's gang of Immortal Syndicate. Nothing will hold him back now to make the most gruesome of monsters all at the same time making a ton of currency. Little does Catarina know that Tane is planning to double cross them all and take everything for himself. Even the poor children of Wraeclast can't escape his new mad experiments!"
!WARNING! I did not holdback what so ever on the MTX with this one.
I've made quite a few Hideouts around Tane as a theme and this one has jumped ahead as my favorite after building it. Everything needed for quick mapping within reach while at the same time set in an environment ready for the worst Wraeclast has to offer. Pics & Youtube Video included. Enjoy!~
Shoutout and many thanks to Hideout User "Guggelhupf" whos Tane's Apothecarium Map Device setup was so great that it was implemented into my design. Go check it out if you get a chance, it's great as well. Some of the Hideout makers on this site are truely Artists.
Hideout version: 1.0
Total decorations: 190
Uses MTX:

Yes



| Decoration name | MTX | Count |
| --- | --- | --- |
| Automaton Decor | Yes | 1 |
| Transformer | Yes | 4 |
| Twisted Building Supplies | Yes | 3 |
| Twisted Environment Hideout Decoration | Yes | 6 |
| Twisted Experiments | Yes | 6 |
| Alva | No | 1 |
| Crafting Bench | No | 1 |
| Einhar | No | 1 |
| Guild Stash | No | 1 |
| Heist Locker | No | 1 |
| Helena | No | 1 |
| Horticrafting Station | No | 1 |
| Jun | No | 1 |
| Kirac | No | 1 |
| Map Device | No | 1 |
| Navali | No | 1 |
| Niko | No | 1 |
| Sister Cassia | No | 1 |
| Stash | No | 1 |
| Tane Octavius | No | 1 |
| Waypoint | No | 1 |
| Zana | No | 1 |
| Stone Well | No | 1 |
| Slave Cage | No | 2 |
| Fresh Giblets | No | 1 |
| Frightened Exile | No | 1 |
| Ossuary Brazier | No | 6 |
| Severed Heads | No | 2 |
| Rusted Cage | No | 1 |
| Sack of Gems | No | 6 |
| Scattered Coins | No | 11 |
| Spore Pods | No | 17 |
| Syndicate Cabinet | No | 3 |
| Syndicate Desk | No | 1 |
| Rising Smoke | No | 1 |
| Syndicate Cage | No | 1 |
| Syndicate Cart | No | 1 |
| Syndicate Drawers | No | 1 |
| Oriathan Child | No | 1 |
| Syndicate Mannequin | No | 1 |
| Manifesto Stand | No | 1 |
| Assassin's Daggers | No | 1 |
| Laboratory Flask | No | 1 |
| Laboratory Table | No | 1 |
| Sulphite Light | No | 1 |
| Thaumaturgy Pillar | No | 6 |
| Water Pipe | No | 3 |
| Charred Crater | No | 6 |
| Laboratory Alembic | No | 1 |
| Laboratory Apparatus | No | 1 |
| Laboratory Pipe | No | 1 |
| Laboratory Tank | No | 6 |
| Laboratory Vats | No | 5 |
| Laboratory Work Bench | No | 1 |
| Prison Cage | No | 7 |
| Floor Pipes | No | 6 |
| Generator | No | 6 |
| Laboratory Fireplace | No | 1 |
| Laboratory Shelf | No | 1 |
| Wall Machinery | No | 1 |
| Metamorph Tank | No | 4 |
| Tower Pod | No | 2 |
| Blocking Volume | No | 12 |
| Bronze Piping | No | 1 |
| Burned Books | No | 6 |
| Writing Desk | No | 1 |
| Golden Sparkles | No | 5 |
| Image of Catarina | No | 1 |
| Image of Elreon | No | 1 |
| Image of Haku | No | 1 |
| Image of Leo | No | 1 |
| Image of Tora | No | 1 |
| Image of Vagan | No | 1 |
| Image of Vorici | No | 1 |
Latest version: 1.0
| Version number | MTX | Publish date | Total favor | Total decorations | Downloads | Link |
| --- | --- | --- | --- | --- | --- | --- |
| 1.0 | Yes | 2021-06-21 03:28:59 | 1,405,460 | 190 | 48 | Download |
1.0 | 21 Jun 2021 - 03:28
Initial release