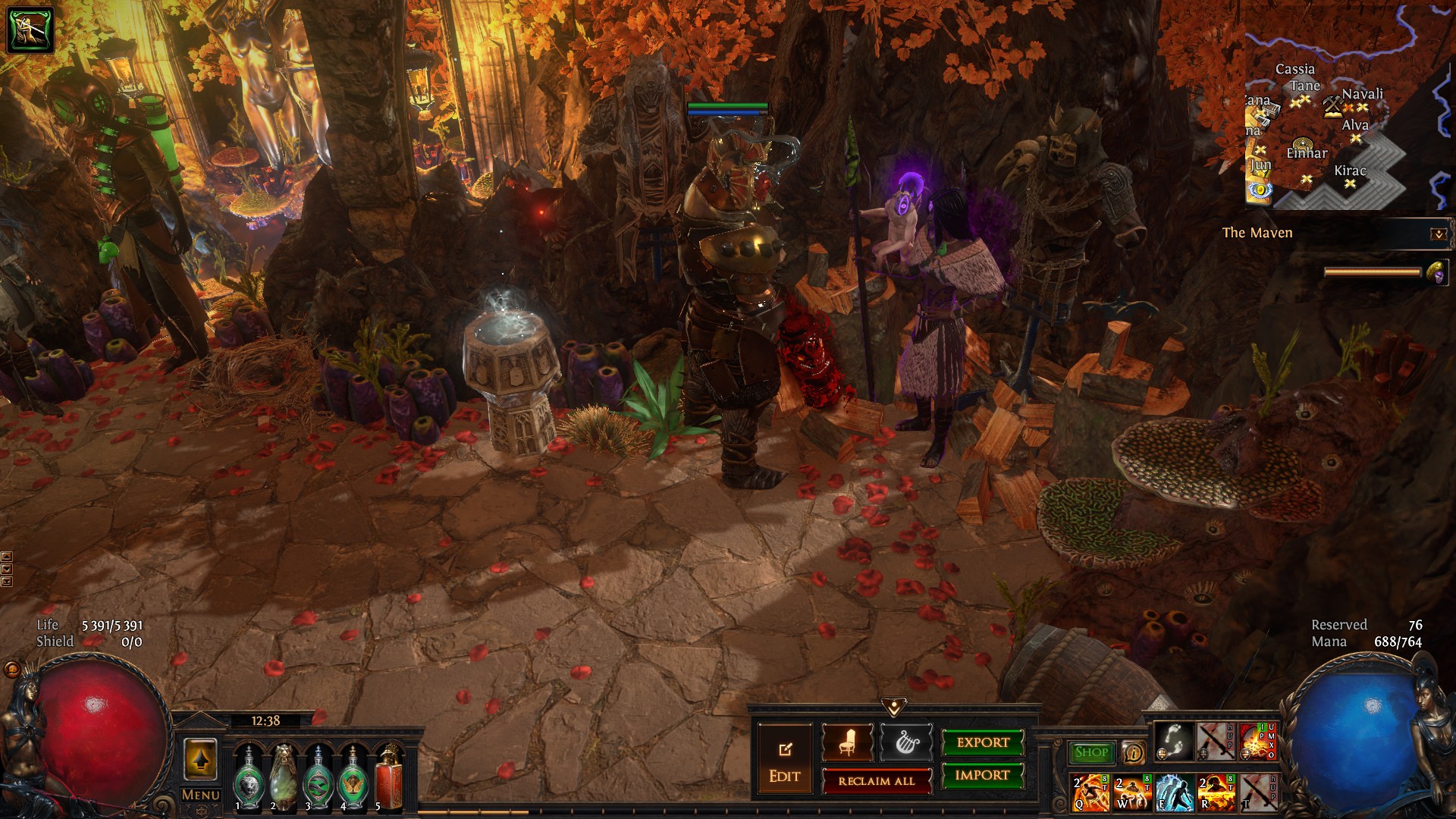 Hello! ,
This Hideout can be unlocked by kolling Uber Elder or Shaper.
Here is my version of "Celestial Hideout", serve you well.
If you have any comments, write, I will answer or correct what will be necessary.
By The way, apart from photos, you also have video material from each of my works,
so you can see what it looks like before downloading the file.
YO!
Hideout version: 1.0
Total cost: 2,982,550


Total decorations: 337
Uses MTX:

No



Einhar, Beastmaster Level: 7
Zana, Master Cartographer Level: 7
Alva, Master Explorer Level: 5
Niko, Master of the Depths Level: 7
Jun, Veiled Master Level: 7

Calculate your personal cost
| Decoration | Decoration name | Buy from | Master level | Cost | Amount | Total cost |
| --- | --- | --- | --- | --- | --- | --- |
| | Alva | No master | 0 | 0 | 1 | 0 |
| | Crafting Bench | No master | 0 | 0 | 1 | 0 |
| | Einhar | No master | 0 | 0 | 1 | 0 |
| | Guild Stash | No master | 0 | 0 | 1 | 0 |
| | Helena | No master | 0 | 0 | 1 | 0 |
| | Jun | No master | 0 | 0 | 1 | 0 |
| | Kirac | No master | 0 | 0 | 1 | 0 |
| | Map Device | No master | 0 | 0 | 1 | 0 |
| | Navali | No master | 0 | 0 | 1 | 0 |
| | Niko | No master | 0 | 0 | 1 | 0 |
| | Sister Cassia | No master | 0 | 0 | 1 | 0 |
| | Stash | No master | 0 | 0 | 1 | 0 |
| | Tane Octavius | No master | 0 | 0 | 1 | 0 |
| | Waypoint | No master | 0 | 0 | 1 | 0 |
| | Zana | No master | 0 | 0 | 1 | 0 |
| | Full Armour Stand | Alva, Master Explorer | 3 | 1,860 | 1 | 1,860 |
| | Large Rocks | Alva, Master Explorer | 5 | 2,570 | 63 | 161,910 |
| | Stone Archway | Alva, Master Explorer | 5 | 16,020 | 14 | 224,280 |
| | Swamp Tree | Alva, Master Explorer | 5 | 6,760 | 1 | 6,760 |
| | Shore Rocks | Einhar, Beastmaster | 1 | 140 | 4 | 560 |
| | Barrels | Einhar, Beastmaster | 2 | 860 | 2 | 1,720 |
| | Beach Coral | Einhar, Beastmaster | 3 | 710 | 10 | 7,100 |
| | Camp Rug | Einhar, Beastmaster | 3 | 710 | 1 | 710 |
| | Chopped Wood | Einhar, Beastmaster | 3 | 710 | 2 | 1,420 |
| | Coral Grass | Einhar, Beastmaster | 3 | 710 | 9 | 6,390 |
| | Reef Coral | Einhar, Beastmaster | 3 | 710 | 29 | 20,590 |
| | Seagull Nest | Einhar, Beastmaster | 3 | 710 | 1 | 710 |
| | Agave Plant | Einhar, Beastmaster | 4 | 1,220 | 8 | 9,760 |
| | Coral Cluster | Einhar, Beastmaster | 6 | 25,560 | 20 | 511,200 |
| | Blown Grass | Einhar, Beastmaster | 7 | 35,890 | 8 | 287,120 |
| | Coral Formation | Einhar, Beastmaster | 7 | 15,320 | 2 | 30,640 |
| | Medium Tent | Einhar, Beastmaster | 7 | 5,830 | 1 | 5,830 |
| | Spore Pods | Jun, Veiled Master | 1 | 140 | 11 | 1,540 |
| | Blue Light Beam | Jun, Veiled Master | 3 | 580 | 5 | 2,900 |
| | Syndicate Armour Rack | Jun, Veiled Master | 4 | 7,490 | 2 | 14,980 |
| | Oriath Square Fountain | Jun, Veiled Master | 7 | 77,540 | 3 | 232,620 |
| | Den Small Rock | Niko, Master of the Depths | 1 | 140 | 9 | 1,260 |
| | Den Stalagmites | Niko, Master of the Depths | 1 | 140 | 6 | 840 |
| | Sewer Pipes | Niko, Master of the Depths | 1 | 140 | 2 | 280 |
| | Cave Stalagmite | Niko, Master of the Depths | 3 | 710 | 1 | 710 |
| | Metal Lantern | Niko, Master of the Depths | 3 | 1,860 | 1 | 1,860 |
| | Stone Pieces | Niko, Master of the Depths | 3 | 710 | 13 | 9,230 |
| | Torture Table | Niko, Master of the Depths | 7 | 15,320 | 1 | 15,320 |
| | Temple Stool | Zana, Master Cartographer | 1 | 380 | 1 | 380 |
| | Lioneye's Watch Ground | Zana, Master Cartographer | 2 | 330 | 9 | 2,970 |
| | Oriath Lantern | Zana, Master Cartographer | 3 | 710 | 6 | 4,260 |
| | Arena Petals | Zana, Master Cartographer | 4 | 1,220 | 34 | 41,480 |
| | Templar Rug | Zana, Master Cartographer | 4 | 1,220 | 1 | 1,220 |
| | Medium Golden Statue | Zana, Master Cartographer | 5 | 16,020 | 5 | 80,100 |
| | Cave Treasure | Zana, Master Cartographer | 7 | 35,890 | 3 | 107,670 |
| | Verdant Tree | Zana, Master Cartographer | 7 | 35,890 | 33 | 1,184,370 |
Latest version: 1.0
| Version number | MTX | Publish date | Total favor | Total decorations | Downloads | Link |
| --- | --- | --- | --- | --- | --- | --- |
| 1.0 | No | 2021-05-04 11:28:06 | 2,982,550 | 337 | 58 | Download |
1.0 | 04 May 2021 - 11:28
Initial release