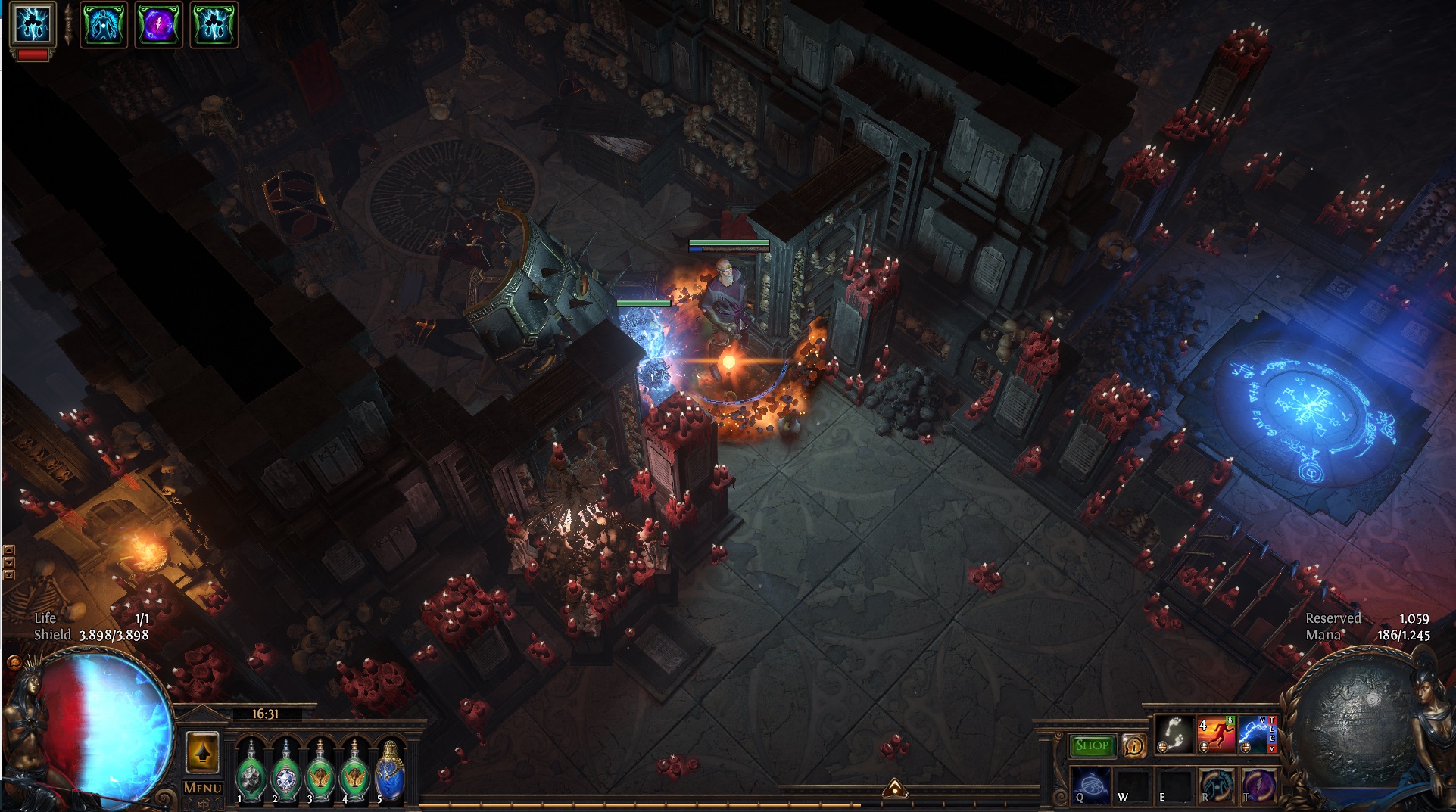 I present you my first selfmade Hideout! I was inspired by Kay Gaming's hideout (https://www.youtube.com/c/KayGaming/).
I'm pretty new to PoE but wanted to make my own personal Hideout. I've cut it in half and covered in water to create a water overflow. The chest, portals and main usage charachters are very close to each other to improve mapping.
All of it was bougt by mainly Zana and its not a super expensive hideout.
I hope you all enjoy it :)
Kino
Hideout version: 1.0
Total decorations: 374
Uses MTX:

No



| Decoration name | MTX | Count |
| --- | --- | --- |
| Alva | No | 1 |
| Crafting Bench | No | 1 |
| Einhar | No | 1 |
| Guild Stash | No | 1 |
| Heist Locker | No | 1 |
| Helena | No | 1 |
| Jun | No | 1 |
| Kirac | No | 1 |
| Map Device | No | 1 |
| Navali | No | 1 |
| Niko | No | 1 |
| Sister Cassia | No | 1 |
| Stash | No | 1 |
| Tane Octavius | No | 1 |
| Waypoint | No | 1 |
| Zana | No | 1 |
| Broken Floor | No | 3 |
| Ruined Standing Lamp | No | 4 |
| Temple Basin | No | 1 |
| Ossuary Plaque | No | 8 |
| Skull Pile | No | 32 |
| Weathered Grave | No | 2 |
| Ossuary Brazier | No | 19 |
| Ossuary Grave | No | 15 |
| Ossuary Grave Marker | No | 21 |
| Ossuary Pillar | No | 7 |
| Bone Sculpture | No | 9 |
| Bone Display | No | 4 |
| Desert Grass | No | 3 |
| Flax Plant | No | 1 |
| Agave Plant | No | 1 |
| Macrotaen Plant | No | 2 |
| Desert Plants | No | 1 |
| Library Book Pile | No | 1 |
| Strange Globe | No | 1 |
| Discarded Sheet | No | 2 |
| Innocence Candle | No | 149 |
| Candelabrum | No | 1 |
| Oriath Weapons Crate | No | 1 |
| Dead Oriath Soldier | No | 1 |
| Dead Oriath Soldier Pieces | No | 1 |
| Dead Oriath Soldier Sitting | No | 2 |
| Gilded Cage | No | 10 |
| Oriath Supply Crate | No | 1 |
| Splintered Wood | No | 5 |
| Water Plane | No | 9 |
| Arena Petals | No | 10 |
| Dead Oriath Soldier Elite | No | 1 |
| Golden Bust | No | 1 |
| Oriath Armour Crate | No | 1 |
| Oriath Supplies | No | 1 |
| Summoning Circle | No | 1 |
| Burned Books | No | 19 |
| Cathedral Tiles | No | 1 |
| Courthouse Bust | No | 1 |
| Small Bird Cage | No | 1 |
| Templar Barricade | No | 1 |
| Temple Arch | No | 2 |
| Frozen Tree | No | 1 |
Latest version: 1.0
| Version number | MTX | Publish date | Total favor | Total decorations | Downloads | Link |
| --- | --- | --- | --- | --- | --- | --- |
| 1.0 | No | 2021-04-15 15:41:18 | 1,176,360 | 374 | 159 | Download |
1.0 | 15 Apr 2021 - 15:41
Initial release