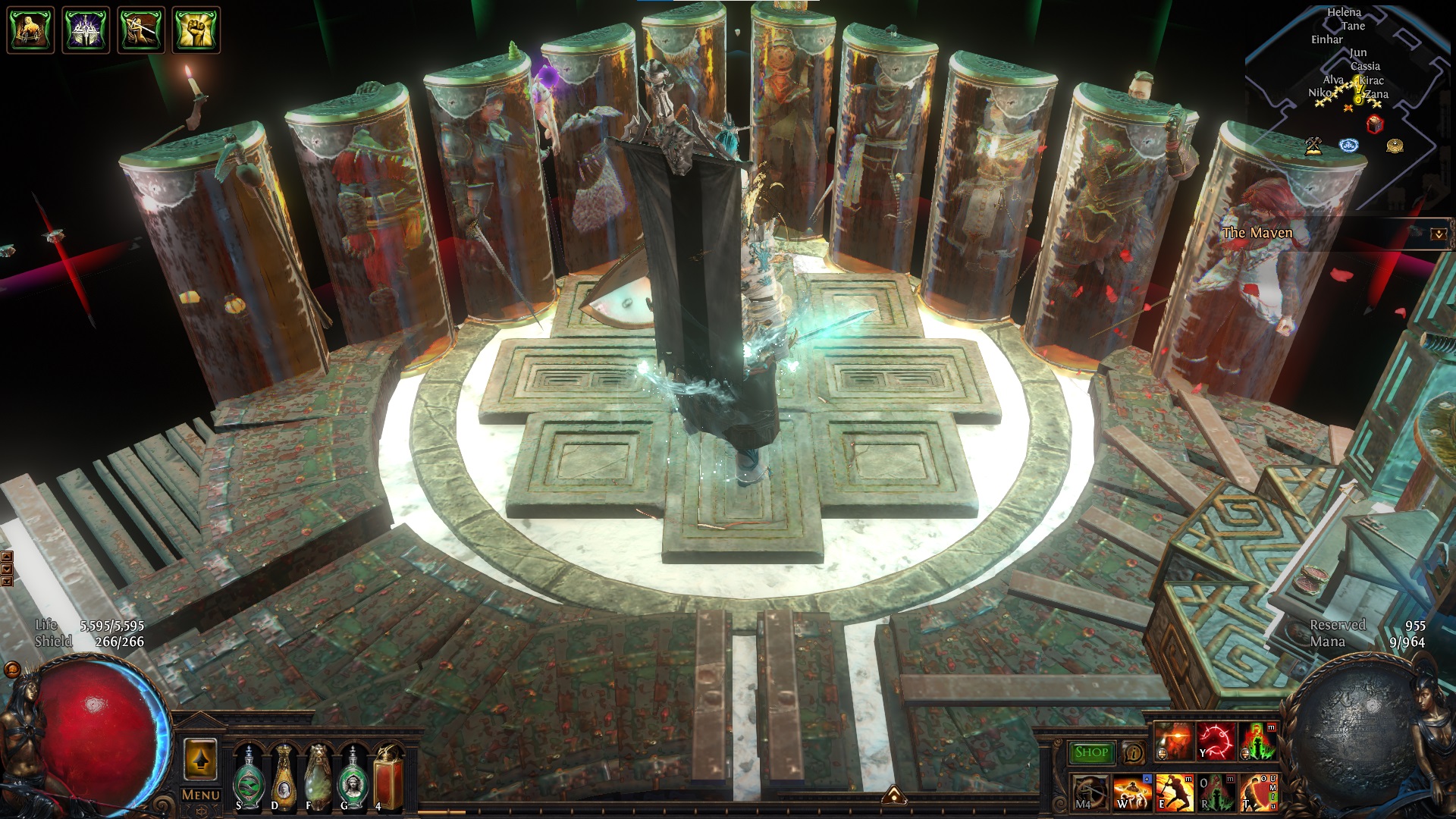 * English is not my native language. It has been automatically translated.
An inorganic, empty room. A cyber world.
Masters have been dispatched from this control room to your PC. (Maybe!)
*There are lots of small flickers because I layered many parts. It doesn't bother me because the machine signals seem to shine through, but just in case.
Hideout version: 1.0
Total decorations: 763
Uses MTX:

No



| Decoration name | MTX | Count |
| --- | --- | --- |
| Alva | No | 1 |
| Crafting Bench | No | 1 |
| Einhar | No | 1 |
| Guild Stash | No | 1 |
| Heist Locker | No | 1 |
| Helena | No | 1 |
| Horticrafting Station | No | 1 |
| Jun | No | 1 |
| Kirac | No | 1 |
| Map Device | No | 1 |
| Navali | No | 1 |
| Niko | No | 1 |
| Sister Cassia | No | 1 |
| Stash | No | 1 |
| Tane Octavius | No | 1 |
| Waypoint | No | 1 |
| Zana | No | 1 |
| Excavated Brick | No | 13 |
| Crypt Tomb | No | 18 |
| Vaal Block | No | 27 |
| Metal Beam | No | 105 |
| Oriath Ground | No | 22 |
| Primeval Floor Crystal | No | 1 |
| Primeval Floor Light | No | 86 |
| Primeval Way Marker | No | 15 |
| Primeval Power Source | No | 1 |
| Iron Lantern | No | 52 |
| Sawblade Tracks | No | 351 |
| Thaumaturgy Pillar | No | 1 |
| Laboratory Tank | No | 10 |
| Generator | No | 7 |
| Maraketh Lantern | No | 4 |
| Abyssal Ritual Circle | No | 1 |
| Tower Pod | No | 1 |
| Blocking Volume | No | 14 |
| Gilded Scavenger's Daughter | No | 6 |
| Oriath Lantern | No | 11 |
Latest version: 1.0
| Version number | MTX | Publish date | Total favor | Total decorations | Downloads | Link |
| --- | --- | --- | --- | --- | --- | --- |
| 1.0 | No | 2021-04-14 17:33:20 | 1,789,680 | 763 | 1373 | Download |
1.0 | 14 Apr 2021 - 17:33
Initial release