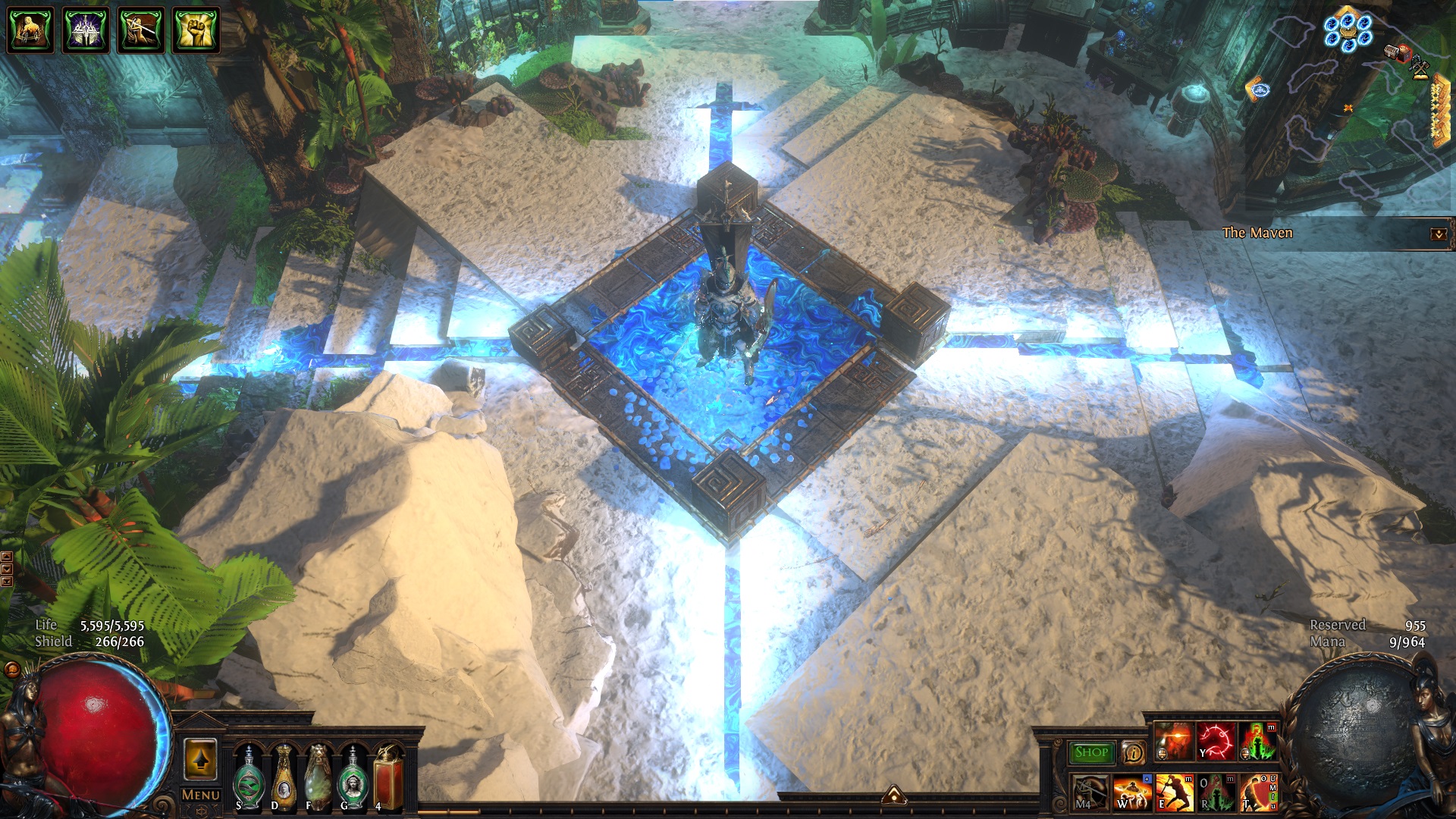 Azurite Fountain, Lazy Island
* English is not my native language. It has been automatically translated.
I made this because I wanted to have a relaxing hideout when I came home tired after fighting so many mobs.
It is recommended to watch the waves from near the WAYPOINT.
I used a lot of white ground, so the overall atmosphere is bright.
The Azurite Fountain glows blue.
If you're tired of the darkness of dark fantasy, have fun!
Hideout version: 1.0
Total decorations: 754
Uses MTX:

No



| Decoration name | MTX | Count |
| --- | --- | --- |
| Alva | No | 1 |
| Crafting Bench | No | 1 |
| Einhar | No | 1 |
| Guild Stash | No | 1 |
| Heist Locker | No | 1 |
| Helena | No | 1 |
| Horticrafting Station | No | 1 |
| Jun | No | 1 |
| Kirac | No | 1 |
| Map Device | No | 1 |
| Navali | No | 1 |
| Niko | No | 1 |
| Sister Cassia | No | 1 |
| Stash | No | 1 |
| Tane Octavius | No | 1 |
| Waypoint | No | 1 |
| Zana | No | 1 |
| Mosaic Wall | No | 20 |
| Wooden Board | No | 4 |
| Crypt Tomb | No | 31 |
| Garden Column | No | 14 |
| Catacomb Pillar | No | 3 |
| Sarn Palm | No | 1 |
| Stone Archway | No | 23 |
| Vaal Block | No | 11 |
| Church Wall Gate | No | 1 |
| Glowing Embers | No | 1 |
| Ruined Columns | No | 2 |
| Driftwood Branches | No | 1 |
| Forest Flowers | No | 1 |
| Coral Grass | No | 1 |
| Fern | No | 1 |
| Grass Patch | No | 126 |
| Bush | No | 1 |
| Garden Path | No | 2 |
| Macrotaen Plant | No | 1 |
| Palm Tree | No | 4 |
| Garden Palm | No | 8 |
| Overgrown Arch | No | 28 |
| Raphina Tree | No | 10 |
| Bulb Palm | No | 10 |
| Garden Wall | No | 5 |
| Lush Palm | No | 11 |
| Coral Formation | No | 1 |
| Palm Group | No | 26 |
| Ravenal Tree | No | 1 |
| Oriath Ground | No | 116 |
| Blue Light Beam | No | 1 |
| Primeval Floor Light | No | 26 |
| Snowy Rock | No | 10 |
| Large Snowy Rock | No | 23 |
| Primeval Way Marker | No | 5 |
| Primeval Power Source | No | 1 |
| Iron Lantern | No | 13 |
| Azurite Chunk | No | 23 |
| Thaumaturgy Pillar | No | 19 |
| Blocking Volume | No | 1 |
| Snow Drift | No | 89 |
| Oriath Lantern | No | 11 |
| Arena Petals | No | 5 |
| Golden Chest | No | 2 |
| Circular Column | No | 6 |
| Court Bookcase | No | 5 |
| Large Sofa Bed | No | 2 |
| Cave Treasure | No | 4 |
| Golden Sparkles | No | 5 |
| Sky Shrine Door | No | 7 |
| Sky Shrine Mosaic | No | 1 |
| Sky Shrine Pillar | No | 12 |
| Sky Shrine Wall | No | 1 |
Latest version: 1.0
| Version number | MTX | Publish date | Total favor | Total decorations | Downloads | Link |
| --- | --- | --- | --- | --- | --- | --- |
| 1.0 | No | 2021-04-14 17:10:44 | 3,701,660 | 754 | 773 | Download |
1.0 | 14 Apr 2021 - 17:10
Initial release