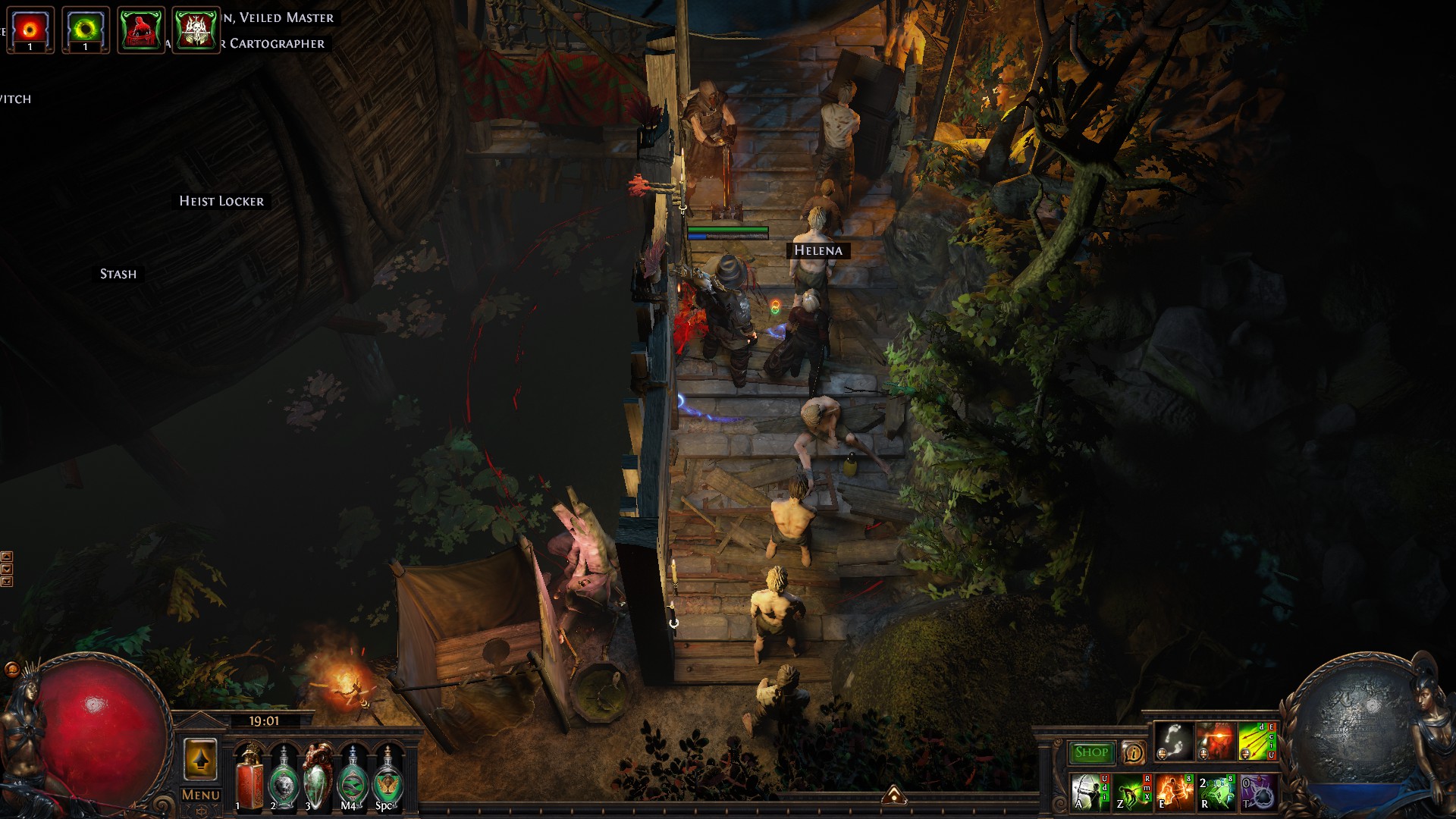 Welcome to the Wraeclast Nightclub!



We are proud to be the only facility on the continent that can satiate the most extreme of desires our clientèle may possess.

Choose between the wildest of drinks and a variety of absolutely legal substances at your own convenience, then take yourself-or your
very fortunate partner-to our in-house dancefloor, to enjoy a night of pleasure like you've never experienced before!

And for a limited time only, DJ Octavius himself will be in the house to deliver the sickest beats, so don't miss out!

As an answer to our ever-increasing popularity, we have now created a V.I.P pass for our most esteemed customers.
V.I.P tenants will be able to enjoy a priority access to the dancefloor, all done through a special entrance
specifically designed for their use only.

Being in possession of this pass also grants you access to our new relaxation space, a V.I.P-only balcony where one may enjoy
masterfully created dishes, all made by our head chef, Einhar Frey himself.

A menu will be made available at the entrance.

We are very particular about the quality of our goods, and we have made absolutely certain to go to the best providers
the Karui Shores (formerly Oriath) have to offer. All our ingredients are of course freshly hunted, and range from Albino Rhoa steak to Craicic carapace soup (for dishes of a more human nature, please ask the head chef personally).

In order to reach us, please use the nearest waypoint to warp to our Lorian-imported sword-in-a-campfire transport technology!



With the kindest regards towards the health and safety of our dear Oriathian citizens,

The Catarina.Estate.Organizer.
Hideout version: 1.0
Total cost: 2,387,780


Total decorations: 496
Uses MTX:

Yes



Einhar, Beastmaster Level: 7
Zana, Master Cartographer Level: 7
Alva, Master Explorer Level: 7
Niko, Master of the Depths Level: 7
Jun, Veiled Master Level: 7

Calculate your personal cost
| Decoration | Decoration name | Buy from | Master level | Cost | Amount | Total cost |
| --- | --- | --- | --- | --- | --- | --- |
| | Ritual Challenger Trophy | MTX | 0 | 0 | 1 | 0 |
| | Alva | No master | 0 | 0 | 1 | 0 |
| | Crafting Bench | No master | 0 | 0 | 1 | 0 |
| | Einhar | No master | 0 | 0 | 1 | 0 |
| | Guild Stash | No master | 0 | 0 | 1 | 0 |
| | Heist Locker | No master | 0 | 0 | 1 | 0 |
| | Helena | No master | 0 | 0 | 1 | 0 |
| | Horticrafting Station | No master | 0 | 0 | 1 | 0 |
| | Jun | No master | 0 | 0 | 1 | 0 |
| | Kirac | No master | 0 | 0 | 1 | 0 |
| | Map Device | No master | 0 | 0 | 1 | 0 |
| | Navali | No master | 0 | 0 | 1 | 0 |
| | Niko | No master | 0 | 0 | 1 | 0 |
| | Seed Stockpile | No master | 0 | 0 | 1 | 0 |
| | Sister Cassia | No master | 0 | 0 | 1 | 0 |
| | Stash | No master | 0 | 0 | 1 | 0 |
| | Tane Octavius | No master | 0 | 0 | 1 | 0 |
| | Waypoint | No master | 0 | 0 | 1 | 0 |
| | Zana | No master | 0 | 0 | 1 | 0 |
| | Torch | Alva, Master Explorer | 1 | 910 | 5 | 4,550 |
| | Weathered Pot | Alva, Master Explorer | 1 | 380 | 1 | 380 |
| | Slave Pens Barrel | Alva, Master Explorer | 2 | 860 | 1 | 860 |
| | Vaal Fire Pit | Alva, Master Explorer | 2 | 860 | 1 | 860 |
| | Boat Remains | Alva, Master Explorer | 3 | 710 | 1 | 710 |
| | Foothills Grass | Alva, Master Explorer | 3 | 710 | 2 | 1,420 |
| | Full Armour Stand | Alva, Master Explorer | 3 | 1,860 | 1 | 1,860 |
| | Slave Pens Bunk Bed | Alva, Master Explorer | 3 | 1,860 | 1 | 1,860 |
| | Vaal Curtain | Alva, Master Explorer | 3 | 710 | 2 | 1,420 |
| | Vaal Rug | Alva, Master Explorer | 3 | 4,400 | 1 | 4,400 |
| | Cloth Post | Alva, Master Explorer | 4 | 1,220 | 1 | 1,220 |
| | Hungry Exile | Alva, Master Explorer | 4 | 1,220 | 1 | 1,220 |
| | Tired Exile | Alva, Master Explorer | 4 | 1,220 | 4 | 4,880 |
| | Vaal Marker | Alva, Master Explorer | 4 | 1,220 | 1 | 1,220 |
| | Vaal Reading Table | Alva, Master Explorer | 4 | 7,490 | 1 | 7,490 |
| | Disembodied Corpse | Alva, Master Explorer | 5 | 2,570 | 1 | 2,570 |
| | Frightened Exile | Alva, Master Explorer | 5 | 2,570 | 1 | 2,570 |
| | Ossuary Brazier | Alva, Master Explorer | 5 | 6,760 | 7 | 47,320 |
| | Slave Pens Dining Table | Alva, Master Explorer | 5 | 6,760 | 1 | 6,760 |
| | Slave Pens Wagon | Alva, Master Explorer | 5 | 2,570 | 1 | 2,570 |
| | Flesh Glob | Alva, Master Explorer | 6 | 10,720 | 1 | 10,720 |
| | Glowing Embers | Alva, Master Explorer | 6 | 4,090 | 7 | 28,630 |
| | Rotten Stump | Alva, Master Explorer | 6 | 10,720 | 1 | 10,720 |
| | Slave Pens Rug | Alva, Master Explorer | 6 | 4,090 | 2 | 8,180 |
| | Weapon Rack | Alva, Master Explorer | 6 | 4,090 | 2 | 8,180 |
| | Corruption | Alva, Master Explorer | 7 | 15,320 | 1 | 15,320 |
| | Decorated Trees | Alva, Master Explorer | 7 | 15,320 | 1 | 15,320 |
| | Ramshackle Hut | Alva, Master Explorer | 7 | 15,320 | 1 | 15,320 |
| | Tree Hut | Alva, Master Explorer | 7 | 35,890 | 1 | 35,890 |
| | Burlap Sack | Einhar, Beastmaster | 1 | 140 | 1 | 140 |
| | Forest Rock | Einhar, Beastmaster | 1 | 140 | 1 | 140 |
| | Menagerie Rope Fence | Einhar, Beastmaster | 1 | 380 | 2 | 760 |
| | Buckets | Einhar, Beastmaster | 2 | 330 | 1 | 330 |
| | Forest Flowers | Einhar, Beastmaster | 2 | 330 | 5 | 1,650 |
| | Grass Ground | Einhar, Beastmaster | 2 | 330 | 5 | 1,650 |
| | Menagerie Bucket | Einhar, Beastmaster | 2 | 860 | 3 | 2,580 |
| | Ramshackle Ladder | Einhar, Beastmaster | 2 | 860 | 1 | 860 |
| | Shore Plank Debris | Einhar, Beastmaster | 2 | 330 | 1 | 330 |
| | Wooden Plate | Einhar, Beastmaster | 2 | 860 | 1 | 860 |
| | Camp Rug | Einhar, Beastmaster | 3 | 710 | 9 | 6,390 |
| | Desert Grass | Einhar, Beastmaster | 3 | 710 | 2 | 1,420 |
| | Flax Plant | Einhar, Beastmaster | 3 | 1,860 | 2 | 3,720 |
| | Fly Swarm | Einhar, Beastmaster | 3 | 710 | 1 | 710 |
| | Forest Tree | Einhar, Beastmaster | 3 | 710 | 1 | 710 |
| | Grass Patch | Einhar, Beastmaster | 3 | 710 | 53 | 37,630 |
| | Hitching Post | Einhar, Beastmaster | 3 | 710 | 2 | 1,420 |
| | Lush Tree | Einhar, Beastmaster | 3 | 1,860 | 2 | 3,720 |
| | Menagerie Fence | Einhar, Beastmaster | 3 | 710 | 7 | 4,970 |
| | Sitting Log | Einhar, Beastmaster | 3 | 710 | 1 | 710 |
| | Stick With Skull | Einhar, Beastmaster | 3 | 710 | 1 | 710 |
| | Tree | Einhar, Beastmaster | 3 | 710 | 6 | 4,260 |
| | Agave Plant | Einhar, Beastmaster | 4 | 1,220 | 2 | 2,440 |
| | Aloe Plant | Einhar, Beastmaster | 4 | 1,220 | 5 | 6,100 |
| | Bush | Einhar, Beastmaster | 4 | 1,220 | 9 | 10,980 |
| | Depressed Exile | Einhar, Beastmaster | 4 | 1,220 | 5 | 6,100 |
| | Low Mossy Wall | Einhar, Beastmaster | 4 | 1,220 | 2 | 2,440 |
| | Macrotaen Plant | Einhar, Beastmaster | 4 | 1,220 | 1 | 1,220 |
| | Poppy Plant | Einhar, Beastmaster | 4 | 1,220 | 3 | 3,660 |
| | Shore Bonfire | Einhar, Beastmaster | 4 | 3,170 | 2 | 6,340 |
| | Wounded Exile | Einhar, Beastmaster | 4 | 1,220 | 3 | 3,660 |
| | Bandit Tent | Einhar, Beastmaster | 5 | 6,760 | 2 | 13,520 |
| | Bestiary Notes | Einhar, Beastmaster | 5 | 2,570 | 1 | 2,570 |
| | Mossy Wall | Einhar, Beastmaster | 5 | 6,760 | 4 | 27,040 |
| | Wagon | Einhar, Beastmaster | 5 | 16,020 | 1 | 16,020 |
| | Kitava Banner | Einhar, Beastmaster | 6 | 10,720 | 1 | 10,720 |
| | Sarn Tree | Einhar, Beastmaster | 6 | 10,720 | 1 | 10,720 |
| | Moss Monster | Einhar, Beastmaster | 7 | 15,320 | 1 | 15,320 |
| | Bamboo Pile | Jun, Veiled Master | 1 | 140 | 3 | 420 |
| | Maple Tree | Jun, Veiled Master | 1 | 910 | 2 | 1,820 |
| | Primeval Tree Planter | Jun, Veiled Master | 1 | 910 | 2 | 1,820 |
| | Spore Pods | Jun, Veiled Master | 1 | 140 | 2 | 280 |
| | Syndicate Cabinet | Jun, Veiled Master | 1 | 910 | 1 | 910 |
| | Maraketh Rug | Jun, Veiled Master | 2 | 2,040 | 2 | 4,080 |
| | Pirate Remains | Jun, Veiled Master | 2 | 2,040 | 1 | 2,040 |
| | Planter Box | Jun, Veiled Master | 2 | 330 | 4 | 1,320 |
| | Rising Smoke | Jun, Veiled Master | 2 | 330 | 2 | 660 |
| | Bamboo Fence | Jun, Veiled Master | 3 | 710 | 7 | 4,970 |
| | Bamboo Floor | Jun, Veiled Master | 3 | 710 | 13 | 9,230 |
| | Blue Light Beam | Jun, Veiled Master | 3 | 580 | 9 | 5,220 |
| | Oriath Curb | Jun, Veiled Master | 3 | 710 | 23 | 16,330 |
| | Oriathan Child | Jun, Veiled Master | 3 | 4,400 | 3 | 13,200 |
| | Primeval Trough | Jun, Veiled Master | 3 | 710 | 1 | 710 |
| | Raging Fire | Jun, Veiled Master | 3 | 4,400 | 1 | 4,400 |
| | Syndicate Flag | Jun, Veiled Master | 3 | 4,400 | 1 | 4,400 |
| | Beast Trophy | Jun, Veiled Master | 4 | 7,490 | 1 | 7,490 |
| | Maraketh Brazier | Jun, Veiled Master | 4 | 1,220 | 1 | 1,220 |
| | Primeval Floor Light | Jun, Veiled Master | 4 | 7,490 | 18 | 134,820 |
| | Primeval Planter | Jun, Veiled Master | 4 | 7,490 | 6 | 44,940 |
| | Syndicate Armour Rack | Jun, Veiled Master | 4 | 7,490 | 1 | 7,490 |
| | Syndicate Statue | Jun, Veiled Master | 4 | 7,490 | 1 | 7,490 |
| | Blacksmith's Rack | Jun, Veiled Master | 5 | 2,570 | 1 | 2,570 |
| | Syndicate Shield Stand | Jun, Veiled Master | 5 | 16,020 | 1 | 16,020 |
| | Syndicate Fortification | Jun, Veiled Master | 6 | 25,560 | 2 | 51,120 |
| | Artefact Cage | Jun, Veiled Master | 7 | 5,830 | 3 | 17,490 |
| | Assassin's Daggers | Jun, Veiled Master | 7 | 35,890 | 1 | 35,890 |
| | Primeval Power Source | Jun, Veiled Master | 7 | 77,540 | 1 | 77,540 |
| | Den Large Rock | Niko, Master of the Depths | 1 | 380 | 10 | 3,800 |
| | Den Small Rock | Niko, Master of the Depths | 1 | 140 | 5 | 700 |
| | Iron Brazier | Niko, Master of the Depths | 1 | 910 | 5 | 4,550 |
| | Mushroom Cluster | Niko, Master of the Depths | 1 | 140 | 5 | 700 |
| | Iron Candelabra | Niko, Master of the Depths | 2 | 2,040 | 7 | 14,280 |
| | Wagon Debris | Niko, Master of the Depths | 2 | 330 | 7 | 2,310 |
| | Iron Lantern | Niko, Master of the Depths | 3 | 1,860 | 7 | 13,020 |
| | Metal Lantern | Niko, Master of the Depths | 3 | 1,860 | 1 | 1,860 |
| | Mine Cart | Niko, Master of the Depths | 3 | 1,860 | 1 | 1,860 |
| | Mine Rock | Niko, Master of the Depths | 3 | 330 | 7 | 2,310 |
| | Pipe Kit | Niko, Master of the Depths | 3 | 1,860 | 1 | 1,860 |
| | Azurite Chunk | Niko, Master of the Depths | 4 | 3,170 | 7 | 22,190 |
| | Blade Sentry Debris | Niko, Master of the Depths | 4 | 1,220 | 3 | 3,660 |
| | Copper Chest | Niko, Master of the Depths | 4 | 3,170 | 1 | 3,170 |
| | Laboratory Flask | Niko, Master of the Depths | 4 | 1,220 | 3 | 3,660 |
| | Labyrinth Plaque | Niko, Master of the Depths | 4 | 7,490 | 1 | 7,490 |
| | Library Book Pile | Niko, Master of the Depths | 4 | 1,220 | 1 | 1,220 |
| | Sulphite Light | Niko, Master of the Depths | 4 | 3,170 | 1 | 3,170 |
| | Wooden Fence | Niko, Master of the Depths | 4 | 3,170 | 4 | 12,680 |
| | Wooden Workbench | Niko, Master of the Depths | 4 | 3,170 | 1 | 3,170 |
| | Decorative Rug | Niko, Master of the Depths | 5 | 2,570 | 2 | 5,140 |
| | Laboratory Tank | Niko, Master of the Depths | 5 | 16,020 | 1 | 16,020 |
| | Laboratory Work Bench | Niko, Master of the Depths | 5 | 2,570 | 1 | 2,570 |
| | Power Cable | Niko, Master of the Depths | 5 | 2,570 | 5 | 12,850 |
| | Steam Hydrant | Niko, Master of the Depths | 5 | 2,570 | 1 | 2,570 |
| | Ashen Bonfire | Niko, Master of the Depths | 6 | 10,720 | 1 | 10,720 |
| | Iron Stove | Niko, Master of the Depths | 6 | 10,720 | 1 | 10,720 |
| | Laboratory Flask Tower | Niko, Master of the Depths | 6 | 10,720 | 1 | 10,720 |
| | Laboratory Shelf | Niko, Master of the Depths | 6 | 10,720 | 1 | 10,720 |
| | Labyrinth Cogs | Niko, Master of the Depths | 6 | 10,720 | 9 | 96,480 |
| | Mining Machinery | Niko, Master of the Depths | 6 | 25,560 | 2 | 51,120 |
| | Stall Counter | Niko, Master of the Depths | 6 | 10,720 | 3 | 32,160 |
| | Elaborate Stall | Niko, Master of the Depths | 7 | 35,890 | 2 | 71,780 |
| | Fetid Smog | Niko, Master of the Depths | 7 | 5,830 | 1 | 5,830 |
| | Functional Stall | Niko, Master of the Depths | 7 | 15,320 | 2 | 30,640 |
| | Ghostly Fog | Niko, Master of the Depths | 7 | 35,890 | 4 | 143,560 |
| | Relic Table | Niko, Master of the Depths | 7 | 15,320 | 1 | 15,320 |
| | Tower Pod | Niko, Master of the Depths | 7 | 15,320 | 1 | 15,320 |
| | Wooden Planks | Zana, Master Cartographer | 1 | 380 | 1 | 380 |
| | Candelabrum | Zana, Master Cartographer | 2 | 860 | 1 | 860 |
| | Incense Burner | Zana, Master Cartographer | 2 | 2,040 | 1 | 2,040 |
| | Innocence Candle Row | Zana, Master Cartographer | 2 | 330 | 4 | 1,320 |
| | Courthouse Armchair | Zana, Master Cartographer | 3 | 4,400 | 1 | 4,400 |
| | Oriath Army Barrel | Zana, Master Cartographer | 3 | 710 | 2 | 1,420 |
| | Oriath Lantern | Zana, Master Cartographer | 3 | 710 | 2 | 1,420 |
| | Oriath Supply Crate | Zana, Master Cartographer | 3 | 710 | 1 | 710 |
| | Arena Petals | Zana, Master Cartographer | 4 | 1,220 | 2 | 2,440 |
| | Oriath Ladder | Zana, Master Cartographer | 4 | 1,220 | 1 | 1,220 |
| | Dining Chair | Zana, Master Cartographer | 5 | 6,760 | 1 | 6,760 |
| | Oriath Brazier | Zana, Master Cartographer | 5 | 2,570 | 1 | 2,570 |
| | Plant Pot | Zana, Master Cartographer | 5 | 6,760 | 2 | 13,520 |
| | Reading Desk | Zana, Master Cartographer | 5 | 6,760 | 1 | 6,760 |
| | Writing Desk | Zana, Master Cartographer | 5 | 6,760 | 2 | 13,520 |
| | Court Bookcase | Zana, Master Cartographer | 6 | 10,720 | 1 | 10,720 |
| | Flower Pot | Zana, Master Cartographer | 6 | 4,090 | 1 | 4,090 |
| | Ornate Planter | Zana, Master Cartographer | 6 | 10,720 | 1 | 10,720 |
| | Ramshackle Wall | Zana, Master Cartographer | 6 | 10,720 | 1 | 10,720 |
| | Amplifier Chair | Zana, Master Cartographer | 7 | 35,890 | 1 | 35,890 |
| | Arena Flowers | Zana, Master Cartographer | 7 | 15,320 | 2 | 30,640 |
| | Image of Catarina | Zana, Master Cartographer | 7 | 77,540 | 1 | 77,540 |
| | Image of Elreon | Zana, Master Cartographer | 7 | 77,540 | 1 | 77,540 |
| | Image of Haku | Zana, Master Cartographer | 7 | 77,540 | 1 | 77,540 |
| | Image of Leo | Zana, Master Cartographer | 7 | 77,540 | 1 | 77,540 |
| | Image of Vorici | Zana, Master Cartographer | 7 | 77,540 | 1 | 77,540 |
| | Large Golden Statue | Zana, Master Cartographer | 7 | 35,890 | 1 | 35,890 |
| | Letters of Exile | Zana, Master Cartographer | 7 | 35,890 | 1 | 35,890 |
| | Pohutukawa Tree | Zana, Master Cartographer | 7 | 35,890 | 3 | 107,670 |
| | Verdant Tree | Zana, Master Cartographer | 7 | 35,890 | 2 | 71,780 |
Latest version: 1.0
| Version number | MTX | Publish date | Total favor | Total decorations | Downloads | Link |
| --- | --- | --- | --- | --- | --- | --- |
| 1.0 | Yes | 2021-02-23 18:08:39 | 2,387,780 | 496 | 111 | Download |
1.0 | 23 Feb 2021 - 18:08
Initial release