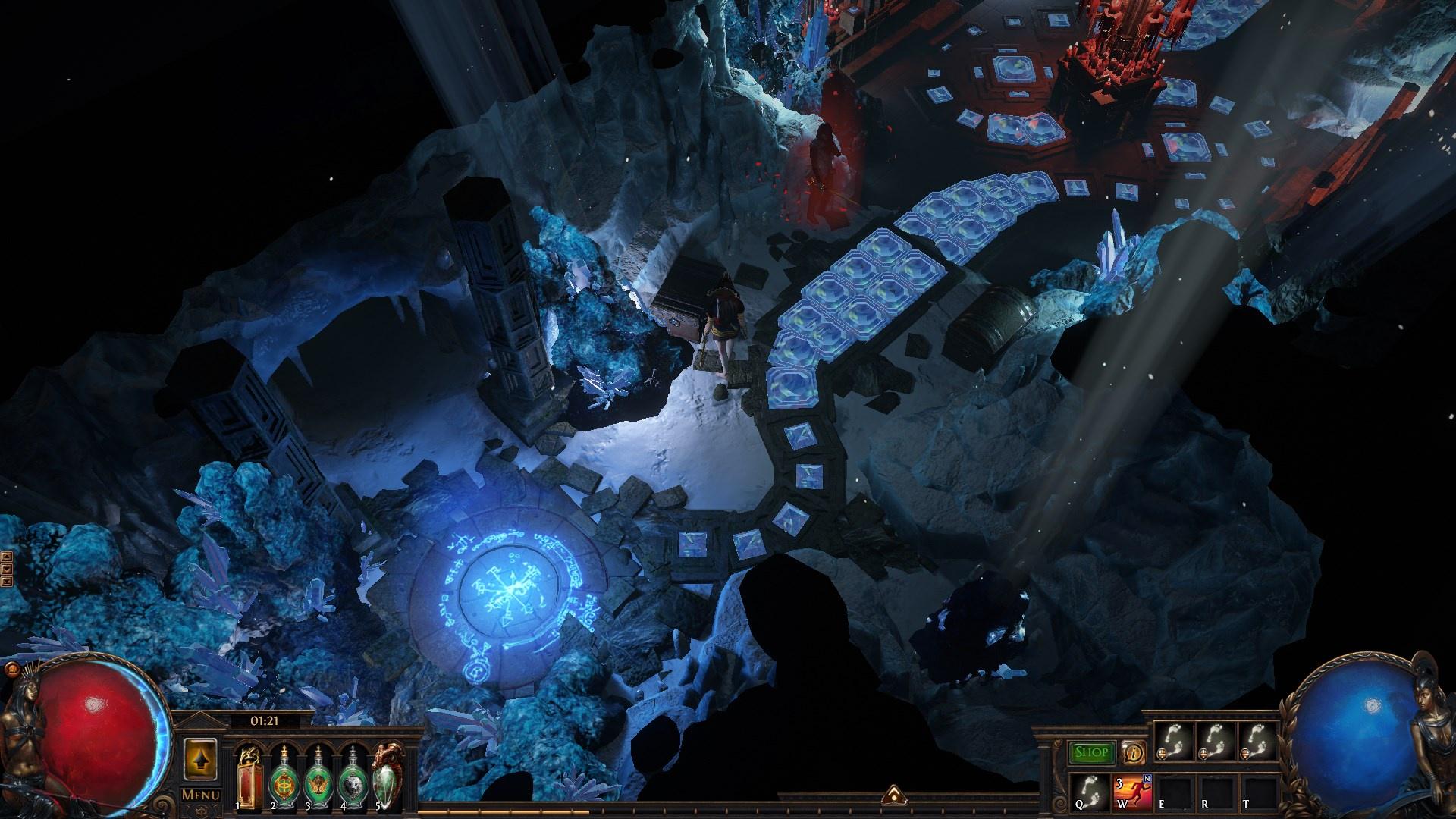 The Innocence shrine is located in the deep cave of azurite mountains. Only the strongest and most faithful piligrims could reach this small but beautiful place. There was a rumor between the local villagers and miners that there is something hidden in that cave. Some people told that there is a Wraeclast biggest pirate treasure, other told that there is the skeleton of the giant monster, killed by Innocence hundreds years ago. Most people prefered to keep silence scared to get some sort of curse for discussing this.
Nobody but high templars of Oriath knew that behind this shrine there actually is a much bigger altar of Innocence. They believed that the golden hand of the God is under the giant statue the Innocence contemporaries built there hundred years ago.
But the truth was hidden behind this fake secret, that the highest officials of Oriath sacredly believed. There was a hidden pathway to the heart of the mountain where the First Temple of Innocence was built by a small group of hermits around the actual tomb of the God. The secret was safe and the hidden temple that became the last haven for the golden God remained untouched for decades.
Hideout version: 1.0
Total cost: 4,929,820


Total decorations: 765
Uses MTX:

No



Einhar, Beastmaster Level: 4
Zana, Master Cartographer Level: 7
Alva, Master Explorer Level: 7
Niko, Master of the Depths Level: 7
Jun, Veiled Master Level: 7

Calculate your personal cost
| Decoration | Decoration name | Buy from | Master level | Cost | Amount | Total cost |
| --- | --- | --- | --- | --- | --- | --- |
| | Alva | No master | 0 | 0 | 1 | 0 |
| | Crafting Bench | No master | 0 | 0 | 1 | 0 |
| | Einhar | No master | 0 | 0 | 1 | 0 |
| | Guild Stash | No master | 0 | 0 | 1 | 0 |
| | Helena | No master | 0 | 0 | 1 | 0 |
| | Jun | No master | 0 | 0 | 1 | 0 |
| | Kirac | No master | 0 | 0 | 1 | 0 |
| | Map Device | No master | 0 | 0 | 1 | 0 |
| | Navali | No master | 0 | 0 | 1 | 0 |
| | Niko | No master | 0 | 0 | 1 | 0 |
| | Sister Cassia | No master | 0 | 0 | 1 | 0 |
| | Stash | No master | 0 | 0 | 1 | 0 |
| | Tane Octavius | No master | 0 | 0 | 1 | 0 |
| | Waypoint | No master | 0 | 0 | 1 | 0 |
| | Zana | No master | 0 | 0 | 1 | 0 |
| | Ossuary Plaque | Alva, Master Explorer | 4 | 1,220 | 107 | 130,540 |
| | Large Rocks | Alva, Master Explorer | 5 | 2,570 | 35 | 89,950 |
| | Ossuary Brazier | Alva, Master Explorer | 5 | 6,760 | 11 | 74,360 |
| | Ossuary Grave | Alva, Master Explorer | 5 | 6,760 | 11 | 74,360 |
| | Ossuary Grave Marker | Alva, Master Explorer | 5 | 16,020 | 7 | 112,140 |
| | Ossuary Pillar | Alva, Master Explorer | 5 | 16,020 | 12 | 192,240 |
| | Sarn Archway | Alva, Master Explorer | 7 | 35,890 | 1 | 35,890 |
| | Kitava Horns | Einhar, Beastmaster | 4 | 7,490 | 9 | 67,410 |
| | Primeval Rubble | Jun, Veiled Master | 1 | 140 | 37 | 5,180 |
| | Sanctum Pillar | Jun, Veiled Master | 1 | 910 | 12 | 10,920 |
| | Tile Ground | Jun, Veiled Master | 2 | 330 | 3 | 990 |
| | Blue Light Beam | Jun, Veiled Master | 3 | 580 | 19 | 11,020 |
| | Primeval Floor Crystal | Jun, Veiled Master | 3 | 4,400 | 214 | 941,600 |
| | Primeval Tablet | Jun, Veiled Master | 3 | 710 | 2 | 1,420 |
| | Primeval Throne | Jun, Veiled Master | 3 | 4,400 | 4 | 17,600 |
| | Oriath Doorway | Jun, Veiled Master | 4 | 7,490 | 1 | 7,490 |
| | Primeval Marker | Jun, Veiled Master | 4 | 1,220 | 29 | 35,380 |
| | Snowy Rock | Jun, Veiled Master | 4 | 1,220 | 8 | 9,760 |
| | Large Snowy Rock | Jun, Veiled Master | 5 | 2,570 | 16 | 41,120 |
| | Primeval Column Arc | Jun, Veiled Master | 5 | 16,020 | 2 | 32,040 |
| | Primeval Way Marker | Jun, Veiled Master | 5 | 2,570 | 9 | 23,130 |
| | Primeval Bench | Jun, Veiled Master | 6 | 4,090 | 2 | 8,180 |
| | Primeval Column | Jun, Veiled Master | 6 | 4,090 | 2 | 8,180 |
| | Primeval Pillar | Jun, Veiled Master | 6 | 25,560 | 2 | 51,120 |
| | Primeval Carving | Jun, Veiled Master | 7 | 5,830 | 1 | 5,830 |
| | Iron Lantern | Niko, Master of the Depths | 3 | 1,860 | 16 | 29,760 |
| | Azurite Chunk | Niko, Master of the Depths | 4 | 3,170 | 2 | 6,340 |
| | Abyssal Ritual Circle | Niko, Master of the Depths | 7 | 77,540 | 1 | 77,540 |
| | Azurite Vein | Niko, Master of the Depths | 7 | 35,890 | 38 | 1,363,820 |
| | Innocence Bench | Zana, Master Cartographer | 1 | 910 | 4 | 3,640 |
| | Blocking Volume | Zana, Master Cartographer | 2 | 140 | 3 | 420 |
| | Innocence Side Table | Zana, Master Cartographer | 2 | 2,040 | 2 | 4,080 |
| | Innocence Altar | Zana, Master Cartographer | 3 | 4,400 | 17 | 74,800 |
| | Innocence Candelabra | Zana, Master Cartographer | 3 | 1,860 | 33 | 61,380 |
| | Innocence Shrine | Zana, Master Cartographer | 4 | 7,490 | 38 | 284,620 |
| | Temple Arch | Zana, Master Cartographer | 5 | 16,020 | 2 | 32,040 |
| | Innocence Statue Pedestal | Zana, Master Cartographer | 6 | 25,560 | 6 | 153,360 |
| | Innocence Tomb | Zana, Master Cartographer | 6 | 25,560 | 1 | 25,560 |
| | Flag | Zana, Master Cartographer | 7 | 35,890 | 2 | 71,780 |
| | Innocence Statue | Zana, Master Cartographer | 7 | 35,890 | 1 | 35,890 |
| | Sanctum Statue | Zana, Master Cartographer | 7 | 35,890 | 14 | 502,460 |
| | Sky Shrine Door | Zana, Master Cartographer | 7 | 15,320 | 14 | 214,480 |
Latest version: 1.0
| Version number | MTX | Publish date | Total favor | Total decorations | Downloads | Link |
| --- | --- | --- | --- | --- | --- | --- |
| 1.0 | No | 2020-09-11 22:36:49 | 4,929,820 | 765 | 306 | Download |
1.0 | 11 Sep 2020 - 22:36
Initial release