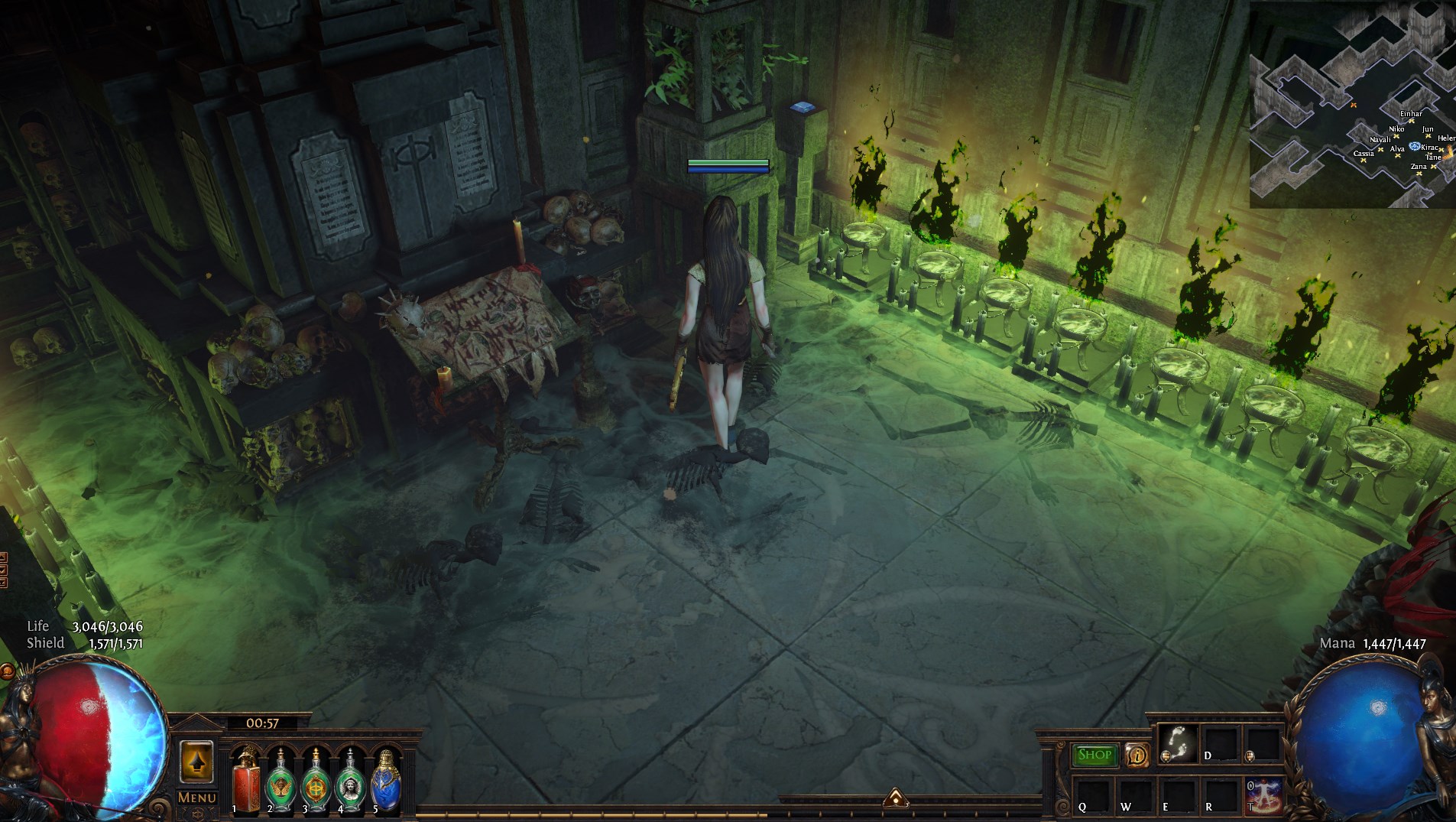 This hideout was built for my Occultist for the future Heist league, and for the Hideout competition for the theme 'Safe Haven'. Knowing I would play Occultist, it needed to represent the character's take on what the theme would mean – what is a safe haven to an occultist? Every decision is hopefully made with that context in mind, from small to large details.
Throw off the chains of fear and embrace that which was forbidden
Main idea was around fear & persecution. The Occultist has a past of living in fear, however is challenging her fears through power and confidence. However a home, or safe haven, is a place to be at the weakest of times, as well as the strongest. The character strikes me as a person who may feel fear strongly, but would never admit to feeling it, even to herself.

So the Hideout has two contrasting elements - 1) Inviting challenge through open spaces and many people (masters), and 2) intimate private areas which are safe, WHILE not breaking the former element.

Youtube video explains it a little more. But also is player driven - where they can make up their own stories/lore/etc.
https://youtu.be/KjSaJDZYibk
Hideout version: 1.0
Total cost: 4,684,790


Total decorations: 643
Uses MTX:

No



Einhar, Beastmaster Level: 7
Zana, Master Cartographer Level: 6
Alva, Master Explorer Level: 7
Niko, Master of the Depths Level: 7
Jun, Veiled Master Level: 6

Calculate your personal cost
| Decoration | Decoration name | Buy from | Master level | Cost | Amount | Total cost |
| --- | --- | --- | --- | --- | --- | --- |
| | Alva | No master | 0 | 0 | 1 | 0 |
| | Crafting Bench | No master | 0 | 0 | 1 | 0 |
| | Einhar | No master | 0 | 0 | 1 | 0 |
| | Guild Stash | No master | 0 | 0 | 1 | 0 |
| | Helena | No master | 0 | 0 | 1 | 0 |
| | Jun | No master | 0 | 0 | 1 | 0 |
| | Kirac | No master | 0 | 0 | 1 | 0 |
| | Map Device | No master | 0 | 0 | 1 | 0 |
| | Navali | No master | 0 | 0 | 1 | 0 |
| | Niko | No master | 0 | 0 | 1 | 0 |
| | Sister Cassia | No master | 0 | 0 | 1 | 0 |
| | Stash | No master | 0 | 0 | 1 | 0 |
| | Tane Octavius | No master | 0 | 0 | 1 | 0 |
| | Waypoint | No master | 0 | 0 | 1 | 0 |
| | Zana | No master | 0 | 0 | 1 | 0 |
| | Ancient Books | Alva, Master Explorer | 1 | 140 | 1 | 140 |
| | Crypt Rubble | Alva, Master Explorer | 2 | 330 | 9 | 2,970 |
| | Slave Pens Bed | Alva, Master Explorer | 3 | 1,860 | 1 | 1,860 |
| | Skull Pile | Alva, Master Explorer | 4 | 1,220 | 9 | 10,980 |
| | Crypt Pillar | Alva, Master Explorer | 5 | 6,760 | 17 | 114,920 |
| | Ossuary Brazier | Alva, Master Explorer | 5 | 6,760 | 42 | 283,920 |
| | Bone Sculpture | Alva, Master Explorer | 6 | 10,720 | 12 | 128,640 |
| | Glowing Embers | Alva, Master Explorer | 6 | 4,090 | 18 | 73,620 |
| | Blood Fog (Red) | Alva, Master Explorer | 7 | 15,320 | 12 | 183,840 |
| | Buckets | Einhar, Beastmaster | 2 | 330 | 3 | 990 |
| | Menagerie Spirit Barrier | Einhar, Beastmaster | 7 | 15,320 | 8 | 122,560 |
| | Charred Skeleton | Jun, Veiled Master | 1 | 140 | 34 | 4,760 |
| | Primeval Debris | Jun, Veiled Master | 1 | 140 | 1 | 140 |
| | Primeval Tree Planter | Jun, Veiled Master | 1 | 910 | 12 | 10,920 |
| | Syndicate Table | Jun, Veiled Master | 1 | 910 | 1 | 910 |
| | Petrified Primevals | Jun, Veiled Master | 2 | 2,040 | 1 | 2,040 |
| | Primeval Table | Jun, Veiled Master | 2 | 2,040 | 4 | 8,160 |
| | Rising Smoke | Jun, Veiled Master | 2 | 330 | 7 | 2,310 |
| | Blue Light Beam | Jun, Veiled Master | 3 | 580 | 7 | 4,060 |
| | Primeval Floor Crystal | Jun, Veiled Master | 3 | 4,400 | 210 | 924,000 |
| | Primeval Tablet | Jun, Veiled Master | 3 | 710 | 1 | 710 |
| | Primeval Throne | Jun, Veiled Master | 3 | 4,400 | 9 | 39,600 |
| | Primeval Trough | Jun, Veiled Master | 3 | 710 | 1 | 710 |
| | Primeval Marker | Jun, Veiled Master | 4 | 1,220 | 8 | 9,760 |
| | Primeval Planter | Jun, Veiled Master | 4 | 7,490 | 37 | 277,130 |
| | Primeval Stand | Jun, Veiled Master | 4 | 1,220 | 5 | 6,100 |
| | Thick Smoke | Jun, Veiled Master | 4 | 7,490 | 25 | 187,250 |
| | Manifesto Stand | Jun, Veiled Master | 5 | 16,020 | 1 | 16,020 |
| | Primeval Column | Jun, Veiled Master | 6 | 4,090 | 12 | 49,080 |
| | Primeval Pillar | Jun, Veiled Master | 6 | 25,560 | 12 | 306,720 |
| | Prison Desk | Niko, Master of the Depths | 1 | 380 | 1 | 380 |
| | Scattered Books | Niko, Master of the Depths | 3 | 710 | 4 | 2,840 |
| | Wooden Workbench | Niko, Master of the Depths | 4 | 3,170 | 1 | 3,170 |
| | Map Board | Niko, Master of the Depths | 6 | 10,720 | 5 | 53,600 |
| | Scattered Papers | Niko, Master of the Depths | 6 | 4,090 | 3 | 12,270 |
| | Ghostly Fog | Niko, Master of the Depths | 7 | 35,890 | 47 | 1,686,830 |
| | Water Fog | Niko, Master of the Depths | 7 | 15,320 | 8 | 122,560 |
| | Innocence Candle | Zana, Master Cartographer | 1 | 140 | 26 | 3,640 |
| | Candelabrum | Zana, Master Cartographer | 2 | 860 | 1 | 860 |
| | Oriath Army Barrel | Zana, Master Cartographer | 3 | 710 | 5 | 3,550 |
| | Oriath Lantern | Zana, Master Cartographer | 3 | 710 | 3 | 2,130 |
| | Water Plane | Zana, Master Cartographer | 3 | 330 | 2 | 660 |
| | Reading Desk | Zana, Master Cartographer | 5 | 6,760 | 1 | 6,760 |
| | Floral Chair | Zana, Master Cartographer | 6 | 10,720 | 1 | 10,720 |
Latest version: 1.0
| Version number | MTX | Publish date | Total favor | Total decorations | Downloads | Link |
| --- | --- | --- | --- | --- | --- | --- |
| 1.0 | No | 2020-09-11 03:34:33 | 4,684,790 | 643 | 83 | Download |
1.0 | 11 Sep 2020 - 03:34
Initial release