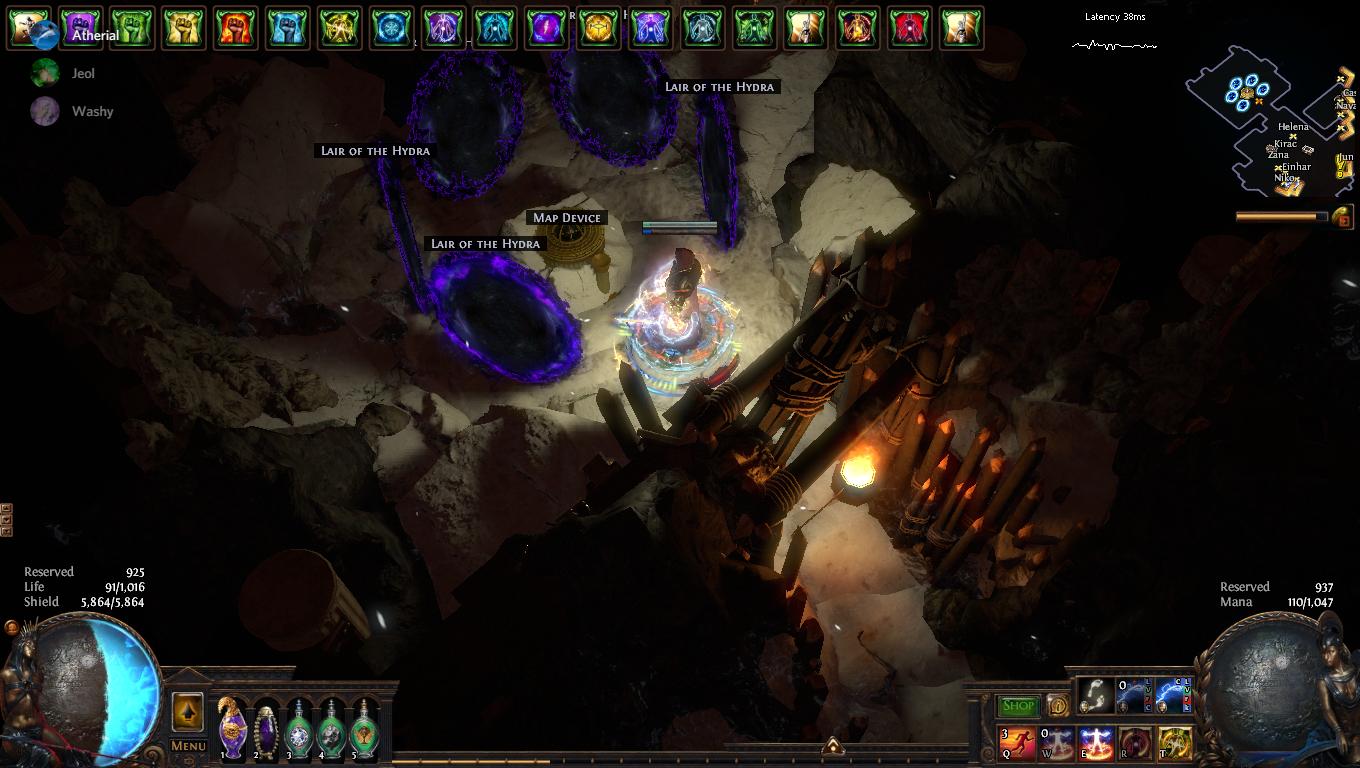 Within the mountains of the ascent lies a cavern of ice containing a shrine and a mysterious map device. This hideout in the pictures uses the ice gale MTX but I have removed it from the file before posting it, besides that the hideout is entirely made from non MTX decorations. The stash can be made party friendly by removing the chest that covers it.
(The posistion of the Ice Gale is right near the entrance into the map device room I find that it makes the coverage much better if placed there.)
As always with my recent hideouts it is fairly efficent for mapping due to the small size. Hope you enjoy it and thanks for checking it out.
~ Atherial
Hideout version: 1.0.0
Total cost: 701,480


Total decorations: 254
Uses MTX:

No



Einhar, Beastmaster Level: 6
Zana, Master Cartographer Level: 6
Alva, Master Explorer Level: 5
Niko, Master of the Depths Level: 7
Jun, Veiled Master Level: 5

Calculate your personal cost
| Decoration | Decoration name | Buy from | Master level | Cost | Amount | Total cost |
| --- | --- | --- | --- | --- | --- | --- |
| | Alva | No master | 0 | 0 | 1 | 0 |
| | Crafting Bench | No master | 0 | 0 | 1 | 0 |
| | Einhar | No master | 0 | 0 | 1 | 0 |
| | Guild Stash | No master | 0 | 0 | 1 | 0 |
| | Helena | No master | 0 | 0 | 1 | 0 |
| | Jun | No master | 0 | 0 | 1 | 0 |
| | Kirac | No master | 0 | 0 | 1 | 0 |
| | Map Device | No master | 0 | 0 | 1 | 0 |
| | Navali | No master | 0 | 0 | 1 | 0 |
| | Niko | No master | 0 | 0 | 1 | 0 |
| | Sister Cassia | No master | 0 | 0 | 1 | 0 |
| | Stash | No master | 0 | 0 | 1 | 0 |
| | Tane Octavius | No master | 0 | 0 | 1 | 0 |
| | Waypoint | No master | 0 | 0 | 1 | 0 |
| | Zana | No master | 0 | 0 | 1 | 0 |
| | Large Rocks | Alva, Master Explorer | 5 | 2,570 | 21 | 53,970 |
| | Vaal Block | Alva, Master Explorer | 5 | 2,570 | 9 | 23,130 |
| | Palisade | Einhar, Beastmaster | 3 | 710 | 8 | 5,680 |
| | Fortification Door | Einhar, Beastmaster | 6 | 10,720 | 1 | 10,720 |
| | Palisade Gate | Einhar, Beastmaster | 6 | 10,720 | 4 | 42,880 |
| | Rock Formation | Einhar, Beastmaster | 6 | 10,720 | 19 | 203,680 |
| | Primeval Table | Jun, Veiled Master | 2 | 2,040 | 1 | 2,040 |
| | Blue Light Beam | Jun, Veiled Master | 3 | 580 | 1 | 580 |
| | Primeval Shrine | Jun, Veiled Master | 4 | 7,490 | 2 | 14,980 |
| | Snowy Rock | Jun, Veiled Master | 4 | 1,220 | 12 | 14,640 |
| | Large Snowy Rock | Jun, Veiled Master | 5 | 2,570 | 38 | 97,660 |
| | Den Large Stalagmites | Niko, Master of the Depths | 3 | 4,400 | 6 | 26,400 |
| | Azurite Chunk | Niko, Master of the Depths | 4 | 3,170 | 3 | 9,510 |
| | Statue of the Sisters | Niko, Master of the Depths | 6 | 25,560 | 1 | 25,560 |
| | Azurite Vein | Niko, Master of the Depths | 7 | 35,890 | 2 | 71,780 |
| | Ghostly Fog | Niko, Master of the Depths | 7 | 35,890 | 1 | 35,890 |
| | Snow Drift | Zana, Master Cartographer | 2 | 330 | 108 | 35,640 |
| | Golden Chest | Zana, Master Cartographer | 5 | 16,020 | 1 | 16,020 |
| | Hanging Lamp | Zana, Master Cartographer | 6 | 10,720 | 1 | 10,720 |
Latest version: 1.0.0
| Version number | MTX | Publish date | Total favor | Total decorations | Downloads | Link |
| --- | --- | --- | --- | --- | --- | --- |
| 1.0.0 | No | 2020-04-16 17:30:55 | 701,480 | 254 | 172 | Download |
1.0.0 | 16 Apr 2020 - 17:30
Initial release