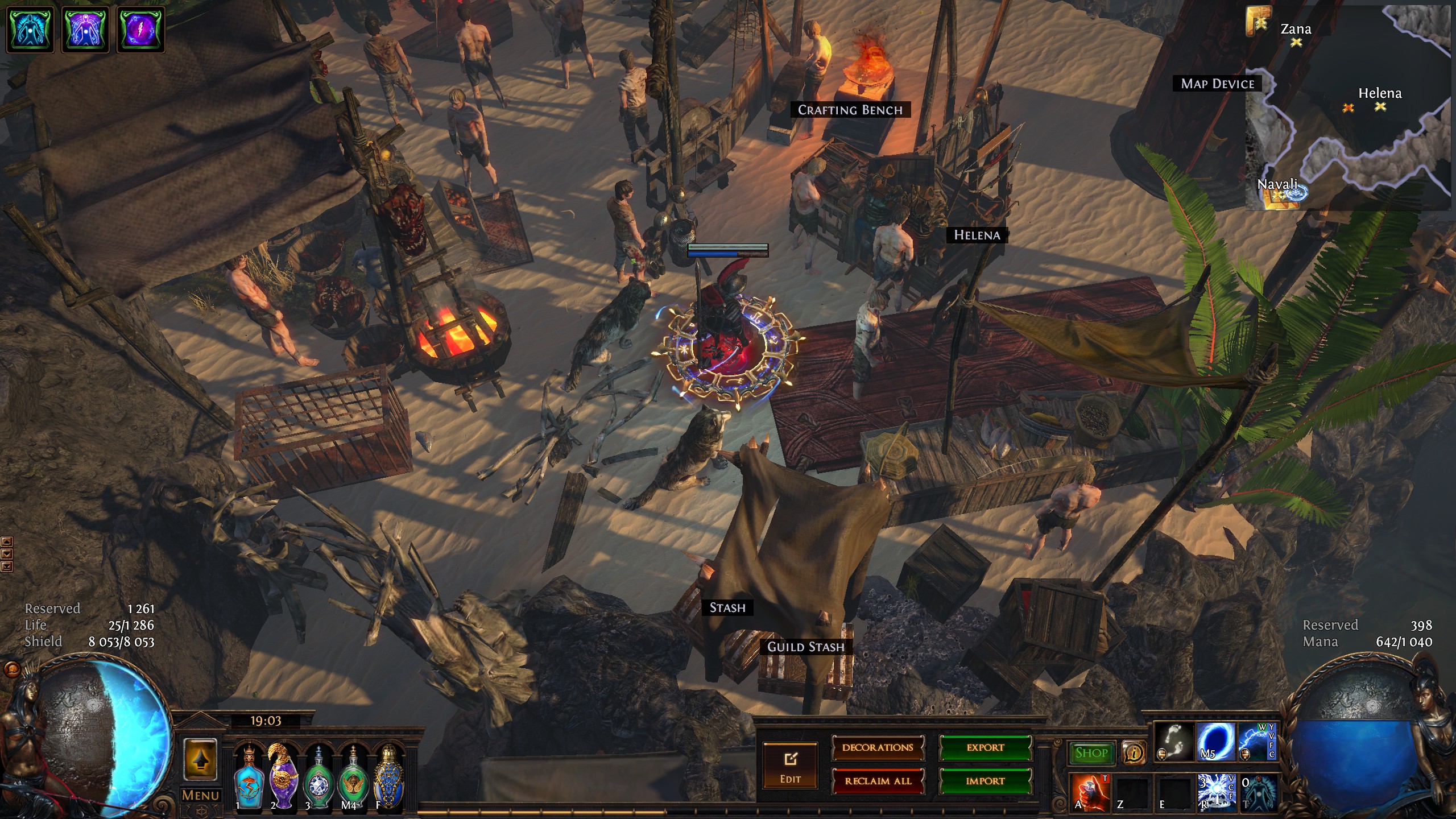 The seeds of heresy are sown
Greetings Exiles !
This one is coming from Corail Hideout ( you can find it during the story )
As the other two, it has 3 parts :
1]Right side of the island is the village with the map device and the masters.
2]On top of the island you can meet Niko looking for azurite.
3]The left side ... well you'll have to see yourself :D
It contain 5 Microtransactions
Burning Corpse Pile x4
Fire Gale x1
You can easily replace it.
I hope you'll enjoy it and if you want to see it IG : Qheenti
Hideout version: 3.5
Total decorations: 562
Uses MTX:

Yes



| Decoration name | MTX | Count |
| --- | --- | --- |
| Burning Corpse Pile | Yes | 4 |
| Fire Gale | Yes | 1 |
| Alva | No | 1 |
| Crafting Bench | No | 1 |
| Einhar | No | 1 |
| Gladiator's Workbench | No | 1 |
| Guild Stash | No | 1 |
| Helena | No | 1 |
| Jun | No | 1 |
| Map Device | No | 1 |
| Navali | No | 1 |
| Niko | No | 1 |
| Sharpening Wheel | No | 1 |
| Stash | No | 1 |
| Waypoint | No | 1 |
| Zana | No | 1 |
| Driftwood Log | No | 2 |
| Excavated Brick | No | 1 |
| Vaal Debris | No | 8 |
| Boat Remains | No | 2 |
| Bow Rack | No | 1 |
| Crypt Fire Pit | No | 1 |
| Full Armour Stand | No | 2 |
| Hungry Exile | No | 14 |
| Skull Pile | No | 2 |
| Swamp Tree Stump | No | 1 |
| Tired Exile | No | 12 |
| Vaal Large Altar | No | 1 |
| Bloody Corpse | No | 2 |
| Boat Wreckage | No | 1 |
| Body Bag | No | 1 |
| Decayed Statue | No | 1 |
| Decorated Tree | No | 1 |
| Disembodied Corpse | No | 2 |
| Driftwood Archway | No | 1 |
| Emaciated Corpse | No | 1 |
| Frightened Exile | No | 4 |
| Large Rocks | No | 26 |
| Ruined Pillar | No | 1 |
| Sarn Palm | No | 1 |
| Church Wall Gate | No | 1 |
| Covered Corpses | No | 1 |
| Emaciated Corpse Pile | No | 4 |
| Glowing Embers | No | 2 |
| Large Fortification | No | 3 |
| Ruined Columns | No | 1 |
| Thick Trees | No | 22 |
| Vaal Altar | No | 1 |
| Weapon Rack | No | 2 |
| Decorated Trees | No | 5 |
| Tree Hut | No | 1 |
| Clay Pot | No | 2 |
| Driftwood Branches | No | 2 |
| Forest Rock | No | 1 |
| Menagerie Rope Fence | No | 2 |
| Rusted Cage | No | 1 |
| Shore Rocks | No | 11 |
| Dead Fish | No | 7 |
| Ramshackle Ladder | No | 1 |
| Shore Plank Debris | No | 5 |
| Animal Pile | No | 1 |
| Beach Coral | No | 19 |
| Camp Rug | No | 4 |
| Coral Grass | No | 24 |
| Fish Stand | No | 6 |
| Forest Tree | No | 1 |
| Hitching Post | No | 1 |
| Large Slum Debris | No | 1 |
| Lookout's Booth | No | 4 |
| Meat Baskets | No | 3 |
| Pot Line | No | 3 |
| Reef Coral | No | 3 |
| Sitting Log | No | 2 |
| Tree | No | 5 |
| Wooden Barricade | No | 1 |
| Barnacles | No | 2 |
| Dead Seagull On Stick | No | 1 |
| Depressed Exile | No | 10 |
| Dry Tree | No | 2 |
| Garden Path | No | 62 |
| Impaled Corpse | No | 6 |
| Karui Carving | No | 7 |
| Palm Tree | No | 5 |
| Road Trim | No | 1 |
| Shore Bonfire | No | 4 |
| Spiral Stone | No | 4 |
| Web-Covered Tree | No | 1 |
| Wounded Exile | No | 9 |
| Coral Barnacles | No | 8 |
| Fortification | No | 2 |
| Garden Palm | No | 2 |
| Hung Corpse | No | 3 |
| Hunted Rhoa | No | 4 |
| Karui Palisade | No | 2 |
| Mossy Wall Arch | No | 1 |
| Overgrown Arch | No | 11 |
| Pit Flags | No | 1 |
| Raphina Tree | No | 5 |
| Thicket Tree | No | 2 |
| Wagon | No | 1 |
| Whare Floor | No | 1 |
| Wooden Pallet | No | 1 |
| Bulb Palm | No | 3 |
| Coral Cluster | No | 6 |
| Fortification Door | No | 3 |
| Kaom Rock | No | 1 |
| Lush Palm | No | 1 |
| Sarn Tree | No | 1 |
| Whale Skeleton Bones | No | 1 |
| Abandoned Crane | No | 1 |
| Blown Grass | No | 2 |
| Coral Formation | No | 7 |
| Large Tent | No | 3 |
| Medium Tent | No | 1 |
| Ravenal Tree | No | 2 |
| Whale Skeleton Arms | No | 1 |
| Whale Skeleton Head | No | 1 |
| Whale Skeleton Ribs | No | 1 |
| Low Fire Pit | No | 2 |
| Market Debris | No | 1 |
| Sceptre Of God Debris | No | 1 |
| Shelf Debris | No | 2 |
| Cave Stalagmite | No | 1 |
| Damaged Barrels | No | 1 |
| Den Large Stalagmites | No | 12 |
| Iron Lantern | No | 1 |
| Mine Cart | No | 1 |
| Mine Rock | No | 6 |
| Worn Anvil | No | 1 |
| Azurite Chunk | No | 6 |
| Blade Sentry Debris | No | 1 |
| Market Pillar | No | 1 |
| Market Shelf | No | 1 |
| Relic Pile | No | 1 |
| Hanging Brazier | No | 2 |
| Light Cargo Wagon | No | 1 |
| Wooden Hut | No | 1 |
| Fossilised Miners | No | 1 |
| Large Shelf | No | 1 |
| Map Board | No | 1 |
| Relic Stand | No | 1 |
| Stall Counter | No | 7 |
| Wooden Post | No | 1 |
| Elaborate Stall | No | 3 |
| Functional Stall | No | 3 |
| Travel Wagon | No | 1 |
| Innocence Bench | No | 1 |
| Wooden Planks | No | 1 |
| Oriath Weapons Crate | No | 2 |
| Innocence Altar | No | 1 |
| Oriath Supply Crate | No | 4 |
| Oriath Armour Crate | No | 2 |
| Plant Pot | No | 2 |
| Temple Arch | No | 2 |
| Hanging Lamp | No | 1 |
| Innocence Statue Pedestal | No | 2 |
| Ramshackle Wall | No | 1 |
| Corpse Crane | No | 1 |
| Image of Catarina | No | 1 |
| Image of Elreon | No | 1 |
| Image of Haku | No | 1 |
| Image of Leo | No | 1 |
| Image of Tora | No | 1 |
| Image of Vagan | No | 1 |
| Image of Vorici | No | 1 |
| Innocence Statue | No | 1 |
| Letters of Exile | No | 1 |
| Oriath Scaffolding | No | 1 |
| Phoenix Vent | No | 1 |
| Sanctum Statue | No | 8 |
| Sky Shrine Wall | No | 6 |
| Verdant Tree | No | 1 |
Latest version: 3.5
| Version number | MTX | Publish date | Total favor | Total decorations | Downloads | Link |
| --- | --- | --- | --- | --- | --- | --- |
| 3.5 | Yes | 2018-12-24 01:22:35 | 3,488,210 | 562 | 350 | Download |
3.5 | 24 Dec 2018 - 01:22
Initial release