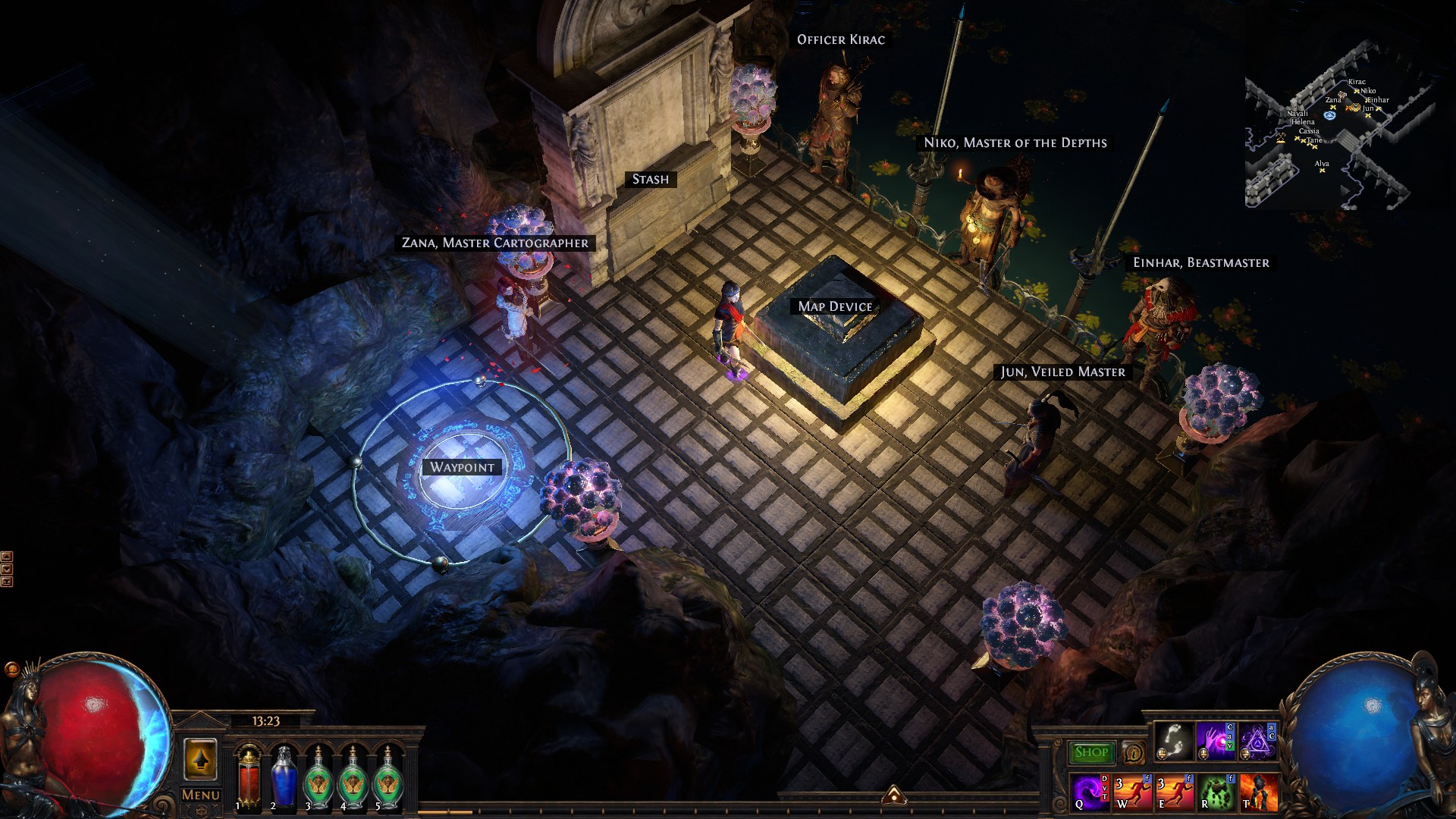 You found an ancient map device deep inside the caverns beneath the northern forest!
This is a small, simple two floor hideout, built next to two of the ponds in the Divided Hideout. The map device, daily quest givers (except Alva) and stash are on the upper floor; the other masters and the crafting bench are on the lower floor. Alva excavated her own small alcove to make sure you have easier access to the temple!
This is my first proper hideout; I used Ossuary Plaque 6 and 8 to do the tiles, which can make different patterns depending on the orientation. Neat! I hope you enjoy it!
Hideout version: 1.1.0
Total decorations: 395
Uses MTX:

No



| Decoration name | MTX | Count |
| --- | --- | --- |
| Alva | No | 1 |
| Crafting Bench | No | 1 |
| Einhar | No | 1 |
| Guild Stash | No | 1 |
| Helena | No | 1 |
| Jun | No | 1 |
| Kirac | No | 1 |
| Map Device | No | 1 |
| Navali | No | 1 |
| Niko | No | 1 |
| Sister Cassia | No | 1 |
| Stash | No | 1 |
| Tane Octavius | No | 1 |
| Waypoint | No | 1 |
| Zana | No | 1 |
| Temple Basin | No | 7 |
| Ossuary Plaque | No | 279 |
| Sarcophagus | No | 1 |
| Catacomb Pillar | No | 4 |
| Large Rocks | No | 64 |
| Primeval Table | No | 5 |
| Blue Light Beam | No | 1 |
| Iron Candelabra | No | 4 |
| Innocence Candelabra | No | 7 |
| Flower Pot | No | 7 |
| Sky Shrine Door | No | 1 |
1.1.0 | 25 Dec 2019 - 12:30
Alva moved to her own spot Jun and Alva Portals should now be accessible Minor changes in rock placement
1.0.0 | 25 Dec 2019 - 01:43
Initial release