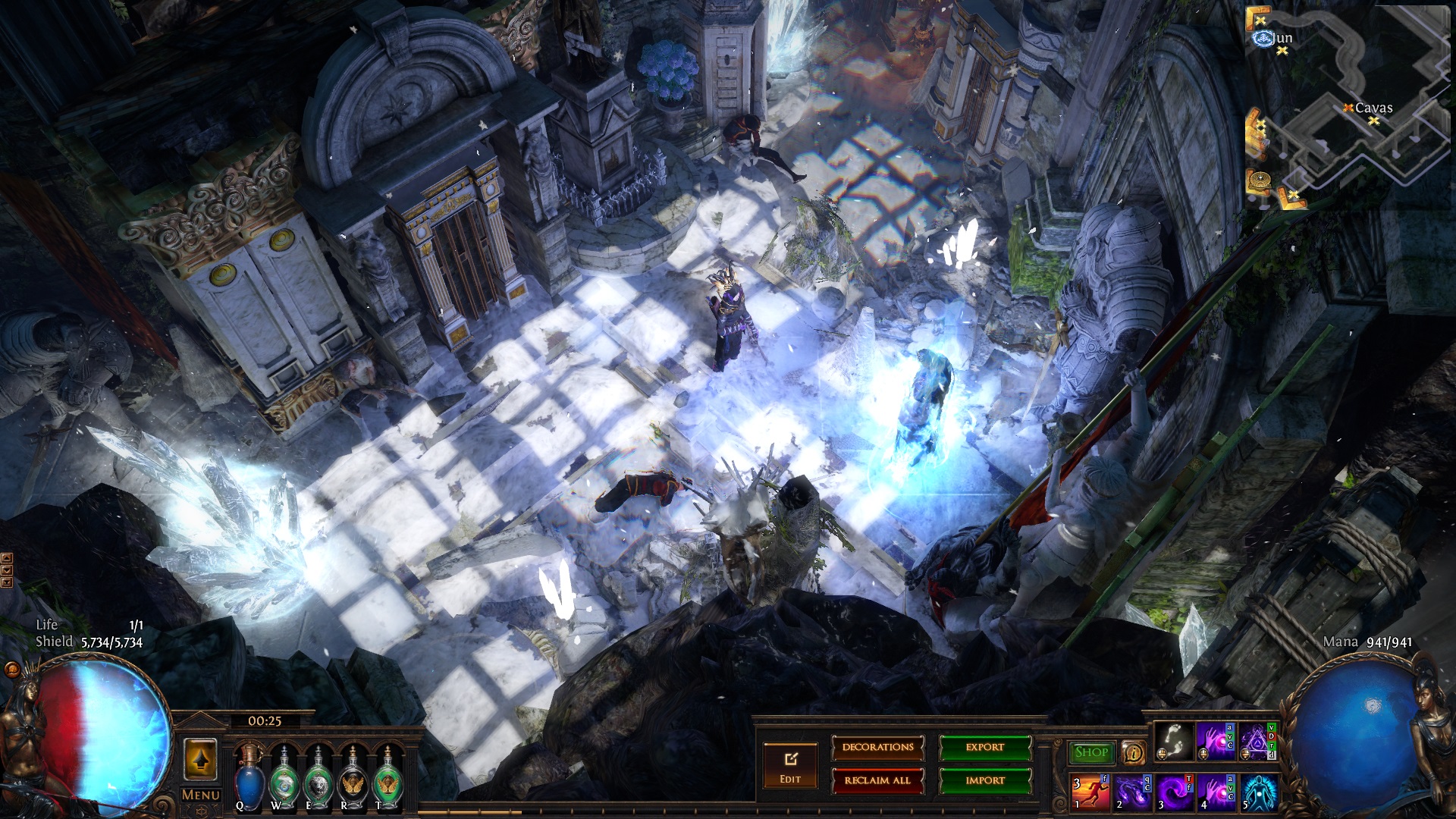 [Luxurious Hideout] Cave of Fractured Worlds
The original concept was to make a HO with different seasons in each sector: Spring, Summer, Autumn & Winter. Well, that idea didnt quite stick in the end when I got to Summer so ended up with this.
Still, I think I relatively achieved a good Autumn (Menagerie) & Winter section and I'm quite proud of them, hope you guys enjoy it! :)
Please drop me a comment on https://www.pathofexile.com/forum/view-thread/2475855 if you like this HO and to encourage me to make more in the future :P
PS: The MTXs used in this HO are not mandatory: You can replace the Ice Crystals with something else and use your own pets etc.
Hideout version: 1.0.0
Total decorations: 697
Uses MTX:

Yes



| Decoration name | MTX | Count |
| --- | --- | --- |
| Arcane Flame | Yes | 1 |
| Dark Mural Tile | Yes | 1 |
| Falling Leaves | Yes | 1 |
| Ice Crystal | Yes | 4 |
| Ice Gale | Yes | 1 |
| Light Oriath Statue | Yes | 1 |
| Madcap Tree | Yes | 1 |
| Mystic Building Supplies | Yes | 1 |
| Oriath Citizen | Yes | 3 |
| Oriath Wall | Yes | 1 |
| Sin Cathedral | Yes | 1 |
| Snowfall | Yes | 1 |
| Wasteland Barricade | Yes | 1 |
| White Crystal | Yes | 2 |
| Wide Light Beam | Yes | 1 |
| Wisp Swarm | Yes | 1 |
| Alva | No | 1 |
| Blessing Font | No | 1 |
| Crafting Bench | No | 1 |
| Einhar | No | 1 |
| Gladiator's Workbench | No | 1 |
| Guild Stash | No | 1 |
| Headstones | No | 1 |
| Helena | No | 1 |
| Jun | No | 1 |
| Map Device | No | 1 |
| Navali | No | 1 |
| Niko | No | 1 |
| Stash | No | 1 |
| Waypoint | No | 1 |
| Zana | No | 1 |
| Torch | No | 3 |
| Ancient Rubble | No | 1 |
| Crypt Rubble | No | 17 |
| Sleeping Lion Statue | No | 1 |
| Crypt Fire Pit | No | 1 |
| Ruined Standing Lamp | No | 5 |
| Hungry Exile | No | 1 |
| Swamp Tree Stump | No | 1 |
| Tired Exile | No | 2 |
| Catacomb Pillar | No | 5 |
| Decorated Tree | No | 1 |
| Driftwood Archway | No | 1 |
| Frightened Exile | No | 2 |
| Large Rocks | No | 53 |
| Ruined Book Shelf | No | 1 |
| Stone Archway | No | 1 |
| Church Wall Gate | No | 2 |
| Colossus Hand | No | 1 |
| Emaciated Corpse Pile | No | 1 |
| Glowing Embers | No | 6 |
| Large Fortification | No | 5 |
| Ruined Banner | No | 1 |
| Thick Trees | No | 3 |
| Vaal Altar | No | 1 |
| Fellshrine Ruins | No | 5 |
| Large Church Wall Arch | No | 1 |
| Sarn Archway | No | 1 |
| Forest Rock | No | 1 |
| Menagerie Rope Fence | No | 5 |
| Shore Rocks | No | 1 |
| Forest Flowers | No | 43 |
| Animal Pile | No | 1 |
| Camp Rug | No | 1 |
| Cannibal Sheet | No | 22 |
| Forest Tree | No | 10 |
| Meat Baskets | No | 1 |
| Menagerie Fence | No | 10 |
| Pot Line | No | 2 |
| Prayer Stones | No | 3 |
| Reef Coral | No | 3 |
| Tree | No | 20 |
| Webbed Stump | No | 4 |
| Agave Plant | No | 4 |
| Aloe Plant | No | 2 |
| Barnacles | No | 1 |
| Bush | No | 4 |
| Depressed Exile | No | 2 |
| Garden Path | No | 39 |
| Impaled Corpse | No | 1 |
| Macrotaen Plant | No | 3 |
| Poppy Plant | No | 2 |
| Shore Bonfire | No | 1 |
| Web-Covered Tree | No | 2 |
| Wounded Exile | No | 1 |
| Fortification | No | 1 |
| Mossy Wall Arch | No | 1 |
| Overgrown Arch | No | 16 |
| Thicket Tree | No | 1 |
| Fortification Door | No | 4 |
| Garden Wall | No | 7 |
| Rusty Crane | No | 1 |
| Sarn Tree | No | 5 |
| Blown Grass | No | 2 |
| Blown Leaves | No | 5 |
| Large Overgrown Statue | No | 1 |
| Large Whale Skeleton Ribs | No | 1 |
| Lion Statue | No | 1 |
| Overgrown Offering Statue | No | 2 |
| Ravenal Tree | No | 1 |
| Maple Tree | No | 3 |
| Primeval Tree Planter | No | 1 |
| Sanctum Pillar | No | 11 |
| Toxic Pods | No | 1 |
| Cave Trash | No | 16 |
| Den Large Rock | No | 6 |
| Mushroom Cluster | No | 2 |
| Sewer Moss | No | 1 |
| Low Fire Pit | No | 4 |
| Sceptre Of God Debris | No | 1 |
| Den Large Stalagmites | No | 5 |
| Iron Lantern | No | 11 |
| Mine Cart | No | 1 |
| Stone Pieces | No | 5 |
| Axiom Pillar | No | 2 |
| Copper Chest | No | 8 |
| Den Pillar | No | 2 |
| Grigor's Wall | No | 2 |
| Market Pillar | No | 2 |
| Display Case | No | 1 |
| Elaborate Stall | No | 1 |
| Fetid Smog | No | 1 |
| Ghostly Fog | No | 1 |
| Pedestal Cage | No | 1 |
| Slum Building | No | 7 |
| Innocence Candle | No | 12 |
| Wooden Planks | No | 17 |
| Candelabrum | No | 5 |
| Snow Drift | No | 60 |
| Courthouse Armchair | No | 2 |
| Courthouse Bench | No | 1 |
| Dead Oriath Soldier | No | 1 |
| Dead Oriath Soldier Sitting | No | 1 |
| Innocence Altar | No | 1 |
| Ornate Chair | No | 1 |
| Temple Sofa | No | 1 |
| Arena Petals | No | 4 |
| Golden Bust | No | 1 |
| Interrogation Chair | No | 1 |
| Oriath Armour Crate | No | 1 |
| Oriath Ladder | No | 1 |
| Red Carpet | No | 4 |
| Standing Lamp | No | 2 |
| Classical Wall Decoration | No | 4 |
| Courthouse Desk | No | 2 |
| Golden Bars | No | 2 |
| Temple Arch | No | 6 |
| Circular Column | No | 2 |
| Court Bookcase | No | 3 |
| Door Frame | No | 2 |
| Floral Chair | No | 1 |
| Flower Pot | No | 2 |
| Garden Statue | No | 1 |
| Hanging Lamp | No | 4 |
| Oriath Rubble | No | 2 |
| Ornate Planter | No | 9 |
| Pillars and Flag | No | 2 |
| Arched Gateway | No | 1 |
| Catapult Ball | No | 1 |
| Cave Treasure | No | 1 |
| Dining Table | No | 1 |
| Dominus Portrait | No | 1 |
| Flag | No | 1 |
| Frozen Tree | No | 3 |
| Golden Arch | No | 1 |
| Image of Elreon | No | 1 |
| Innocence Statue | No | 1 |
| Large Bird Cage | No | 1 |
| Oriath Guard Shed | No | 1 |
| Oriath Statue | No | 1 |
| Pohutukawa Tree | No | 2 |
| Sanctum Statue | No | 2 |
| Sky Shrine Door | No | 2 |
| Sky Shrine Mosaic | No | 1 |
| Torture Urn | No | 1 |
| Verdant Tree | No | 6 |
Latest version: 1.0.0
| Version number | MTX | Publish date | Total favor | Total decorations | Downloads | Link |
| --- | --- | --- | --- | --- | --- | --- |
| 1.0.0 | Yes | 2019-03-28 22:28:29 | 3,328,620 | 697 | 654 | Download |
1.0.0 | 28 Mar 2019 - 22:28
Initial release